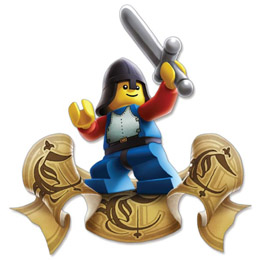 Colossal Castle Contest XVI - Winning Entries
Congratulations to all of the winners in the Colossal Castle Contest XVI! Your creations show the finest that Classic Castle has to offer. Thank you to everyone who entered the contest. The huge number of talented entries is what truly made this year's castle contest Colossal.

The scores were very close so we have provided an Honorable Mention for the top five entries in each category that did not win. Please contact me if you have won a category so we can ship out the prizes! The Master Builder prize is being calculated and will be announced in a few days.


---
Classic Castle Category - Piglet -
Black Falcon's Stables

Create a building in the style of your favorite LEGO Castle Theme. Use accessories and minifigures from that theme. Ideas include a yellow castle, Forestmen's treehouse, Black Falcon's alehouse, and Dragon Master's tower.
The Old Forge
Yellow Keep
Black Falconís Eyrie
Majisto's Magic Workshop
Lion Knight's Joust
celloguy
valerius_maximus
Rum Ham
Kahir88
LittleJohn

---
Medieval Militia - valerius maximus -
Jousting Practice

Meet the king's quota! Train your local militia for defense of the realm. Ideas include marching, drilling, mock battles, and archery practice.
The training of the Knights of the Crystal Order
Training the Peasants
Dwarven Axe Training
Agile Archery
Militia Mishaps
Mr_Hobbit_Foot

Elephant Knight
soccerkid6
LittleJohn
soccerkid6
---
Castle Room Interior - ranghaal -
The Foreboding

Build the interior of any castle room including minifigures, furniture, decorations, and accessories. Ideas include a great hall, dungeon, treasure room, bedroom, and store room.
Knight's Hall
Apothecary's Workroom
De Fiori Forge
The Library
Princess' Chambers
FanLego
adamsonofwilliam
Garmadon
Fletcher Floyd
soccerkid6
---
Micro Medieval Mountain - TomSkippyII -
Majisto's Mountain

Build a microscale medieval moc located in the mountains. Ideas include a mountain pass, village, outpost, or castle.
Rapunzel's Tower
St. Jonah's Monastery
Time to reflect
Castle Town of Alnor
Menegroth
celloguy
Cornwallis6
ranghaal
jtooker
Witz Bricks
---
Medieval Legend Vignette - LittleJohn -
The Pied Piper

Build a vignette featuring a medieval legend. Ideas include King Arthur, Beowulf, Roland, Ivanhoe, Robin Hood, Lancelot, Tristan and Isolde, etc.
Jack and the Beanstalk
The Ingenious Nobleman Sir Quixote of La Mancha
Leonardo
Robin Hood Meets Little John
Merlin
soccerkid6
Ficticious Pasta

ranghaal
vaerius_maximus
Dave Zambito
---
Used Cart Salesman - Dave Zambito -
Merchant's Wagon

Build a scene featuring a medieval salesman featuring wheeled vehicles such as a carts or wagons.
The Fortune Tellerís Wagon
To Market, To Market
Goodies from Far East
The Travelling Salesman
Eggs for Sale
Your friendly local Pumpkin Trainer
Mr_Hobbit_Foot valerius_maximums
BardDandelion
LegoHobbitFan
soccerkid6
Fletcher Floyd
---
From Field to Goblet - celloguy -
Wine making

Build scenes showing the production and consumption of medieval beverages. Ideas include growing and harvesting crops, brewing beer, ale, or spirits or fermenting wine from a vineyard.
Wine Production
Wine or cider? "Jolly Monk" - we have everything!
Monastery Brewery
From the Fields to the Golden Goblet
Apple Cider
Vine for fun times
soccerkid6
caatusmolotus

Sirius
Mr_Hobbit_Foot
soccerkid6
adamsonofwilliam
---
Fantasy Siege Weapon - thebrickbin -
Goblin Shredder

Build a fantasy theme siege weapon. Ideas include a dwarf battering ram, a troll catapult, or an orc siege tower.
The Pixies have had enough!
Amaria's Siege
Goblin's Rain of Death
Dwarven Ballistas
Siege Elephants
adamsonofwilliam
joshdu
soccerkid6
soccerkid6
Dr. Zarkow
---
Forest Lair - Toltomeja -
Outlaw Cave

Build a medieval forest lair for your outlaw faction. Ideas include a wolfpack cave, a bull's logging camp, forestmen tree top hideaway, etc.
Wolfpack Waterfall
Forest Glade
Tozoku Hideout
Forestmen Hideout
Wolfpack Winter Lair
adamsonofwilliam
Elephant Knight
Little John
soccerkid6
soccerkid6
---
Miscellaneous - Patrick B -
Edoras

Does your castle creation not fit in one of our categories? Then enter it here! This category does not have baseplate or height restrictions
Flood
Guarded Inn (Bacon House)
Winter Cottage
Castle on a Ball
Laelariel City Hall
ranghaal
Piglet
Dave Zambito
Toltomeja
en_zoo
---
Great Wall Category- Soccerkid6 -
Walls of Carcassonne

Build a realistic style great wall with towers that provides protection from invaders. Examples include the great wall of China, Hadrian's wall, and the walls of Constantinople. Walls can include gates and attached buildings. This is not a traditional motte and bailey castle category. This category does not have a baseplate size limitation.
Tear down the wall
The Eastern End of the Great Wall
Just don't look down
Wall Golem
Danvirke
ranghaal
jtooker
Elephant Knight
thebrickbin
Crescentius
---