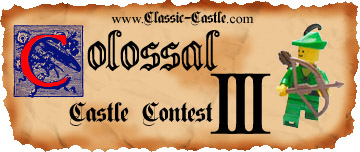 Colossal Castle Contest III - Winning Entries
Congratulations to all of the winners in the Colossal Castle Contest III! Your creations show the finest that Classic Castle has to offer. Thank you to everyone who entered the contest. The huge number of talented entries is what truly made this year's Castle contest Colossal.

The scores were very close so we have provided an Honorable Mention for the top five entries in each category that did not win. Please contact Lenny Hoffman or myself if you have won a category so we can ship out the prizes! The Master Builder prize is being calculated and will be announced in a few days.


---
Castle - Fortress Del Pescatore - Jacob Cournoye

Each castle should contain a gate tower, side towers, a courtyard, interior buildings. Details such as landscaping, a moat, drawbridge, and a portcullis are encouraged.
Castle in the Sands
Lion's Island Castle
Castle Bleydenstien
Falcon's Point
Castle under construction
Sir Nelson
Ben
Jim
Jake
Gabe/Hothir
---
Classic Castle -Torre Del Oro - Sir Nelson

Create a building in the style of your favorite LEGO Castle Theme. Use accessories and minifigures from that theme. Ideas include a yellow castle, Forestmen's treehouse, Black Falcon's alehouse, and Dragon Master's tower.
Foresters' Palisade
Under the Greenwood Tree
Manor House
Black Falcon's room
Bullfighting Arena
Kenn Oldham
Josh Wedin
Jim
Jean-Pascal Galéa
Jonas Lindbärg/Maedhros
---
Custom Castle Figure - Crusader Knight - Bianco Leone - Armothe

Create a realistic or fantasy customized castle figure. You may use modified bricks, custom accessories, and/or stickers. Ideas include knights, monks, peasants, wizards, elves, and fairies.
Tournament Knight - Sir Talland
Helga
Cogity Throckwood
Will Scarlett
Merman
Armothe
Sir Nelson
Mark Stafford
Josh Wedin
Recluce/Emily
---
Castle Room Interior - The Royal Study -
Amberstone

Build the interior of any castle room including minifigures, furniture, decorations, and accessories. Ideas include a great hall, dungeon, bedroom, and store room.
Assassination in the Study
Prince's Bedroom
Scorpion Throne Room
Castle Kitchen
The King's Treasure Room
Mark Stafford
AmberStone
Stone Goblin
Jim
Recluce/Emily
---
Medieval Life - A day in Brickerlo - Saskia van Doesburg / Stuifzand

Build a small non-military building focusing on medieval life. Ideas include farms, houses, wells, and barns.
Home of a Doctor
Toll Bridge
Royal Inventor's Clockhouse
Pizarro's Bakery
Mountain-side Cottage
Sir Nelson
MOCkingBird
Stone Goblin
Mark Stafford
Carl Watson
---
Miscellaneous - Death in the Library - Mark Stafford

This category is for entries that did not fit in the other categories.
Shroom Rock
Midsummer Village
Inn at the Bridge
St. George and the Dragon
Tom Bombadil watching Old Man Willow
Ryan "Lights" Wood
Stone Goblin
Sean Ericksen (psu_ericksen)
Sir Nelson
Chad / CAI
---
Siege Scene - Siege of Eger - Kenn Oldham

Build a siege scene with atleast one siege engine or operation (sappers) and a fortification (wall or tower) that will be attacked. Ideas include battering rams, catapults, ballistae, and trebuchets.
Siege at Wolf Outpost
Siege of the Black Falcons
Attack on High Podermik
When Black Falcons Attack
Siege of Martindale Castle
Stone Goblin
Josh Wedin
Mark Stafford
Sean Ericksen (psu_ericksen)
brickfrenzy
---
Vehicles - Carts and Boats - Mosae Fighting Galley - Stone Goblin

Build a medieval vehicle. Ideas include, haycarts, prison wagons, trade ships, and galleys.
The Mail Coach
The Wolf
Trade Cog
Trade Cog
Drebbel

Mark Stafford
Josh Wedin
Lomero
Kenn Oldham
greg3
---
Viking Category - Viking's Hall - Martin Jaspers / Marakoeschtra

Build any Viking creation. Ideas include longboats, settlements, and forges.
Viking Sod House
Village Pillage
House of Viking
Vikings attack
Viking Ram Ship
Kenn Oldham
Maciej 'Ciamek' Koszyka (aka Piglet)
Marcin Kitala
Lomero
Stone Goblin
---
---