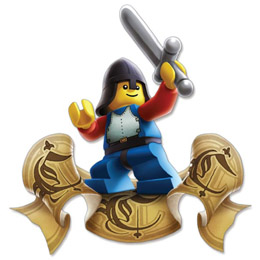 Colossal Castle Contest VI - Winning Entries
Congratulations to all of the winners in the Colossal Castle Contest VI! Your creations show the finest that Classic Castle has to offer. Thank you to everyone who entered the contest. The huge number of talented entries is what truly made this year's castle contest Colossal.

The scores were very close so we have provided an Honorable Mention for the top five entries in each category that did not win. Please contact me if you have won a category so we can ship out the prizes! The Master Builder prize is being calculated and will be announced in a few days.


---
Tapestry - Knight - Bluesecrets

Build a tapestry featuring a medieval scene, story, or design. You may build the tapestry with studs up or studs out construction. This category does not have a size limitation.
The defeat of Reynard the Fox
battle tapestry
Hunting Scene
Black Falcon Tapestry
Unicorn
Jalkow
januson
DNL
matija
JackieB
---
Castle Vignette - Double Trouble - Hippotam

Build a castle related vignette. This scene should be built on a 6x6 or 8x8 base.
There is a fell voice on the air!
Fire-raiser
Ye Olde Mutualism
Monkey Business
Fight For Life
SlyOwl
Michal H./gearcs
SirNadroj
blueandwhite
MrTS
---
Act of Chivalry - Life for a King - crises

Show a knight performing an act of chivalry. Ideas include partaking in a holy quest, protecting the innocent, and rescuing persons in danger.
A Giant Mistake
The Linden Tree
Fight Over the Coast
Blenham Hall
Don Quijote
MrTS
McBricker
Piotr
tiberium_blue
Giorgio Chronas
---
Haunted Castle - Tower of Torment - legohaulic

Create a haunted castle building or room. Ideas include a creaky old tower, dungeon, or library.
The Haunted Ballroom
Cemetary of Doom
The Hounted Ruins
keep out
Tomb Raiders
MrTS
Giorgio Chronas
DNL
zgrrredek
Piglet
---
Castle Siege - Estrelaron - SlyOwl

Build a siege scene with at least one siege engine or operation (sappers) and a fortification (wall or tower) that will be attacked. Ideas include battering rams, catapults, ballistae, and trebuchets.
The siege of Elenaļ
The Siege of Ung'Thol
Ingenuity
Reconquista
The Siege of Elswey
DNL
tiberium_blue
Shadowviking
Giorgio Chronas
Aliencat
---
Secret Hideout - Inn: The Empty Barrel - MrTS

Build a stand-alone fortress, outpost, or hideout for outlaw factions such as the Forestmen, Bulls, or Wolfpack. Examples include 6066 Camouflaged Outpost and 6075 Wolpack Tower.
The Weasel's Nest
Flets 'n' Bolt-holes
The forest king's hidden fortress
The grand hall of the Bear Claw Clan
The Rock
TooMuchCaffeine
SlyOwl
DNL
shmails
kris kelvin
---
Crime and Punishment - Slaver's lucky day? - Michal H./gearcs

Depict a scene of medieval crime and another scene of the resulting punishment. Ideas include poaching, thievery, forgery, smuggling, and treason.
Assize of Bread and Ale
Busted!
Taxation
Caught!
Murder Gives You Hell
Giorgio Chronas
MrTS
Stone Goblin
DNL
lbaixinho
---
Custom Castle Figure - Bishop - armothe

Create a realistic or fantasy customized castle figure. You may use modified bricks, custom accessories, and/or stickers. Ideas include knights, monks, peasants, wizards, elves, and fairies.
Gorang, Warrior King
The Golden Knight
Voodoo Priest Ranshalla
Leon Crusader
nun
shmails
crises
armothe
Giorgio Chronas
Kukus
---
Miscellaneous - Market Madness - RebelRock

Does your castle creation not fit in one of our categories? Then enter it here!
The Perfect Life?
A little too late...
Ye Olde Quidditche
Sewer Hideout
Marie Antoinette Fate
MrTS
SlyOwl
SlyOwl
Piglet
Bacvs
---
Castle - Herenbosch - Aliencat

Each castle should contain a gate tower, side towers, a courtyard, interior buildings. Details such as landscaping, a moat, drawbridge, and a portcullis are encouraged.
Falcon's Spire
Radoch
King's Castle
Lakeside Castle II
Lord Jirt's castle
BlackAdder
Radegast
RebelRock
Piglet
DNL
---