Hi all,
The
LEGO Adventure Book, Volume 1
will be shipping out next week from NoStarch Press. This book was edited by Megan Rothrock, and includes models from a
great lineup of AFOLs
, several of whom are CC members. NoStarch has an ongoing
40% off promotion
on all of their LEGO books (including things like the Cult of LEGO and the Unofficial LEGO Builders Guide) if you order before October 31.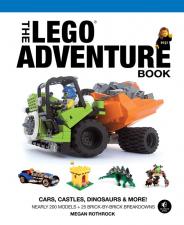 I'm waiting to get my copy, but from what I've seen this includes great original models in all sorts of themes, both official and fan-created things like steampunk, including of course castle. This
Flickr group
includes various page views and pictures of models that people built for this project.
Note, btw, that this is 'volume 1', indicating that we can expect more of the same to come.
Bruce