Hey guys so a bit of a gloat here. IAbout a week ago I was scaning Craigslist and found someone listing 24 various sets. Well burried amongst potter sets and Sponge bob sets a number jumped out at me. Lego set 6024 Bandit Ambush Castle, Missing 2 Pieces $5 . Needless to say I sent an e-mail right Away. well I picked it up today and here it is;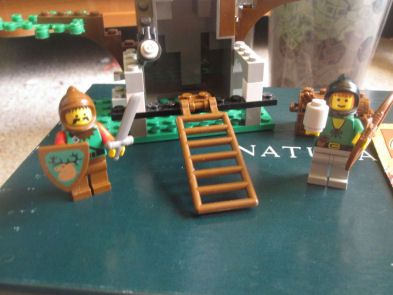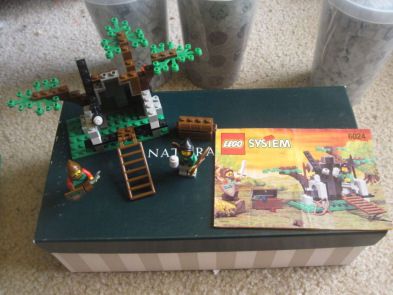 The leaves are in ok shape a little chewed on a couple fronds, nothing major though as I have Replacements. Mini figures are an 8 out of 10 some scuffing and marks on one set of legs and one hood, bow and quiver are a bit rough but it looks like a factory issue in the plastic, both heads have light indents but no paint missing. 2 1x1 gray barrels are mega blocks, no biggie I have replacements, a 1x2 plate was used to replace a missing 1x3 plate again have a replacement, and the set is missing the spear and Ax but again I have replacements in my stash. Shield Treasure chest with jewels all there! For $5 Bucks Not to shabby.
Also went to the Lego Store and got 2 more 32x32 base plates, got 3 minifigs with the forest women torso and pitch forks, got the Castle edition of brick journal, and my Score of the day.....
2 large full cups PAB of Masonry Light Bley bricks and a Large PAB cup with half 1x2 Brown plates and half Olive green Cheese!! Stocking parts for CCC.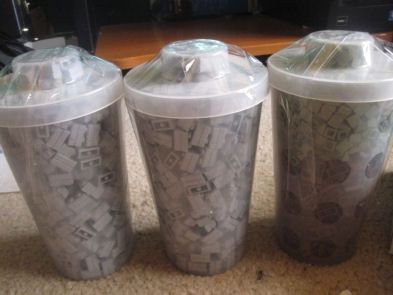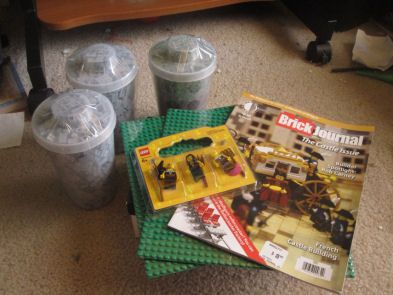 Also got a couple series 11 from target. Got another Scare crow, Bavarian Girl, Couple yetis and the scientist for her Flasks.
So all in all a good block day just wanted to share.
Curt