Hey all,
First, many thanks to Tony for helping me get back on the boards! I don't build castle stuff very frequently, but when I do it sure takes up a LOT of room!
With that in mind, I present to you the Black Falcon's Outpost: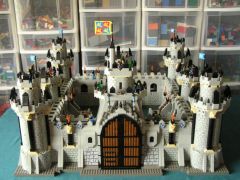 http://www.davidglennsimmons.com/archive/MyLegoCreations/Black%20Falcons%20Outpost.htm
It's nothing special, just a building exercise really, but I hope you enjoy it!
Dave S.
UPDATE: links have been corrected since my website has been retired and moved.