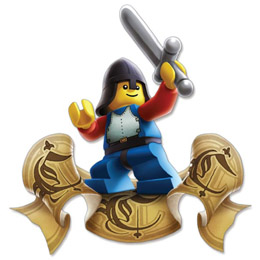 The CC Team is proud to announce our sixth annual building contest: The Colossal Castle Contest VI. It will begin on November 1st and end on December 31st, 2008.
This contest is a bit different than other contests. We have a variety of categories each with one prize for the winner. Some categories require small creations and others need larger ones. Everyone, even with a limited supply of bricks, should be able to enter several categories. We are looking for creativity, not who has the most LEGO.
Check out the
prizes
. Seven Classic Castle sets including the highly popular Black Knight's Castle are prizes. There are are also rare minifigures, custom medieval weapons, and new castle sets. It truly is colossal!
Thank you to LEGO, BrickArms, Rich "Blackrock" Stehnach, and Ben Ellermann for donating prizes. The rules can be found
here
. Enjoy!
We will be working on setting up the entry submission system over the next two weeks.