Description & Concept:
"Every few years the lands are blessed with a short winter and an early spring. This usually leads to a problem with scores more orcs and trolls coming out of the mountains and stirring up trouble for we humans and the dwarves that live under the mountains. So our wise king and the dwarf king got together with the benvolent wizard and made this, our troll-nest-smashing secret weapon, the Sky Knight. The magician's harpoon launcher anchors us right into (or nearby) their nests and these 4 new dwarf gadgets they call 'cannons' obliterate any of the beasts that don't heed our warnings to retreat. Going to be a good spring...."
Fully loaded: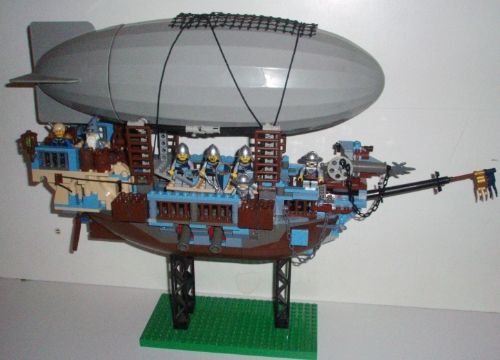 Sans Crates & Crew:
Front view: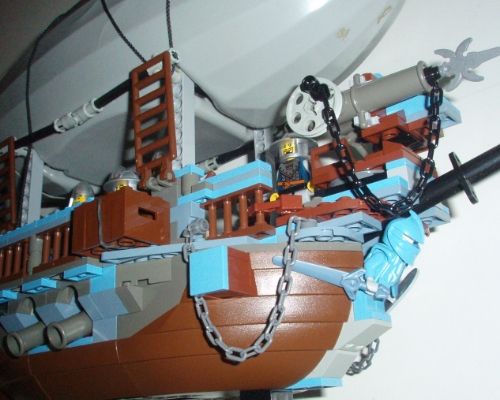 Rear: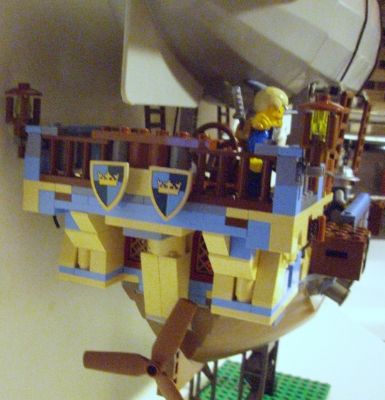 Operating the Harpoon Launcher: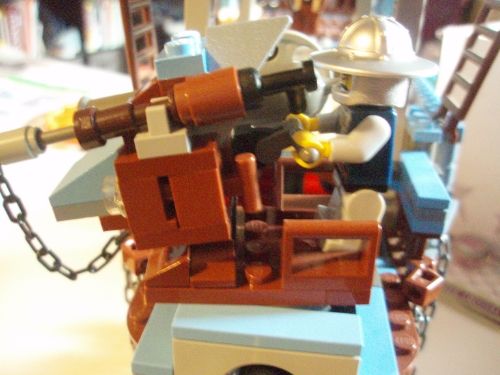 I've wanted to build an airship for about a decade, but never really had a design in my mind "past pirate ship hull with the Adventures piece for the baloon". Recently I've been disassembling and sorting some old mocs and sets in an attempt to get a handle on the mountain of unsorted Lego I have looming in the corner of my toy room(easily 100lbs). I guess I got to a previous unfinished airship moc and the Harry Potter Durmstrang Ship about the same time and all the tan and lighter blues and grays and blays just kind of clicked in my head. I switched to the narrowest pirate hull and put this together in a couple of evenings. It's been quite awhile since I finished a moc so quickly and I'm fairly pleased with the results. Not shown in these pictures are the accessible cabin interior and all the crates' stock and other details. I also tried crewing the ship with some redcoats from the pirates collection but they didn't work for me aesthetically, so the Crownies took command after a crew of Jaykos was quickly dismissed.