Hey all,
Sorry for the delay on this. There were a lot of great entries, and some of them get special recognition for cross-category awards.
Weather
- BHs shows us the role of the year with various weather patterns with the
Four Seasons
, and so is entitled the Mage of the Winds.
Pastel colors
- Legonardo's
Finbar the Fantastical Firework-maker
pushes far beyond the greys, browns and greens typical of castle building, and so he is our Pastellum Litestere.
Underground
- Takkata brings us into a subterranean cavern for his
Orc Pit
, and so is labeled Deep he Delved.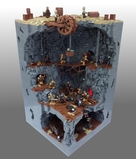 History
- Peggyjdb once again turned in a series of
historical MOCs
based on British history, and is our Royal Chronicler. Follow the link to see all of his historical MOCs.
Humor
- Quarktaart's
Flying Falcons
made us laugh, crowning our new Court Jester
Dragons
- Not all dragons are winged, such as Brickninja's
Sea-Drake
. Here there be dragons.
Once again, thanks to everyone who participated in the best contest in the Legoverse!