Thanks for the patience to buyers and browsers. Had a lot of packages go out Sat, and had to work Sat Night and part Sun, so I didn't have much time to get on here. Just got on to send PMs and have now updated with new pics. Please PM me if you have a question or are interested. Looking for Pay Pal to fund other hobbies, but I will admit I'm going to get a bit into Modern/War type stuff
So only trades I'd consider- Commissioner Gordon from Batman II series, The tumbler from that set. Certain Police torsos with Vest and double printing, Brick Arms Weapons. Flesh Heads with Beards/ Certain Yellow heads with beards- Old Dino Attack torsos and heads...
SOLD
means they legos have been PAID for but have not Shipped
PENDING FUNDS
means we have an agreed deal and price but waiting for funds... always accepting backup offers/dibs because people do back out of deals
RESERVED
means someone has agreed to buy said lot/figs but wants to see pics of other stuff
Sets Not Pictured
Kingdoms
Set 7947 x2-
Pending, Lil Curt
No Figs, Shields or Weapons, everything else is there. I have two of these, one opened once and put in plastic bag, the other is still sealed in numbered bags. Have both sets of booklets - MAKE OFFER
Castle
Set 7036 I would need to try to put together to see how much is there. All figs and weapons are gone but I found the Mining Carts, Wheel, ect. And a bag with looks like the majority of pieces ect. Only will put together if someone really wants MAKE OFFER
Set 7094 I have in my possession a Kings Castle Siege. Looks like it might all be there, got the booklets and Box too. Let me know if anyone has been looking for this set and what you would pay. Was going to give to nephew, but money talks.
FIGS AND SUCH
Found some more archer types... $12 for everything you see in Picture
Pending lil Curt
Stained Glass x 3
Holy Megablox Caste Fans. Yes these are Megablox throne chairs. They are high quality abs plastic, must be from 80's. I won't reveal who buys them, but you know you want them.
Sealed Black Smith Attack weapons x 2
Knights
Eomer x 9 Never assembled
Pending to Bronx
Pirate Figs
Pending Lil Curt
Shields, All NEW never played with except Lion one in back row
Rohan ones Reserved for Luzdik
Bullet Helms
Reserved luzdik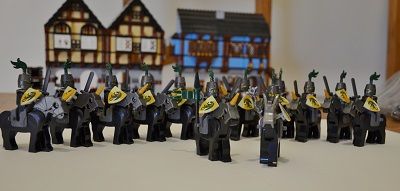 Dragon Knights Heavy Calvalry. All have Reverse Chain Printed Torso, printed legos, Dragon Breastplate Armor, Dark Pear Gray short sword, shield, Gray Saddle on Horses and Unicorn head armor except the leader who has old school gray dragon armor ASKING $7 Per (Fig, sword, shield, Horse, Armor and gray Saddle) *Some are going to Bronx, but enough for all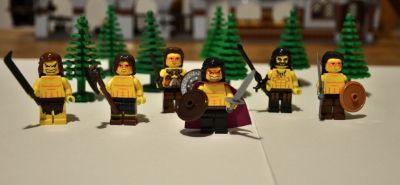 Barbarian War Party
RESERVED
Dogs and two custom Black Bears
Brown Bear is reserved for Bronx - Pony Reserved for another
Wolf Pack
Villager Battlepak Some Reserved, inquire about whats left
Left Over Ladies
2 on left are gone
Three Dwarves
Tried to make Faction with Boromirs- That got pricey quick
PENDING
Last of the Hooded Archers, AK got the others.
RESERVED for Bronx
The Torsos of Rohan
RESERVED for Bronx
My Forest Men (always liked brown instead of green for mine) Lot 1
PENDING
Forest Men Lot 2
PENDING
More to come tomorrow morning