Promised wife I would downsize to two Lego Bins!!!! And I'm currently at 10!!!
Kingdoms
SEALED
Prison Carriage rescue x 4, are sold
but Blacksmith attacks are still for sale
Sealed
Kingdoms Black Smith Attack
Sealed
Indiana Jones Ambush in Cairo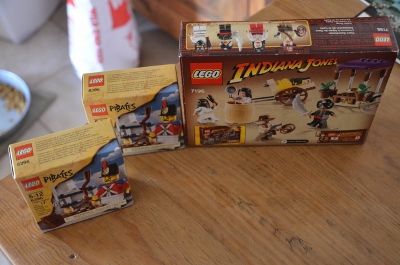 Soldiers Arsenals are Pending to Blue Secrets
but Indy set is still available
Losts of NEW Minifig parts pieces that were in my Brick Link store that I need to get rid off...all are new, never played with
Gypsy, Musketeer, Cowboy x2 are the sealed,
Maiden, Heroic, Evil Knights and Starlets and Spartan Shields are SOLD
random forest guys I had in my collection, need a home
PENDING to AKbrickster
Random villager town folk
ALL PEASANTS SOLD TO BRONX,
rest are available, make me offer
1 Gallon size Bag of Tan/dark tan bricks...do not know the lbs
PENDING
Random Creatures
POLAR BEARS ARE SOLD
TO Bronx, everything else are available
1 Vintage Black Dragon and 1 Vintage Red Dragon. Black Dragon is complete, great played with condition, the red one has a broken black horn, piece is stuck and no last part of tail. Paid $15 to CC member here on board for red, that is what I would like to get out of it.
The goats are GONE to Bronx
Brand New Dragon parts, includes Head, neck, body, arms and legs and upper part of tail and fire piece, no wings or last part of tail
Also have random castle figs for sale, only looking for PAYPAL right now and I have EBAY account so they are going on there if you guys don't want them first.