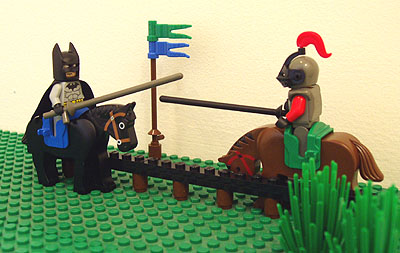 The admins have picked out their favorite captions, and now it's your turn to vote! You only have five days, so make sure to get your vote in quickly!
This is also the place where you can comment on the existing captions if you'd like.
So here are the finalists in no particular order:
Lamanda2
with
Batman is confused why the locals call his sidekick robin"hood" even though he never wears one...
Maedhros
with
"Blast! Where´s the ejection seat switch on this thing!?"
The Green Knight
with
Great Purple Wombats, Robin! The Joker's gone medival! Quick, to the Bat-ering ram!
footsteps
with
Early (failed) prototype for the Batmobile.
The Brick Rat
with
Out of work after Gotham City built a new escape-proof Arkham Asylum, 'The Dark Knight' found himself reduced to appearances at the local Renaissance Faire.
JoshWedin
with
Batman prepares to deal with a very different Bat Time.
Happy voting!