I know that LDD is still going strong so my opinion may not be the majority, but I do need to get it off my chest...
I deleted LDD off my computer yesterday because it is simply a waste of time. The idea of ordering a boxed set that was designed by me or my kids was pretty neat, originally I bought several different designs to give away for birthdays and Christmas, that was when the prices were more reasonable. Currently, it isnt worth the time to design a set that might retail for around $10 only to have LDD price it out at over $30, even online PAB priced it at nearly $20. I think the idea of designing a set and then being able to give the actual packaged set as gifts is a great idea and for $15 (maybe even $20) it might be worth it in a box, there is no way the set below should run $30 even with a healthy profit margin (as comparison I designed the helicopter for my Nephew for Christmas several years ago and paid around $15 for it and it has many more pieces than this Castle design).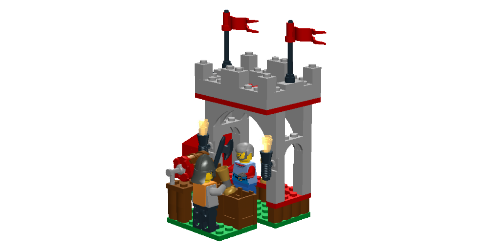 Again, I am well aware that the program is going strong and I have the option of buying the bricks off of Bricklink for much less, but I can do that without LDD... the appeal is getting a boxed set, I shouldnt have to pay $10-$15 for a small cardboard box!