Recently I decided to push my army back into the 11th and 12th century, which has meant losing some pieces (visor helms, heater shields, etc).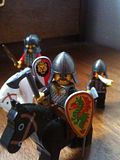 Two Normans with a Saxon soldier behind them.
I've been looking at the Bayeux Tapestry and other Hastings-era artifacts and I saw I'll need a lot more kite shields for my Norman-esque army (and I'll do Viking targes for the Saxons, but that's another topic) and I really liked the varieties of pre-heraldic shield designs. I decided I wanted to give decals a try (especially since I have an extraordinary amount of islanders shields) and as long as I'm making a few on an 8.5 x 11 page, I might as well fill it, right?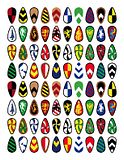 As you'll notice, not all of these are my design (Anthony Sava's Classic Castle templates helped me a lot) but I'd like to get a little feedback on their designs and also maybe some help with the printing of decals. I don't frequent hobby stores much, but is it likely I'll be able to buy single sheets of waterslide decal paper? Also, will Kinko's let me use their laser printers for waterslide decals?
One final thought: these don't have any metallic colors, but if anyone has one of those fancy dry ink printers, I feel some people would pay for the service of having you print our decals out for us