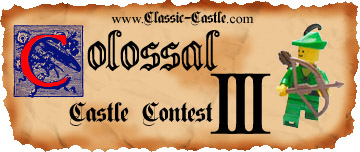 The CC Team is proud to announce our third annual building contest: The Colossal Castle Contest III. It will begin on November 1st and end on December 31st, 2005.
This contest is a bit different than other contests. We have a variety of categories each with one prize for the winner. Some categories require small creations and others need larger ones. Everyone, even with a limited supply of bricks, should be able to enter several categories. We are looking for creativity, not who has the most LEGO.
Check out the prizes.
http://www.classic-castle.com/events/co ... rizes.html
Eight LEGOLAND Castle sets are prizes. There are are also rare accessories and a custom castle figure. It truly is colossal!
Thank you to Patrick Morgan, Nathan Todd, and Ben Ellermann for donating prizes. The rules can be found here.
http://www.classic-castle.com/events/co ... ntest.html
Enjoy! Discuss the contest and any questions you may have.
Notes: We are working on setting up the database for submitting entries and hope to have that operational by this weekend. The "Submit an Entry" and "Entries" links will not work until that time. In addition we plan on placing actual photographs of the used sets for everyone to view.