To get your collective minds off the Colossal Contest grading, I'm announcing the newest Classic-Castle.com mini-contest:
Heroes and Villains
The Challenge:
Create two stand-alone vignettes, one featuring a Hero, the other a Villain. The two vignettes must also be able to be combined to form a larger vignette-like creation or super-vignette.
The Rules:
The basic footprint of each vignette may not exceed 8x8 studs. The base of your vignette does not need to be square.
A two stud overlap will be allowed. Vignettes must not exceed 12x12 studs above the base.
Your hero and villain must be placed/built on their own seperate vignette.
Each vignette may include other figs, but the hero or villain must be recognizable as such.
No rebuilding is allowed to combine vignettes - they must be able to be combined as-is. Technic pins or existing, built-in overhanging bricks that can be then 'hooked' onto the other vignette to attach them is allowed. Vignettes may also be considered 'combined' by simply placing one next to the other.
When combined, the two vignette bases must touch with at least one stud adjacent to another; simply touching the corners together isn't allowed.
The heroes and villains may be historical or fictional, literary or imaginary, but must be medieval themed.
Back-story is not required, but may be useful to the judges to understand your entry. Back-story is not required if the relationship between the hero and villain is obvious (ie. black knight vs white knight). Use your best judgement to decide if you think your entry needs back-story.
You are limited to 1 entry consisting of your two vignettes.

***Submit entries by replying to the entries post found
HERE
. If you have more than one picture for your entry, please only post one picture in this thread and link to your offsite gallery of other images.***
***Please limit posted images in the entry thread to 400x400 pixels. Larger images may be used for greater detail, but must be only linked to offsite, and may not exceed 800x600 pixels.***
***Larger pictures than 800x600 may disqualify the entry.***
Prizes:
[url=http://guide.lugnet.com/set/4337]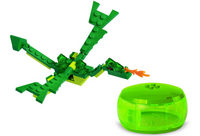 Set #4337 Dragon Pod[/url] (new)
The special CC forum rank for one month of "Heroic Hero" or "Villainous Villain" - winner's choice. Winner will choose which contestant receives the option not chosen.
Fame and Glory
Bragging Rights
CC will ship prizes USPS Priority up to $4.05 to anywhere in the USA. Winners outside the USA and/or where shipping is more than $4.05 will pay the difference.
The Deadline:
11:59 PM / 23:59 (CC server time) Feburary 26, 2006
Judging:
The Classic-Castle.com admins will decide the winner(s), and thus are ineligable to enter.
Winners will be decided using a simple voting system.
If you have any questions, please reply to this post and ask away!
Good luck and Leg Godt!
---------------------------------------------
The admins reserve the right to change the rules, deadline and anything else regarding to this contest for any reason at any time.