Red Book of Westmarch
25 III 17

Have you ever noticed that on Twitter, every day is the official something day? Today claims to be #Tolkienreadingday, and so I thought I'd post something appropriate. Rather than just do something from Middle Earth, I figured I'd focus on an actual book MOC, Patrick B's rendition of Bilbo's Book from a few years ago. Share your favorite book-based MOC in our forum. BTW, follow @Classic_Castle on Twitter for MOCs as well as website and other LEGO Castle news.
---
Waelras Castle
23 III 17

Sir Gillian recently posted a MOC he actually built last year, Waelras Castle. Check this out along with all of his MOCs on Flickr and then discuss it in our forum.
---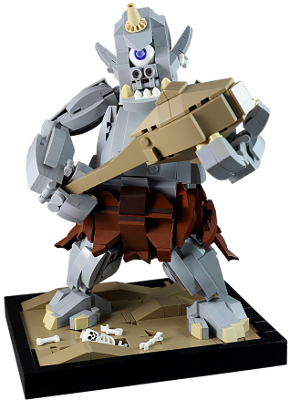 Cyclops
19 III 17

LEGO 7 built this imposing and highly poseable Cyclops. Check this out with a lot of creatures, robots, and other articulated figures, as well as other MOCs, on Flickr, and then discuss it in our forum.
---
Château de Chenonceau
13 III 17

The Marchitecture contest over on Flickr challenges builders to come up with microscale version of real buildings and skylines. Soccerkid6 shows us how it's done with his Château de Chenonceau, based on the French Château built on the River Cher in the 1500's. Check this out along with all of his (and LittleJohn's) MOCs on their site, Brickbuilt, and then discuss this great micro-MOC in our forum. And now it's your turn. What other castle can you turn into an Architecture-scale MOC?
---
CCC XIV Master Builder
1 III 17

We are extremely pleased to announce the Colossal Castle Contest XIV Master Builder. The Master Builder recognizes the individual who creates the greatest overall body of work in this year's contest. As with every year, there are several who stand out, including (in alphabetical order) Disco86, LittleJohn, Mark of Falworth, and soccerkid6. In the end, though, there can be only one. This year's Master Builder title goes to ... LittleJohn! Be sure to check out his entries and then congratulate him, and all of the great builders this year in our forum.
---
Ravenhill Castle
17 II 17

Harry Russell, known as Karrde in our forum, has been working on his Ravenhill Castle for the past couple of years in between other projects. This can be seen along with his other work on Flickr, and you have also seen his work as part of the Brick to the Past collaborations. Check it all out and then discuss this castle in our forum.
---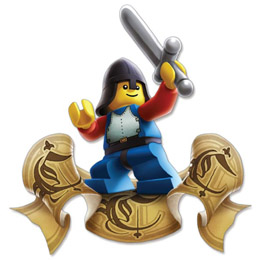 CCC XIV Winners
14 II 17

We here at Classic-Castle are excited to announce the winners of the 14th annual Colossal Castle Contest. As always, this contest brings out the best in castle building, and judging was very difficult. Please join us in congratulating the winners and the honorable mentions. Thank you to all who participated in this year's contest.
---
But the Bard's Song will Remain
29 XII 16

Letranger Absurde posted this great winter scene, But the Bard's Song will Remain earlier this year. See this along with all of his MOCs on Flickr and then discuss it in our forum.
---
Carrie Fisher 1956-2016
27 XII 16

Very sad to note the passing of Carrie Fisher, actress, screenwriter, author, best known to all of us in the iconic role of Princess Leia. Fisher suffered a heart attack four days ago and passed away this morning.
---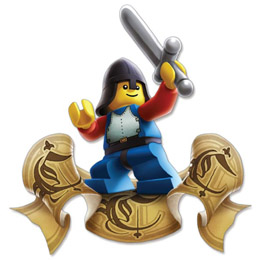 Colossal Castle Contest XIV: Naughty List
CC Team 18 XII 16

Are your entries not getting approval even after submitting them 23 times? You may want to check our annual CCC Naughty List.

Entries make this list if your images are too large, you have too many images, broken links, missing white background (1 image), etc.

Reviewing the contest rules found here is also a good idea. Admins will respond to your questions in the thread as well.


---
Colossal Castle Contest XIV
CC Team 1 XI 16

The CC Team is proud to announce our fourteenth annual building contest: The Colossal Castle Contest XIV. It will begin on November 1st and end on December 31st, 2016.

This contest is a bit different than other contests. We have a variety of categories each with one prize for the winner. Some categories require small creations and others need larger ones. Everyone, even with a limited supply of bricks, should be able to enter several categories. We are looking for creativity, not who has the most LEGO.

Check out the prizes. Classic Castle sets include the popular Forestmen's Hideout, Camouflaged Outpost, Dungeon Hunters, Twin-Arm Launcher, King's Archer, Knight's Arsenal, and Castle Guard. The fourteenth CCC also has other awesome prizes including LEGO Books, Gold Getaway, Troll's Warship, Elsa's Sparkling Ice Castle, and Kingdoms Joust. It truly is colossal!

Thank you to several anonymous donors and Rich Stehnach "Blackrock" for donating prizes for this contest. The contest rules can be found here. Enjoy!

Ask admins contest questions here.


---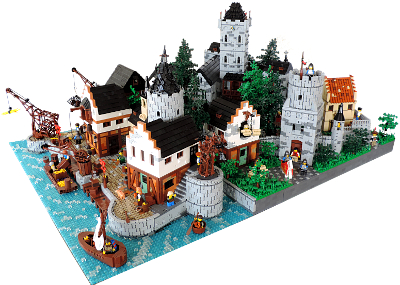 Toltobury Wharf
20 X 16

At 3x4 baseplates, Toltomeja's latest MOC, Toltobury Wharf, is an amazing layout. You simply must click through to the folder to see all of the details. Be sure to give feedback on this great scene in our forum.
---
Bayeux Tapestry
14 X 16

On this day 950 years ago, the forces of William the Conqueror were victorious in the Battle of Hastings. This battle was depicted in the Bayeux Tapestry, a fragment of which is recreated here in LEGO form by Nathan Sawaya. Nathan is perhaps the best known LEGO builder to the general non-AFOL public, as his works have been shown at museums around the world, such as this installation of his Art of the Brick show photographed by Tom Alphin in Seattle earlier this year. Check it all out and then discuss it in our forum.
---
Once more to the breach!
24 IX 16

Robert4168/Garmadon built this great scene, Once more to the breach as an entry to the Colossal Battle Contest. Check this out along with all of Garmadon's MOCs on Flickr and then discuss it in our forum.
---

Happy Hobbit Day!
22 IX 16

It's Hobbit Day! September 22 is the date of both Bilbo and Frodo Baggins' birthdays (though 78 years apart), and also the date of the Long Expected Party that comes at the start of the Lord of the Rings. A few years ago Jonas Kramm built this Hobbiton scene, including party preparations. Check this out along with all of Jonas' work on Flickr and then discuss it in our forum.
---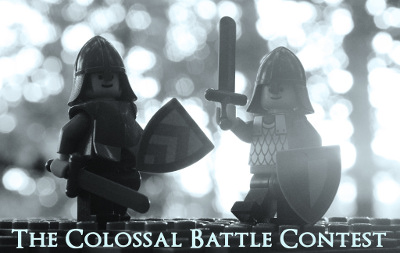 Colossal Battle Contest
21 IX 16

The Colossal Battle Contest is in full swing in the LEGO War group over on Flickr. Categories exist for "epic siege", "ultimate battle", and "final duel", with lots of great prizes. The deadline is fast approaching (September 30), so you should get building. It's not exclusively castle, but most of the organizers and participants are well known castle builders.
---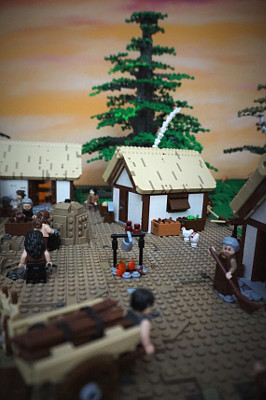 Hamlet
20 IX 16

Such a nice peaceful little hamlet by Tim Goddard. Everyone is waking up and getting about the day's business. Little do they know what's coming ...

The Bricks to the Past builders are known for epic collaborations. I'm excited to see what they reveal at the Great Western Brick Show in a couple of weeks. From Tim's hints, I don't think it will be so peaceful.

Check out all of Tim's creations on Flickr and then discuss this scene in our forum.
---
May the best dwarf win!
19 IX 16

Arrr, mateys. It be Talk like a Pirate Day! I wanted to post something appropriate and found this. A couple of years ago Jack M. put together this great scene from Return of the King, May the best dwarf win!, featuring the Corsair Pirate (aka Peter Jackson cameo) from set 79008 Pirate Ship Ambush. Check this out along with lots of other great scenes by Jack M on Flickr and then discuss it in our forum.
---
Globe Theater
17 IX 16

Jeffrey Kong (aka Artisan Bricks) made this microscale Globe Theater as a gift for a Shakespeare fan. Check out all of his MOCs on Flickr and then discuss this in our forum.
---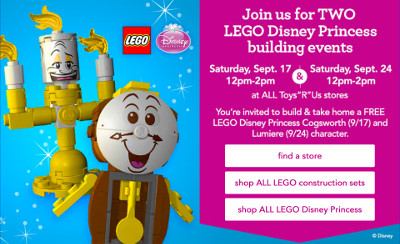 Cogsworth and Lumière - Toys R Us build
16 IX 16

Fairy tales count as "castle", right? Toys R Us stores in the United States are having two in-store building events this month. Build and take home Cogworth tomorrow (Saturday the 17th) and Lumière next week (Saturday the 24th). Unfortunately those in the rest of the world this appears to be US-only, but check your local Toys R Us. In Australia there's a Nexo Knights build on the 24th, for instance. News found via FBTB. If you attend, be sure to take some pictures and share them in our forum.
---
Hogwarts
15 IX 16

Imperium der Steine is holding an Architecture Contest, to build a MOC in the scale and style of the Architecture sets. Kit Bricksto came up with this great version of Hogwarts for the "Entertainment Architecture" category. Check this out along with all of his MOCs on Flickr and then discuss it in our forum.
---
Kingdom of Octan
14 IX 16

May I have the envelope please? Ladies and gentlemen, we are proud to present the winner of the Flag of your Kingdom contest. Drumroll please. Congratulations to Elephant Knight for winning with the Kingdom of Octan. You can check this out along with all of EK's MOCs on Flickr and then discuss it in our forum.
---
The Sun is Rising
10 IX 16

Patrick B built this immersive LEGO scene, The Sun is Rising, as part of a challenge on the German language LEGO forum Imperium der Steine. Check this out along with all of his MOCs on Flickr and then discuss it in our forum.
---
Classic Castle Progressive Vigstory
5 IX 16

Meet Sir Falcon d'Black. Who is he, you ask? He's the hero of the Classic Castle Progressive Vigstory. What's he up to, you ask? Well, that's up to you. Dig a Falcon out of your collection and build a vignette, a small scene on an 8x8 or 10x10 footprint, and add to the Classic Castle Progressive Vigstory.
---
Great Wall of China
4 IX 16

The existing Great Wall of China was mostly built during the Ming Dynasty, 1368-1644, as protection against invasion from nomadic groups living to the north. Here Andy Hung and Iki Lai depict a section near Beijing. Yes, look closer, that's a LEGO mosaic. Andy and Iki are members of the Hong Kong LEGO group LegendBricks. You can see all of Andy's MOCs on Flickr and then discuss this mosaic in our forum.
---
Qar Riva
3 IX 16

Tirrell Brown built this amazing fortress for the Guilds of Historica, Qar Riva. Here is the description:

Qar Riwa is a fortress located along one of the tributaries of the Qar-Arkhan River in southeast Kaliphlin, An ancient and weathered fortress originally under the control of the Desert King, he has allowed High Council soldiers to take over manning it. In the past, it was a outpost along the frontier of the Desert King's empire, but these days, it's main purpose is to guard and maintain the integrity of a spring that sits farther up the canyon, which serves as the start of the tributary. The waters provide irrigation to a few small villages nearby, which in turn serve as reliable rest stations in the vast sea of sand.

Check this out along with all of Tirrell's MOCs on Flickr and then discuss it in our forum.
---
Today in History: Great Fire of London
2 IX 16

350 years ago today a fire started in the bakery of Thomas Farriner on Pudding Lane in London. It quickly spread, and over four days it gutted much of medieveal London, destroying between eighty and ninety percent of the homes. James Pegrum, aka Peggyjdb in our forum, depicted the fire as part of his History of Britain series of MOCs. Check this out along with all of James' work on Flickr and then discuss it in our forum.
---
Previous month's news
---