Featured MOC Archive
---
MOCs featured in 2007:
---
December 2007
---
November 2007
---
October 2007
---
September 2007
---
August 2007
---
HOW/CON 2007
Bruce N H 19 VIII 07

Kotaro Ono, aka Earl-0, is an AFOL from Tokyo, Japan. He received his first DUPLO when he was 3, and built for over a decade until falling into his dark ages. At 23 years old, Johnny Thunder and Han Solo raised him from the LEGO dead, and he's been building ever since. Mostly he builds in Town, with some space and some great castle/fantasy MOCs, such as his Castle Traveling. He was also one of the very early vignette builders. Recently he was inspired by the connectibility of the skeleton horse in the new Castle line, and held a HOW/CON 2007 contest on his blog. A number of Japanese builders entered creations based on the skeleton horse and the skeleton body. Many entries take the basic frames and use them in very innovative ways. The entry pictured above is "The Gatekeeper."

Earl-0's blog is How Many Studs to Legoland? and his MOCs can be found in his Brickshelf gallery. In addition to CC, he is also a member of Lugnet and Bricklink.


---
Modular Castle
Bruce N. H. 4 VIII 07

William Howard (WilliamH in our forum) is an AFOL from Petersfield, on the south coast of the United Kingdom. When he first came out of his Dark Ages he was mainly into Technic and Monorail. That changed when he became involved in the Brickish Association and started developing an idea for a fortified Castle town for group displays. Now Castle has taken over his LEGO building, and that's not such a bad thing. Feeling that the CC standard gives overly short walls, and also wanting to expedite setup and teardown, he's created his own display standard (described on pages 6 and 7 of this newsletter). Recently he's gone through and refined and rebuilt his modular castle in preparation for five upcoming shows. This castle is made up of several modules that can be quickly rearranged to give various display configurations depending on the available space. The open spaces can be filled by the creations of other Brickish Association members or by William's marketplace MOCs (or see page 4 of this newsletter. The keep of this castle was inspired by Harlech Castle and the large outer bailey was inspired by Dunstanburgh. He also draws a lot of inspiration from the work of James Stacey.

William's creations can be found on his Brickshelf or his MOCpage. In addition to CC and the Brickish Association, he is a member of the various common forums and is also a member of the LDRAW Steering Committee.


---
July 2007
---
Village Joust
Bruce N. H. 11 VII 07

Dan Garcia, RuthleSs_PaLadin in our forum, is an AFOL from Las Vegas. As a kid he got hooked on the great castle and pirate sets of the late 80s/early 90s. Then around 2003, he picked up a Legend rerelease set and got hooked all over again. Finding castle MOCs on the net encouraged him to try his own hand at these, and the results can be found in his Brickshelf gallery or on his MOCpage.

His Village Joust started out to be a larger castle, but he decided by limiting himself to one baseplate he could include much more detail. He'd seen several other great joust scenes, but wanted to combine this with more elaborate structures. This MOC sits on a 48x48 footprint and uses between 2200 and 2500 elements.


---
Winter Home of the Happy Sunshine People
Bruce N. H. 5 VII 07

Attendees of BrickFest 2005, and those of us who checked out photos on-line, were amazed to see Steve DeCraemer's POV3, which won best in show. At BrickWorld 2007 he presented another masterwork, the Winter Home of the Happy Sunshine People. Unfortunately he doesn't have a Brickshelf, Flickr, or other gallery for this MOC, so you'll have to check it out in various other people's BrickWorld galleries. (BTW, photo credit for the above picture goes to Orion Pobursky. Thanks, Orion.)

Steve has been building since he came out of his dark ages 14 years ago. He lives in Saint Paul, Minnesota, where he's starting up a new club, TwinLug. His own site is Cow in a Can.


---
Dragon
Bruce N. H. 2 VII 07

Bryce McGlone, new member "Cajun" in our forums, is an AFOL from Southern California. He's long been known for his mecha and giant monsters, often with very unique part usage, and he was a pioneer in using Bionicle elements. He has long admired Anthony's dragons and wanted to make a foray into more castle-y creatures. When he saw McFarlane's Dragons: Eternal Dragon, a paintable sculpture, he decided he needed to make a LEGO version. The result was his Dragon Forest Diorama, which was recently displayed at BrickWorld 2007.

In addition to membership in Lugnet, LUGOLA, and now CC, Byrce is the founder of Mecha Hub, the source for all your LEGO mecha needs. Bryce's creactions can be found in his Brickshelf gallery or on his personal site, Plasmic Bricks.


---
June 2007
---
In memory: Eric Brok
16 VI 07

Eric Brok succumbed to the effects of prostate cancer earlier this week after fighting it for the last year and a half. Eric is a Dutch AFOL who was a pioneer in the hobby. Over ten years ago he started his website, LEGO on my Mind, at a time when the online community was in its very early stages. His creations have inspired builders ever since. Castle fans should definitely check out his castle creations including his Estuary Stronghold. Also, be sure to check out the "Thoughts" section of his site, which have insights on the hobby and building ideas. Recently, Eric has made a huge splash in the community by designing the great new set 10190, Market Street. Here are his thoughts about designing that set, and here is a brief bio of him on LEGO.com.


---
Castle Gate
Bruce N. H. 8 VI 07

Saskia van Doesburg, known as Stuifzand in our forum, is a Dutch AFOL you probably already know. She's run up an impressive record in our Colossal Castle Contests, winning in Contest 1 with Brickerlo Castle, in Contest 3 with a day in Brickerlo, and receiving an honorable mention in Contest 4 with Brickerlo Inn. With that kind of record, entrants in the recent LEGO Castle Contest may feel relieved that she decided that her Castle Gate wouldn't fit the contest requirements, as I'm sure it would have given them stiff competition.

Saskia has been a LEGO fan all of her life, but she came out of a dark age around the year 2000. She likes the castle theme because the "figs are great" and she has a "somewhat romantic idea" of the "simple way of life of the medieval times." All of her creations can be found in her Brickshelf gallery. She's a member of CC, Lugnet, and Lowlug.


---
Mini Dragon
Bruce N. H. 7 VI 07

TsoAutTmo, a Japanese TFOL currently living in Hamburg, Germany, has been building with LEGO for the past ten years. In the past he has built mostly in the Star Wars theme, but through my blog he found CC, and has gotten into the Castle theme recently. He's built a fair amount of microscale MOCs in the past, and now has turned his hand to dragons, inspired in part by Izzo's Drakkhen line. He expects that more will be coming in the near future. TsoAutTmo's creations can be found in his Brickshelf gallery or on his blog, Bricktacular.


---
May 2007
---
The Crossing
Bruce N. H. 29 V 07

Daniel Major, or ApophisV, is an AFOL from Aachen, Germany. He started with Castle and Space LEGO in the late eighties, and aside from a dark age in the latter nineties, has been building ever since. He builds across themes but has an interest in historical MOCs. The Crossing, originally intended as an entry in the bridge category of the CCC4, was loosely based on some pictures of other stone bridges. He wrote that he didn't build with a backstory in mind; his creations start out as static scenes but gain life as he adds figures and details. In this scene the mongolian trader was added at the last minute as "filler," but became his favorite part of the MOC.

Daniel's creations can be found in his Brickshelf gallery and his website. He's an admin at Eurobricks and a member of 1000Steine.de, in addition to lurking on most of the other major forums.


---
Green Samurai
Bruce N. H. 19 V 07

NickGreat, an AFOL from Singapore, has always loved minifigs, and as a kid he came up with his own Darth Vader using official elements. About three years ago he was inspired by the work of "Kaminoan" Jared Burks, "Red Bean" Isaac Yue and "Blasterman" Jeff Byrd to try some real customizing. Some of his most exciting work is his team of multicolored Samurai, coming in red, black, white and now green. His Black Samurai won the custom fig category in our most recent CCC and his Red was a runner-up in CCC 2. He describes his most recent work in detail in our forum.

NickGreat's work can be found in his Brickshelf gallery and on his MOCpage. In addition to our forum, he is an active member of the Minifig Customization Network and Singapore 0937 Fanatics Group.


---
Fabyan Windmill
Bruce N. H. 15 V 07

Matt De Lanoy, aka Pepa Quin, is an AFOL from Bolingbrook, Illinois. He's been building with LEGO ever since receiving a set from his aunt when he was 5 or 6. Recently, NILTC, the Northern Illinois LEGO Train Club, decided to incorporate historic buildings from Geneva, Illinois, where they were presenting a display at the town's History Center. Matt chose to recreate the Fabyan Windmill. The display was a great success, with over 2000 visitors to the center over two days. Matt's windmill, and the original for comparison, can be seen in detail in this gallery and the moving blades can be seen in action in this video.

In addition to belonging to NILTC, Matt posts most often on FBTB, under the name PepaQuin, and less often on Lugnet. His creations can be found in his Brickshelf gallery and on his MOCpage. He is also one of the coordinators of the upcoming Brickworld fest.


---
April 2007
---
Cinderella story
Bruce N. H. 13 IV 07

Barbara Werth is an AFOL originally from Germany but now living in the Netherlands. She came out of her dark ages in 1999 when she got a Gungan Sub. Rummaging through the bricks brought back the old feeling and drew her back to LEGO. She really started MOCing when she couldn't get tickets to a concert, so she decided to build a LEGO version. Recently she bought a Playmobile set that depicted four scenes from the Cinderella story (Brothers Grimm version). This inspired her LEGO rendition. Moving around the four quadrants of this MOC you see Cinderella's kitchen, her mother's grave, the royal ball, and the iconic scene of losing her slipper. In addition to this MOC, all of her creations can be found on her site Steinarbeit or in her Brickshelf gallery. Barbara is a member of Lowlug, 1000Steine.de and Lugnet.


---
The Forces of Isengard
Bruce N. H. 4 IV 07

Philip Heinrich has been playing with LEGO since he was a child. After watching stop-motion claymation films he realized he could do the same thing with LEGO. He says "I then lived under the illusion that I was the only one clever enough to think of such a think for several years before LEGO Studios came out and an online community developed." Most of his LEGO building is actually for his brickfilms. Philip has also had a long interest in 3D graphics, and he's used LDraw to create such scenes as White Witch's Castle, which won the LDraw.org Scene of the Month in January 2006.

Philip has combined his graphics skills with his brickfilming in the creation of a short film, The Two Towers: Tens of Thousands. A scene from this film, The Forces of Isengard, won LDraw.org's Scene of the Month in February 2007. He wrote an extensive article about how this scene was constructed.

Philip's films and other art can be found on his website, Smeagol Studios. He is a member of brickfilms.com and LDraw.org, as well as Lugnet.


---
Phergy the Podagon
Star 1 IV 07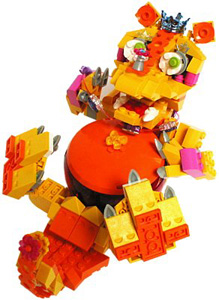 Megan Rothrock is an AFOL from the Netherlands with a real eye for the artistic. She is also a master at using a wide variety of elements in unique ways, including various Clickits elements. For instance, her Clikiness Monster uses Clikits hairclips and Bionicle kraata as legs, her Pop-o-matic Jellyfish uses Clikits strings as tentacles, her Clikingo uses the narrow Clickits hairclip as a beak, and her uses a Clikits jewlery box as a body. Also check out this great mosaic t-shirt using Clikits icons.

Megan has said that her Podagons are some of her favorite models. She starts out with a drawing that then evolves into the completed dragon. Phergy is a female podagon with an appetite for expensive and shiny things. In addition to Belville, Scala and X-Pod elements she is decorated with Clikits icons and wears a Clikits necklace.

Megan is a member of De Bouwsteen and has displayed her MOCs at LEGO WORLD. You can see all of her creations in her Brickshelf gallery. Be sure to check out a feature article on Megan and her work in issue 6 of BrickJournal.


---
March 2007
---
The Drakkhen
Bruce N. H. 7 III 07

Izzo is a LEGO builder from western Japan, near Osaka. Here's how he describes his LEGO history: "When I was a kid, if there were building blocks around, I could play forever. However, LEGO was a premium product at that time and we could only afford Daiya Blocks [an off-brand available in Japan]. One day, having entirely forgotten about such things, I suddenly bought my kids The Red Bucket. By stealing, ahem, borrowing it from the kids, thus began all of my mistakes. I don't think I need to say what happened afterward, driven by an adult's purchasing power. I've even skipped work to indulge in a little building." Two and a half years later, he's really made his mark, with much of his focus on mecha and vignettes.

Recently Izzo started a new series, The Drakkhen, and has already posted the first two MOCs, with plans for around eight more. The construction draws on his experience with mecha building, and the forms are inspired by illustrations from the covers of fantasy novels and role-playing games (Dungeons and Dragons, etc.). Keep an eye on his gallery for new installments and discuss them in our forum.

In addition to his Brickshelf gallery, Izzo also has a website, Legostyle, and a blog, Legostyle Log.


---
February 2007
---
Citadel of Minas Tirith
Bruce N. H. 21 II 07

Stefan Lesschaeve (Astuanaks in our forum) is an AFOL from Belgium. Recently he posted the Citadel of Minas Tirith, drawing on the movie version for his visual inspiration. Be sure to check out the whole gallery to see all of the details included, such as a furnished interior, the white tree, and Denethor's palantir. This is the first phase of a very ambitious project. He ultimately plans to build a four-level version of Minas Tirith fitting on four 48x48 baseplates. Next he plans to build other sections of the city, and has already built a beacon. All of Stefan's creations can be found in his Brickshelf gallery.


---
Griffon Rider
Bruce N. H. 13 II 07

Aaron Andrews is one of our Australian members, going by the username DARKspawn. He's been building with LEGO his whole life, starting with DUPLO, but has become more active in the hobby over the past year. He started his interest in Castle right, with the classic Yellow Castle, and has collected Castle ever since. This goes hand in hand with his interest in history. Recently he presented his Griffon Rider. Cedric the Bull's much more stylish sister, the Lady Celeste, rides in style. This MOC was inspired by the Creator sets, but with a desire for a more fantasy style beast. Be sure to check out the poseability and discuss it in our Castle MOC forum.

Aaron is also a member of BrisLUG and participates in the Eurobricks and LEGO and More LEGO forums. His creations can be found in his Brickshelf gallery or on his MOCpage.


---
January 2007
---
Medieval Life
Bruce N. H. 31 I 07

Marian Forgàč, known as marian19 in our forum, is an AFOL from Slovakia. He was first introduced to LEGO as a child when he received Basic Building Set 550 for Christmas. He always liked the Castle theme, but had mostly City sets as a child. He came out of his dark age in 2005 when he found Kostky.org, a Czechoslovakian LEGO forum, and joined our fourm a year later. Members of Kostky.org are preparing for a castle exhibition at Svitavy, and he wanted a civilian setting to complement some of the more military-themed MOCs that will be included. The result was Medieval Life. Be sure to check out a number of great details, such as the fence, the scarecrow, the chickens and swan, and a great roof design, and discuss them in our Castle MOC forum. Marian's other creations can all be found in his Brickshelf gallery.


---
Castle Town
Bruce N. H. 27 I '07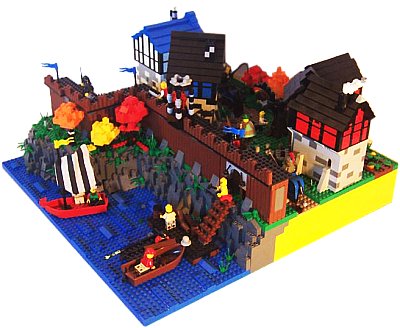 Back when George M. (Lord Felix) was 5 or 6, he and his brother found a Black Falcon's Fortress and a Forestmen's River Fortress at a yard sale (lucky kids), which was his entry into Castle LEGO. Several years later, a friend suggested he check out Blueandwhite's Brickmoor, which brought him to join our site. Recently George has completed his Castle Town. This provincial town is part one of three yet to be built. It is an isolated, coastal town with a shallow harbor suitable for only small craft. Part of the inspiration came from Lomero's Bank, which gave him the angled shape for his butcher's shop. Be sure to check out details of the building interiors for some great build details. All of George's creations can be found in his Brickshelf gallery.


---
When the Kraken Awakes
Bruce N. H. 18 I 07

Paul Brassington is one of the newest members of our forum, going by the username Fifthconspiracy. Back in the eighties he was a big LEGO fan, with mostly Classic Space sets but also some castle, until he fell into his dark ages. Three years ago he came back to LEGO when his son was diagnosed with muscular dystrophy. He figured it would be a good way help his son work on his fine motor control and coordination. At the time he didn't reallize what he was getting into - he bought a few Star Wars sets, but it quickly grew. Now he loves to build with LEGO to relax and also to play with his kids.

Mostly he builds in sci-fi themes, and finds the realism of castle to be a challenge. Last year, though, he was inspired by the second Pirates of the Carribean movie to build When the Kraken Awakes. In describing the build he said: "I built the Viking ship first, then built the Kraken to scale. The hardest part is the tentacles and how they connect/move on the body. Everything I build is always played with by youngsters, so I wanted the beast to be sturdy and for the kids to move his tentacles around with sinister fun!" Be sure to check out this and all of his creations on his website - fifth conspiracy.


---
&nbspHome&nbsp|&nbspArchives&nbsp|&nbspCity&nbsp|&nbspEvents&nbsp|&nbspSets&nbsp|&nbspHow-to&nbsp|&nbspCreations&nbsp|&nbspStories&nbsp|&nbspLinks&nbsp|&nbspContact&nbsp
© 2003 Classic-Castle.com. Site design © Anthony Sava and Benjamin Ellermann. All rights reserved. This is an unofficial fan created LEGO website, and is not sponsored, authorized or endorsed by The LEGO Group. Visit the official LEGO website: www.lego.com