Featured MOC Archive
---
MOCs featured in 2009:
---
December 2009
---
Colossal Castle Contest VII
Bruce 30 XII 09

CCC VII is drawing to a close, and I wanted to give a quick word, since several people have asked about this both in the forums and by private message. All entries must be moderated by the admins before they appear on the contest page. This is to ensure that they are in the right category and conform to the contest rules. If your entry has not appeared on either the contest page or the naughty list, it simply means that we have not had the opportunity to check it yet. I'm sure I speak for all of the admins in saying that this is a very busy and hectic time of year, so be patient with us. Don't be concerned; if your entry is in by the deadline, it will be in the contest, even if we don't get all of them moderated until sometime next week. Even if you are on the naughty list, we will work with you to make sure that entries will be properly judged. In the meantime, let's take a look at last year's winners as a bit of inspiration for those who are frantically trying to get their last entries perfected and photographed.


---
Church of St Govan
Bruce 16 XII 09

Derfel Cadarn has been collecting LEGO since he was six, but only started building MOCs in the past year with his Village Elder's Cottage. He's mostly been building in the Pirates theme, but we'll forgive him, as MOCs such as the Church of St Govan would look just as beautiful if they were populated by knights as they do with figs from a later era. This church was inspired by a few churches found in the Cornwall area, which led him to use the 1x1 round plates to give a textured look.

All of Derfel Cadarn's MOCs can be found on Flickr and MOCpages. He's planning a large scale Camelot project, inspired by his interest in medieval Britain and the Arthurian saga, so keep an eye out for more great MOCs.
---
Colossal Castle Contest 7
Bruce 9 XII 09

There are still three weeks to go in the Colossal Castle Contest and already a great number of impressive entries have been submitted. For instance, at this point we have four entries for the 'Brick Castle' category, and each is a beautiful MOC - I don't envy the judges! (Oh, wait, I am one.) Check out all the entries and submit your own! If you've already submitted something and it has not yet appeared, be sure to check the naughty list, as your entry may violate the category or one of the other rules. See this thread for any clarifications on the rules.


---
Colossal Castle Contest 7
Bruce 2 XII 09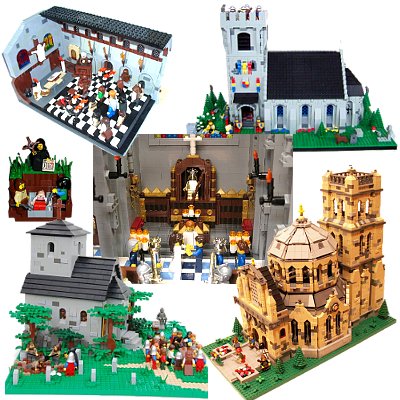 There's still a month to go in the Colossal Castle Contest and already a great number of impressive entries have been submitted. For instance, here are the six entries that have been approved by this point for the 'Religious Life' category. Check out all the entries and submit your own! You've got another 29 days to do so. If you've already submitted something and it has not yet appeared, be sure to check the naughty list, as your entry may violate the category or one of the other rules. See this thread for any clarifications on the rules.


---
November 2009
---
Burg Stolzenstein
Bruce 16 XI 09

Annette Pitsch and Thomas Nickolaus (tnickolaus in our forum) are AFOLs from Munich, Germany. Thomas has been building for a long time, mainly in space and Star Wars, but Annette got into the hobby much more recently. She's always been interested in castles, knights and dwarfs, so when she saw the Medieval Market Village set, she suggested to Thomas they build a large castle. This started a collaborative effort, with Tomas focused on the landscaping and the curtain walls, and Annette taking the lead on all of the interior structures, the towers, and all of the details that bring a MOC alive. The result is Burg Stolzenstein, a really impressive setting, especially when you consider that both of these builders are new to the genre, and one is new to MOCing altogether. They recently displayed this castle at Bricking Bavaria, a gathering of German AFOLs sponsored by 1000Steine, of which both Thomas and Annette are members. Many photos, including WIP shots, can be found in their Brickshelf and MOCpage galleries. At that link you can even see a video of this on display. With this sort of start, imagine what sorts of castle MOCs we can expect from this building team in the future!


---
Celtic Mosaics
Bruce 11 XI 09

The Lees are a great example of a LEGO family. When their daughter was a toddler, they bought her LEGO, thinking it was a great learning toy. They got hooked, and kept buying LEGO, getting more and more sets and then loose bricks on EBay. I don't know if they've found BrickLink yet, but they've already got enough bricks spread around their house that they could construct set 10188, the huge Death Star playset, based on their loose parts.

Two years ago, Craig (the dad) got frustrated by the clutter "And thus began the Great Lego Organization Project that he thought would take a weekend and ended up consuming all his free time for almost a year." I had to laugh at that, as we've all been there. Tracy (the mom) is a tattoo artist, and bought a reproduction of the Book of Kells to use as a source of designs. Craig was inspired by these and came up with several Celtic mosaics. Here is my favorite part of my correspondence with Tracy:

"He and my 9 year old son have worked on legos just about every day for the past two years - building sets, organizing, making new original creations - talk about your bonding experience! Just don't get my son talking about legos unless you have a couple of hours, the kid will talk and talk - already knows he wants to work for Lego when he's old enough and hopes to be a designer for them."

That, in a nutshell, is why I love this hobby. All of the Lee family's creations can be found in their Flickr stream, including mosaics, a huge chess set and, coming soon, a ninja castle.


---
Mini Castle Contest V winners
Bruce 7 XI 09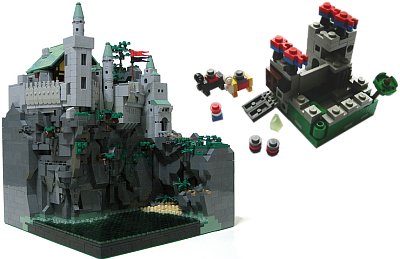 Once again, the Mini Castle Contest V inspired lots of great micro builders. The winners and runners-up have been announced. In the miniature set category, first place goes to Bartosza6m, for his version of set 6081, King's Mountain Fortress. He got everything in, even the ghost! In the main category, the win went to Weasel47, for his Castle on the Lake. Congratulations to the winners, the runners up, and all the great entries. Check them all out in this thread. Thanks again to Dan for hosting this great contest.


---
Japanese Temple
Bruce 4 XI 09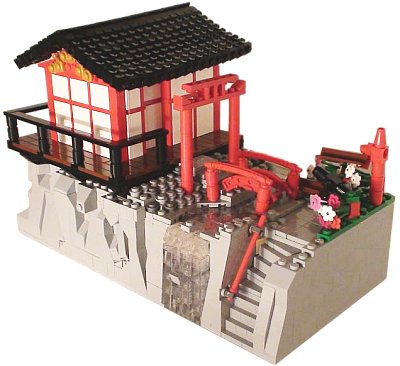 Lasse Deleuran hails from the land of LEGO, where he is a member of the Danish LUG Byggepladen. He mainly builds Model Team MOCs, but occasionally likes to try out other themes. A recent contest on Byggepladen challenged him to use as many stray ideas as possible. Inspired by various Japanese anime, he came up with this temple. Note the many clever construction ideas, such as the roof built of all 1x1 plates, SNOT techniques for the walls, rocks and waterfall, bricks at different angles in the cliff and the stairs, and even motorized features. If you watch the video on YouTube you can see fish swimming water and even a working shishi odoshi, or deer scarer. All of Lasse's MOCs can be found on his MOCpage or in his Brickshelf gallery.


---
October 2009
---
Playmobil Prison Tower
Bruce 25 X 09

Many of us have previously expressed a wish that LEGO might consider the Playmobil line of products when thinking about the sorts of sets they produce. In addition to having some oft-desired themes that LEGO has never produced (for instance, they have a Roman series), many of the sets from their Knights line would make great LEGO sets. Marco Anselmi, medieval_total_lego in our forum, isn't waiting. He's been working on a project to build MOCs based on Playmobil sets, including his most recent, the Prison Tower. Note that the technic pin connectors, so this can fit into his modular city wall project. Marco says his next installment will be the sculptor's house.

Marco comes from Fano, Italy, on the Adriatic Sea. He was a big fan of the castle theme as a child but only came out of his dark age three years ago. In addition to CC, he is a member of ItLUG and Eurobricks. All of his creations can be found on MOCpages and Brickshelf.


---
September 2009
---
MMMV - Micro Medieval Market Village
Bruce 24 IX 09

In the Mini Castle Contest V there is a category to take an existing castle set and redo it in microscale. This reminded me of an excellent MOC from earlier this year that I didn't get around to featuring, so let's rectify that by taking another look at the micro 10193 by Erik Eti Smit, or eti in our forum. He says he doesn't really remember what inspired this MOC, he was just playing around one night and it started coming together. It took him a little reworking to get the colors right, but he successfully included all of the varied elements of the Medieval Market Village. The buildings even have interiors and swing closed! He said he hasn't done a lot with microscale before, but is getting more into it as his LUG is starting a Micropolis project. Hopefully we'll also see some more castle MOCs from him at this scale.

Eti comes from Utrecht in the Netherlands and is active in the Dutch group Lowlug. He's also a member of CC, Eurobricks, 1000Steine and the Builders Lounge. He only came out of his dark age a couple of years ago, but he's created a variety of great MOCs, all of which can be found in his Flickr and MOCpages galleries.


---
Miracles of Agostino Novello
Bruce 10 IX 09

Mautara is an Italian AFOL from Venice who only recently came out of his Dark Age. He works in a museum and is surrounded each day by artists of the Italian Renaissance such as Bellini, Giorgione and Titian. He likes using artists as inspiration for his LEGO building, as it gives his MOCs more of an artistic feeling. While in Siena, he saw this altarpiece painted by Simone Martini in 1324. The scenes depict miracles attributed to the saint Agostino Novello, three of which mautara has already illustrated in LEGO form: saving a child from a fall, saving a child from a wolf and saving a knight who fell in a ravine. He says we can expect an illustration of the fourth miracle sometime soon. You can read more about the life of Agostino Novello in this article. Mautara enjoys these illustrations of the saints zooming in to save the day - which he compares to a sort of medieval version of a Superman comic.

Mautara is a member of ItLUG and EuroBricks. All of his creations can be found in his Brickshelf gallery


---
Brickistan
Bruce 3 IX 09

One of the newest members of our forum is Tanager, or Sandy Cash. Sandy hails from Durham, North Carolina, where he is a member of NCLUG. If you've seeen any pictures from the recent BrickFair gathering, you've surely already seen pictures of his Brickistan layout. He's been working on this project for almost two years, inspired by his interest in Islamic architecture and the history of central Asia and India (which he's visited several times). The empire of Brickistan is "not meant to represent a specific site or year, rather [he wanted] to evoke a general feel for a dusty Central Asian medieval khanate. But [he] pulled influences from both Mughal India and Mamluk Egypt, among others, so [he didn't] feel bound to this or that particular substyle." He plans on building more in this theme, perhaps a university or some more civilian town structures, so watch out for more in this general theme. He's also excited about the upcoming Prince of Persia line and anticipates incorporating new figures and elements into his MOCs. All of Sandy's creations can be found on Flickr and Brickshelf. Check these out and also welcome him to our little corner of the Legoverse.


---
August 2009
---
32x32 Building Challenge
Bruce 22 VIII 09

Here's a community challenge that spun out of late night chat. Quickblade and Ye Olde Republic were discussing ways to tighten their building, and challenged eachother to build castles on 32x32 footprints. This is not a contest in that there will be no judging and no prizes awarded, but a number of people have already stepped up to join the 32x32 Challenge. A few of the entries are shown above. Starting from the far left and proceeding clockwise, these are by AlienCat, RichardAM, Ye Olde Republic and Quickblade. Check out all of the MOCs and join the fun by creating your own.


---
July 2009
---
MOC the Admins 2.0
CC 28 VII 09

Plums_Deify has announced a new contest, MOC the Admins 2.0. You are challenged to build a vig featuring at least one of the CC admins. If you want some inspiration, check out our previous MOC the Admins contest, won by Nelson's Holy Grail. See Plums' announcements for complete details of this contest. Good luck, and be gentle. :)


---
Dutch Castle
Bruce 24 VII 09

Johan van den Heuvel, known as Teddy on our forum and elsewhere around the Legoverse, is an AFOL from Eindhoven, Noord-Brabant, in the Netherlands. He's enjoyed LEGO since he was a kid, but a few years ago emerged from a six-year dark age. For quite a while he's been working on a Dutch Castle. This is a WIP, as he has some interiors still to finish, but it's extremely impressive nonetheless. All of the towers and walls are modular, connected by technic pins, so this can be moved around for display, or expanded in the future. Roofs lift off for interior access, and he's included mechanisms for raising and lowering the drawbridge and portcullisses. He says the style is typical of Dutch castles such as het Muiderslot, Ammersoyen and slot Loevestein, plus he drew some inspiration from Bodiam in England. His initial inspiration to build a large castle came from seeing Blueandwhite's Brickmoor. As he's been adding to his build, he's been updating this thread in our forum, so watch that space for further additions.

In addition to CC, Teddy is active on Lowlug and Eurobricks. His MOCs can be found in his Flickr, Brickshelf and MOCpages galleries.


---
Dragon Tower
Bruce 21 VII 09

Crises is an AFOL from Gdansk, Poland, a town on the Baltic Sea. He's been building with LEGO for the last 25 years, with some dark age years thrown in there, and has always loved Castle and Town for the sake of the architecture. He feels most at home with smaller MOCs, such as vigs or microscale, including this Dragon Tower. He tries to draw inspiration from all over the community, and this was, in part, inspired by our recent how-to article on landscaping.

In addition to CC, Crises is a member of LUGPol. His MOCs can be found on Brickshelf and Flickr.


---
Estuary Stronghold Redux
Bruce 17 VII 09

If you know anything about the early history of the online AFOL community, you know of Erik Brok, who sadly passed away two years ago. His Estuary Stronghold still sets the bar for castle MOCs, almost ten years since it was first revealed. This was one of the first castle MOCs that Eggy (aka Eggplant Wizard, aka Professor Eggplant, aka Eggy Pop - are you seeing a theme here?) found when he came back to the hobby, and it helped bring him out of his Dark Age. Earlier this year he decided he had accumulated a large enough collection to try to make something along these lines. Well, 35 Bricklink purchases and five months later, he completed his Estuary Stronghold Tribute, faithfully reproducing Erik's beautiful design but also incorporating modern techniques and detailing. I cannot think of a more fitting tribute to Erik, one of the pioneers of our community.

Over the past year or so Eggy has created a number of very impressive castle MOCs. Be sure to check them all out on MOCpages and Flickr.


---
Castle Belisaere
Bruce 13 VII 09

MasterChief 1 is an AFOL from Britain. Even though he's only started posting his creations online relatively recently, the skill shown in his MOCs may tip you off that he's actually been building for the last twelve years. His first ever castle MOC is Castle Belisaere, that uses a lot of innovative techniques, such the octagonal tower, SNOT stonework, arrow slits and that beautiful roof. Also be sure to check out his earlier version for a nice crennelation design.

MasterChief 1 is interested in a variety of different themes. His LEGO creations can be found on MOCpages and Flickr, where he is a member of a number of different LEGO-themed groups. He's also one of our newest members right here at CC.


---
Waterfalls
Bruce N H 8 VII 09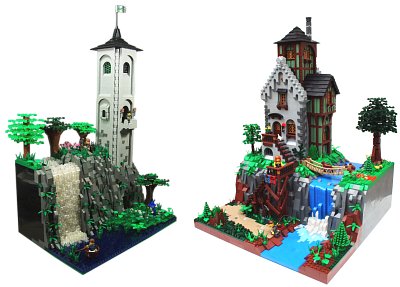 In the last couple of days, two related MOCs have graced our forums: Garbageman13's Tower in the Forest and RebelRock's Waterfall House. Perhaps the most striking feature of these is the stunning landscaping, including those waterfalls built using two different techniques. For more about different techniques, check out the how-to article Building a Landscape, first written by DNL but now updated with additional material by SlyOwl, and Eggy's Waterfalls 101, which has now been linked on our how-to page along with other tutorials by Eggy.
---
Vlčí hrádek
Bruce 2 VII 09

Daniel, aka Legacek, is an AFOL from Jihlava in the Czech Republic. He built with LEGO when he was a kid up until his teen years, and then went into a ten year Dark Age. Last year he started building again and has come up with two really nice castles. His most recent is Vlčí hrádek, or Wolf Castle.

Daniel is a member of the Czech LEGO forum Brickdome and his MOCs can be found on Brickshelf.


---
June 2009
---
Ultimate Seige Engines Collection
Classic-Castle 29 VI 09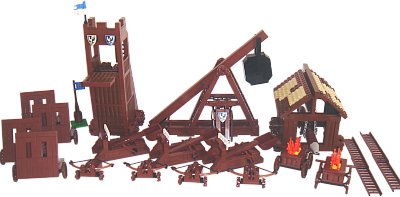 Marco, better known in our forum as medieval_total_lego, comes from Fano, Italy, a small town on the Adriatic Sea. He's a big fan of medieval history, and has an interest in attacking walled cities (at least in ABS form). Inspired in part by things he's seen on Brickshelf and by units from the game Stronghold 2, he's created his ultimate siege engine collection to outfit an attacking army. Unfortunately he didn't have time to put all of these to work in an entry for the recent Battles Contest, but here we see some of them in one of his CCC entries. Hopefully soon we'll see a larger scene incorporating all of these elements.

In addition to CC, Marco is a member of the Italian group ItLUG. His LEGO creations can be found on his MOCpage and Brickshelf sites.


---
Mountain Chateau
Bruce N. H. 16 VI 09

Mark Bauer, einsteinonthebeach in our forum, has been a LEGO fan since he was 9. He's always enjoyed Castle, as his first large set was 6086, Black Knight's Castle. Seven years ago he went to college and entered a Dark Age. Just last year he pulled out his collection with the intention of sorting and selling his bricks. He couldn't do it, though, and got pulled back into the hobby. He says in large part he was inspired in this by the work of RebelRock. Now he's got the AFOL's dream job, working at the LEGO Imagination Center in the Mall of America. Even though he only emerged from his Dark Age a year ago, he's already presented a number of impressive fortresses, including the Mountain Chateau.


---
Brick Built Beasties
Bruce N. H. 10 VI 09

Most of us don't see a pile of stick shifts, clip plates, fig hands and accessories as particularly useful for castle building. These might be used for a detail here and there, but often they're set aside for when we build in other themes. That's not how Micah Berger, aka The Green Knight, thinks. When he sees the aforementioned pile of "useless" pieces, he sees a monster, a golem or a farm animal. A while ago he announced ten new ten new creatures, including the donkey, the dracolion and the black elf shown above. For all of Micah's creatures and other MOCs, be sure to check out his Brickshelf gallery.


---
Hobbit Legs
Bruce 3 VI 09

I'm generally not into customization. This may be because I'm just not that good, or because I hate to damage relatively scarce resources or just because the result doesn't fit into my personal LEGO aesthetic. MooseBot, however, has come up with a great way to make hobbit legs. His method is so simple that any of us could do it, it uses up something we all probably have tons of (i.e. fig legs) and the result (at least in my opinion) looks very "LEGO-y". Inspired by an earlier Tekka Croe modifction, he simply uses an Exacto knife to carefully cut the fig legs off right where the rounded portion of the hips meets the straight leg portion. Here's the incredibly clever part - the holes that were originally part of the (pre-customization) fig's rear end become connectors to place 1x1 plates as feet. You can use a plate of a different color from the legs so that they have shoes of a different color than their pants, use yellow plates as bare feet, or even use the 1x1 plate with tooth element to be a pointed boot. This method lets you make hobbits, dwarves, children or other short people without having to use the non-poseable stubbies.

MooseBot plans on making more Hobbit MOCs using this method. Look for those, along with his other LEGO creations in his Flickr stream and his Brickshelf gallery. He's also started a how-to blog: Moose Arts and Crafts.


---
May 2009
---
Cathedral of St. Macário
Bruce N. H. 26 V 2009

Romão Santos, or Romas in our forum, has been working on his Cathedral of St. Macário for over two years. This is not based on a particular cathedral, but is an original design based on studying gothic architecture. It has around 80.000 pieces and measures 1.25 meters in height, 80 cm in width and 1.15 meters in length. Romas is a member of the Portuguese group Forum 0937 and last year he showed his cathedral at one of their displays. If you check out his Brickshelf gallery you can see many in-progress pictures and also his other MOCs.


---
Giant Evil Wizard
Bruce 15 V 09

Billy McGill, aka Mt. Dew Monkey, only came out of his dark ages, or at least dim ages, a year ago, and he really became active in the online communty about six months ago. He doesn't have a particular theme preference, choosing to build in whatever theme offers the chance to try a new building technique. The evil wizard from the Fantasy Era Castle line is his son's favorite minifig, so he decided to build a giant version, based on a minifig sculpture found on Brick Player.

Billy's stuff can be found in his Flickr stream or his IndyLUG site, where he is a member.


---
Castle Gate
Bruce N. H. 2 V 09

Kris Kelvin joined our forum about a year ago, but he's already presented a number of truly impressive MOCs, such as his Dwarves Corner Guild and Goblin market Street inspired by sets 10182 and 10190, his Battle at Kaladan's Hollow entry to the 2008 Battles Contest, the Inn he submitted to CCCV and his recent Imperial Barracks. His Castle Gate was inspired by this Warhammer Fantasy Battle diorama, though reinterpreted in a peaceful era.

Kris lives in Warsaw, where he is active in LUGPol. He's been a fan of the castle theme for a long time, dating back to his first (and still favorite) castle set 6010, Supply Wagon, though he's only returned from a 15 year Dark Age in the last couple of years. All of his work can be found in his Brickshelf gallery.


---
April 2009
---
Castle Evolution
Bruce N. H. 19 IV 09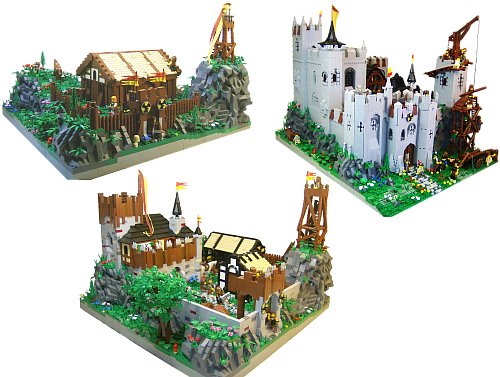 Daniel Z., or DNL in our forum, is in the middle of a very ambitious project. In part inspired by James Stacey's Castle Project and other builders who took a single castle and expanded it over time, he wanted to consider the evolution of Hrothingas Castle over several centuries. In stage 1 a wooden fortress is built around 950 AD. Over the next 150 years, the residents have started building stone walls and a more permanent central keep to give stage 2. The stonemasons were hard at work in the next couple of centuries, giving stage 3. It's not over yet; Daniel anticipates at least a couple more stages before he's finished with this project.

Daniel currently lives near Oslo, but is previously from Amsterdam, so he is active in Lowlug. He's also a member of Eurobricks and the Forbidden Cove. His creations can be seen on Flickr, Brickshelf and MOCpages.


---
Centaurs
Bruce N. H. 4 IV 2009

Most forum members will readily recognize SlyOwl, including his recent success in the CCC as runner up to Master Builder. He hails from London, where he's been building with LEGO ever since he graduated from Duplo as a three-year old. He loves building in the castle them, because as he says, "It's Lego's best line, and thus the parts and minifigs are adapted best for MOCing. It also has the non-linear/regular building style (unlike Space/Town) that I enjoy in Pirates, whilst having a wider range of MOCing possibilities." He's been thinking ahead to the annual Battles Contest, and while watching the movie version of Prince Caspian, he was inspired to take on the big battle outside of Aslan's How. First, he had to come up with designs for some of the many fantasy creatures involved in the fray. He found great centaurs designed by Onishi Shinji, Chris Malloy and Micah Berger, but none of these quite met his needs, so he came up with his own version. Look for an army of these soon, along with other creatures, in his recreation of the battle from Prince Caspian.

In addition to Classic-Castle, SlyOwl is a member of Eurobricks and Classic-Pirates, where he is a mod, and also occasionally visits Classic-Space. His MOCs can be found on Brickshelf and Flickr.


---
March 2009
---
LEGO Castle Adventure
Bruce N. H. 27 III 09

LEGO Castle Adventure is an exhibit currently on display at the Children's Musem of Indianapolis. The display includes many activities designed for kids; great models like the Neuschwanstein above, built by LEGO Master Builder Erik Varszegi; and even a castle designed by a fan, who won a contest in the Brickmaster magazine. The display models were built by LEGO professionals, with the larger pieces built by their team in the Czech Republic and the smaller models of individual castles built in Enfield. Members of IndyLUG have gotten involved with promoting this event in their area. According to the press release, children will be able to learn about life in a castle, do some building of their own, dress up in period costume and even joust and shoot a catapult. It looks like a lot of fun. The display will be at Indianapolis until May 3 and will then travel to other children's museums around the country. They're booked for the next five years, so hopefully it will come to a town near you. We'll be sure to post additional dates as they are made public.


---
February 2009
---
From large to small: Kölner Dom, take 2
Bruce N. H. 16 II 2009

Michael Jasper is a prominent builder and member of 1000steine.de. Last year, the organizers of Fanwelt in Cologne asked him to come up with a special model for the event, and he produced a microscale version of the city's most famous landmark, the Kölner Dom. Attendees could buy this as a special event set. All of Michael's models can be found in his Brickshelf gallery.


---
Kölner Dom
Bruce N. H. 10 II 2009

Five years ago, German AFOL Jürgen Bramigk amazed the community when he displayed his model of the Cologne Cathedral, or Kölner Dom in German. He wasn't satisfied with that model, though, and felt he could do a better job. So he dismantled that and came up with a a bigger and better version. This is built at a 1:56 scale and is 3.0 meters long, 1.8 meters wide, and 3.0 meters high. Be sure to check the gallery so you can get a feel for the sheer size of this and the attention to detail. This took two years to construct and was finished last October, just in time to display at LEGO Fanwelt 2008 which was, very appropriately, held in Cologne. By the way, huge LEGO cathedrals run in the family. That tan Cathédral de Notre Dame in the same Fanwelt gallery is by his brother, Ingo. Jürgen has not had his fill of cathedrals; his next project is going to be Mont Saint-Michel.


---
January 2009
---
Elven Gondola
Bruce N. H. 13 I 09

In Dan Sibley's dream minifig Elves paddle swan-boats on idyllic midsummer rivers, and LEGO Castle sets include plants and landscaping! And everyone gets free ice cream!

Dan's Elven Gondola was inspired by Tolkien's elves, particularly by Lothlórien, and by the rumors of future official LEGO elves. He brought this to BrickWorld this summer, and his work can be found on Brickshelf, Flickr and MOCpages.


---
Brickbuilt legs (and bodies)
Bruce N. H. 8 I 09

Someone asked if you can build a custom fig for the CCC out of standard parts, as opposed to painting, decals, sculpy and the like. One thing you might want to consider is that you can use a number of creative techniques to construct figs, rather than simply putting together legs, torso, head and accessories. I've gathered a number of examples. Starting at the bottom center, Jeremiah VanderMark actually built this knight templar for a space MOC back in 2004, but give him a sword rather than a laser and he'd fit perfectly in one of our scenes. On the bottom right, Mike Crowley, aka CountBlockula, has built a number of what he calls BrickFA figs. In that gallery you can see how these are constructed using stick shifts. In a similar vein, Tony Sava made this beserker, inspired by a design by Moko.

In the fall of 2007, the ever-creative Michael Jasper showed how you can use technic balls to make Francis Drake's pantaloons, a technique more recently used in Kris Kelvin's wonderful imperial barracks. At the start of 2008, Tanotrooper came up with a design using a T-bar to connect legs that he dubbed TTfigs. He's built figs from many eras, including several medieval figs, including the black knight above. Inspired by Tanotrooper, Boses soon after posted a clockwork knight (upper left above), which is all constructed below the neck. At about the same time, MrTS was frustrated by the lack of poseability of stubbies, and came up with an independent design of moveable dwarf legs. Anyway, there you go. You can still be a purist and come up with lots of creative ideas for making new figs.


---
Nedleh Point
Bruce N. H. 6 I 09

Nedleh point was discovered forty years ago. A place of military importance, being situated at the crossroad of two of the largest empires and the Stoneguard, also dangerously close to the Orc held territories. Nedleh point, due to it's before mentioned situation, has served as a trading post, and has some of the best wares in all the south-western regions. The rock of Nedleh is a rare phenomenon that can happen only with special types of floating rocks. From rocks that spawn to life, to rocks that float through the clouds, the "Lapis volat banalis" is a species of rock that floats only after all water dries out of it. In this special case, the rock has been trying to escape, but due to the tide, it never gets to completely dry out, thus creating the elongated shape. The same phenomenon has been found elswere, but none are as inhabitable as this.

Be sure to check out all of Adrian Florea's (or Olog's as he's known on our forum) work on Flickr. In addition to CC he is also a member of the Builders Lounge, FBTB and ROlug, a forum he started for his home country of Romania, where he lives in Cluj-Napoca in the heart of Transylvania. Adrian is also a LEGO Ambassador for 2008-2009.


---
&nbspHome&nbsp|&nbspArchives&nbsp|&nbspCity&nbsp|&nbspEvents&nbsp|&nbspSets&nbsp|&nbspHow-to&nbsp|&nbspCreations&nbsp|&nbspStories&nbsp|&nbspLinks&nbsp|&nbspContact&nbsp
© 2003 Classic-Castle.com. Site design © Anthony Sava and Benjamin Ellermann. All rights reserved. This is an unofficial fan created LEGO website, and is not sponsored, authorized or endorsed by The LEGO Group. Visit the official LEGO website: www.lego.com