6041 Armor Shop
109 pieces - $9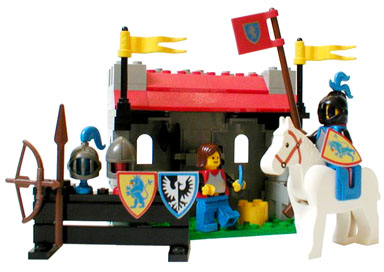 | | |
| --- | --- |
| | Armoury |
| | Le chevalier et le mare'chal ferrand |
| | Ridderfest-winkel |
| | Ausrüstungs-Depot |
| | Vabensmedje |
| | Vapenaffar |
| | Asevarasto |
| | Fucina |

Armor Shop, released in 1986, is a castle wall section with a shop on the inside. It has a shopkeeper, a weapons rack, a knight and his horse, helmets, weapons, and shields. Armor Shop also has two of the most sought after castle pieces. The famous "Black Sword" and the red King's flag can only be found in this set.


---
Alternate Models: Armor Shop
---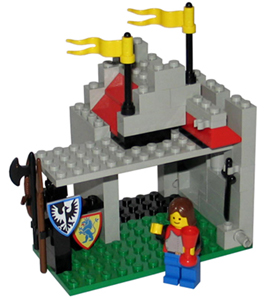 ---
---
---
---
Set Image © 2004 Benjamin Ellermann and Johannes Koehler. Alternate Images © 2007 Benjamin Ellermann. All rights reserved. Classic-Castle.com has permission to publish these images online for non profit purposes.