7948 Outpost Attack
194 pieces - $20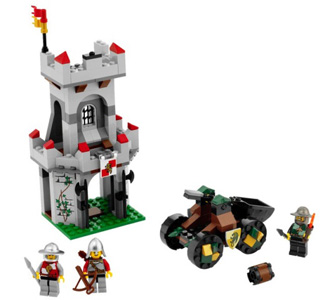 | | |
| --- | --- |
| | Outpost Attack |

Outpost Attack was released in 2010 for Kingdoms. A dragon soldier uses his catapult to attack the outpost while two Lion soldiers, a spearman and a crossbowman, defend it.

This tower features a collapsing wall, wall mounted axes, and flags. Various accessories such as shields, a torch and spears are included.


---
7948 Image © 2010 The LEGO Group. All rights reserved. Classic-Castle.com has permission to publish these images online for non profit purposes.