The Tower of Vlad Dracula
Brickmania 005 - Daniel Siskind
3697 pieces - $810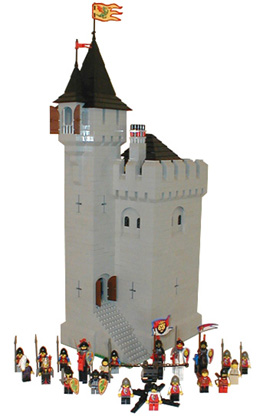 The Tower of Vlad Dracula
10 Sets - Sold Out

The Tower of Vlad Dracula was released in 2003 by Daniel Siskind. This is the largest custom set produced to date. It includes 22 minifigures such as Vlad, his bride, a witch, Vlad's soldiers, and servants. Hungarians and mercenaries attack the keep with their ballista.




The keep has three floors, the battlements, and a tower. First, the lowest level contains a dungeon and a torture chamber complete with a rack, chains, and a skeleton. Next, there is an entry level which has access from the exterior stairs. This level has a table, cross shaped arrow slits, hanging weaponry from the walls, and torches. The third level has a witch's room complete with a cauldron in the fireplace, shelves with potions, a weapons rack, a table, and candle holders. The battlement level contains a small timber frame structure with a fireplace. Stairs lead to the top of the lookout tower and it's balcony.


---
Images © 2004 Daniel Siskind. All rights reserved. Classic-Castle.com has permission to publish these images online for non profit purposes.