Castle Sets Year in Review: 2006
Ben Ellermann 2 VI 08

This week I would like to take a break from the usual weekly set review and look at an entire years' worth of sets. If this proves popular, I will follow this article with other years in review in the future.

2006 was an important Castle year because it introduced large-scale new castle exclusives, giant siege weapons, and the continuation of chess sets, the high point of Knight's Kingdom II, and the end of Vikings and KK2.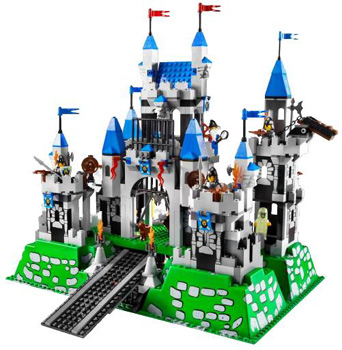 First we saw the introduction of a new shop at home exclusive castle, 10176 Royal Kings Castle / Classic-Castle. This was the first new full size castle to be sold mainly through Shop at Home and LEGO Brand Stores. It included a ghost for the first time in a castle since 1997 and in a new glow in the dark color. Stickers for shields and flags also returned for the first time since 375 Yellow Castle, 383 Knight's Tournament, and 1592 Town Square.




"Constraction" (Construction + Action) figures continued with more realistic helmets, weapons, and shields. The first large-scale siege weapons, two catapults, were made for Jayko and Vladek. The constraction sets sold poorly and sat on store shelves for long periods of time. Fortunately, they have been discontinued.




A new chess set was introduced for the Vikings. This set proved to be very popular among fans building Viking Armies. It included two unique sticker shields and Viking queens only found in this set and the first dark blue capes.




The final two retail Viking sets, 7020 Army of Vikings and 7021 Viking Double Catapult, were released. Army of Vikings introduced rapid firing bolts and seven Viking warriors. The Double Catapult is important as the largest castle trebuchet and catapult released to date.




Before the Knights Kingdom was dethroned, four new sets were released. 8821 Rogue Knight Battleship had the first dragon wing sails of any castle ship. 8822 Gargoyle Bridge included falling axes so large that even Joe Vig would spot them. Modular wall sections returned with 8823 Mistlands Tower and 8813 Battle at the Pass. BATP was very popular because it included the best weapon to fig ratio of any mid size castle set, a variety of siege machines, and ten knights. Stickers were also made for rock patterns on castle walls. Gargoyle Bridge and Battle at the Pass included the first battering rams since 1993, which were not part of a siege tower.




I was impressed with improvements in Knight's Kingdom sets such as Battle at the Pass and new minifig shield designs. If KK2 sets like that were released in 2004, fan reactions likely would have been much different to the line. On the other hand, it was nice to see this line and constraction figures come to a close.

Vikings were also discontinued. While I thoroughly enjoyed the various Viking figures, I found only having mythical creatures as opponents a significant drawback to the theme. It limited the type of sets that could be made in this line. Two years seemed to be a good length of time for the Vikings theme.

Please post your thoughts about the castle sets and lines of 2006 in this thread.


---