Join the weekly Classic Castle set review discussion. Please post your opinions on the set play ability, piece selection, design, etc. Which sets stand up to our catapult of critique and which ones crumble in shame!
This week's set is 375/6075 Yellow Castle.
Yellow Castle, first released in Europe in 1978, was the first LEGO castle. The yellow mimics yellow plaster found on some castles. This set includes four teams of knights and soldiers each with their own coat of arms. Six soldiers also guard the castle. A variety of early accessories are included such as sticker shields and armor, light grey weapons, and plumed helmet visors.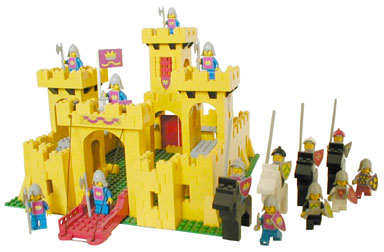 The set review is posted early because I will be out of town for the holidays this week.