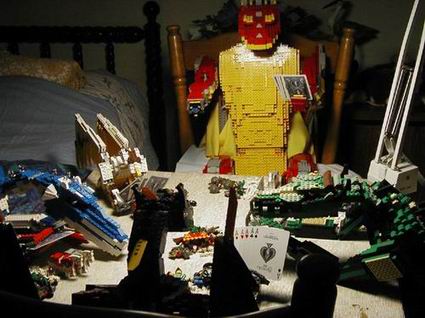 The admins have picked out their favorite captions, and now it's your turn to vote! You only have five days, so make sure to get your vote in quickly!
This is also the place where you can comment on the existing captions if you'd like.
So here are the finalists in no particular order:
Lord_Of_The_LEGO
with
Red Dragon:

Dude, I am

so

sick of losing this game! Where are all the megabloks ACES??!?

Black Dragon:

heh heh heh...
Joel Hart
with
Black Dragon to himself: It's good to be evil. It makes it sooo much easier to cheat. Mental note, get rid of the extra Ace of Hearts! Now to sucker these dragons in.

To the table: I see your 10 peasants and raise you another 5!
SirCumferance
with
Red Dragon:

Come on guys, can't we just eat our winnings and get back to the shelves?

Blue Dragon:

Shut up! Quiet! We don't wan't to wake Anothony and give away the sercret!

Green Dragon:

I don't know what I would do without my poker night! Trying to defend myself against hordes of dragon slayers constantly isn't easy, you know! This is the only break I get!

Blue Dragon:

Shut up! SHUT UP!

*THUMP, THUMP, THUMP*

Black Dragon:

Oh, megablocks! It's Anthony! Run!
kaloo
with
Tel Karak (Black Dragon): "Last thing I thought I'd have two of were hearts."
brian
with
" Stupid Formeathean, After I win this hand I'll be sitting in the big chair, then we'll see who's Anthony's favorite!"
moom
with
I'll raise you six Hobbits and a virgin.
Happy voting!
--Anthony