375/6075 [Yellow] Castle
779 pieces - $?? - 1978-83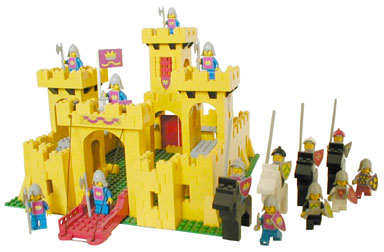 | | |
| --- | --- |
| | Castle |
| | Château-fort |
| | Kasteel |
| | Ritterburg |

Yellow Castle, first released in Europe in 1978, was the first LEGO castle. The yellow mimics yellow plaster found on some castles. This set includes four teams of knights and soldiers each with their own coat of arms. Six soldiers also guard the castle. A variety of early accessories are included such as sticker shields and armor, light grey weapons, and plumed helmet visors.

In 1981, the Yellow Castle was released in America with the number 6075. The sticker colors were lighter than the European version. There are three sticker color variations.


---
Images © 2004 Benjamin Ellermann and Johannes Koehler. All rights reserved. Classic-Castle.com has permission to publish these images online for non profit purposes.