6074 Black Falcon's Fortress
435 pieces - $35 - Legend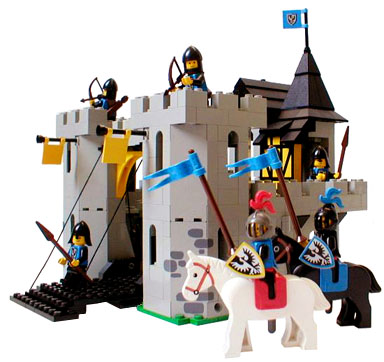 Castle Draco and the Black Knight
Eagle Crest Castle,
Château Eagle Crest
Le manoir fortifié
Vesting
"De Stadspoort"
Ritterschloß
Orneriddernes borg
Borg
Pieni linna
Castello dei principi
Castillo de nobles
Castelo

This long time favorite was originally released in 1986. The fortress features a symmetrical tower façade, back tower with yellow "Tudor" wall panel, a drawbridge, and hinge opening design. Two knights, two archers, two spearmen, and various accessories are included.

In 2002, Black Falcon's Fortress was released again as set 10039. It is the second castle Legend. This set's falcon torso and flag designs are different from the original. Extra pieces for an alternative model that were included in the 1986 set were missing in the rerelease.


---
Images © 2004 Benjamin Ellermann and Johannes Koehler. All rights reserved. Classic-Castle.com has permission to publish these images online for non profit purposes.