Exclusive Set Review: 7094 King's Castle Siege
Ben Ellermann 17 V 07

I have been fortunate enough to receive an early copy of 7094 King's Castle Siege for review. Thank you to Steve Witt and the LEGO Community Team for providing sets to review.

The major strength of this castle's design is a return to a modular wall system similar to the one introduced in 1984. These walls are one stud higher to accommodate the dark grey 2x2x2 slope buttresses. Wall panels connect with a black 2x2 inverted slope. The end of each wall section has a 1x2 or 1x4 technic brick with a technic pin. King's Castle Siege wall sections can be connected to each other or older wall sections in many different configurations.

Unfortunately none of the new wall sections have 1x2 hinge bricks like the old sets. This means that we can not have angled walls in our castles. Hopefully this problem will be resolved in the future with additional hinged wall sections.




The rear of the castle has one large tower in the middle of a wall section. This design with two large doors is similar to 375 [Yellow] Castle. While I would have preferred light grey columns, many fans will be happy to see brick built columns made of dark blue 2x2 round bricks.




The upper level of the tower has a treasure room, a throne room, and a cantilevered tower. A wide variety of colored jewels, a gold goblet, and a chrome gold sword are included. This King has a new throne with a high chair back. The cantilevered tower takes away from the overall appeal and unified design of the castle. It looks out of place, defies gravity, and would be more appropriate for a fantasy faction like the evil skeletons or fright knights. Several slopes have been included in dark blue for the first time. The upper single piece crenelations look better on towers using 3x3 castle wall panels (see the front gate towers) than this rectangular tower.




The upper tower rests on plates and is connected with a technic pin.

Most accessories help this tower. These include the flags with a new color scheme, torches, and shields. Gold 1x2 45 degree roof peaks are less useful because they can not be connected to other bricks.




The left wall section includes a center rock burp with a pivoting defensive catapult above. This burp along with a 1x8 arch creates a small room or cave with a basic weapons rack. 4x4 round corner bricks have been used in crenelations for the first time.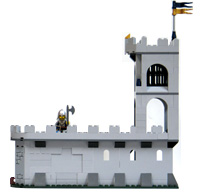 The right wall section includes a tower jail, staircase, and collapsing wall section. Stairs to the allure (walkway next to the crenelations/battlements) have not been included in a LEGO Castle for a long time. A battering ram or catapult can knock a hole in the wall so invaders can breach the defenses!




King's Castle Siege has a central main gate with a portcullis, drawbridge, and two flanking towers. Chains are attached to pivoting beams which raise and lower the drawbridge. The drawbridge itself is very fragile and breaks often because it is made of two plates. Each chain connection can also be pulled off. A more plate intensive design would have produced a sturdier drawbridge.

The two towers are similar to 6074 Black Falcon's Fortress. Light grey train windows are used for the arrow slits. It is nice to see a new design, but they are too large for an opening in the castle wall. A headless skeleton could easily invade this way!




Front and Back Views




Right and Left Views




The new dragons utilize elements from Dino Attack and Vikings. I think they are easier to assemble and look better than the Bionicle based dragons in Vikings. Kids will really like these dragons. Since another set features a dragon, it would have been nice to have two or three more knights or skeletons instead of this dragon. Other than colors and two 1x2 slope peaks, it is identical to the dragon in 7093 Skeleton's Tower.

King's Castle Siege is my favorite castle since 6090 Royal Knight's Castle was released in 1995. The modular design, excellent element selection, and new figures make it a must own set for any castle fan! It needs a few small improvements, but KCS is a giant step in the correct direction for LEGO Castle.

If you have any questions or comments about 7094 King's Castle Siege, please post them in the forum thread. Do not forget to check out the element review.


---