Featured MOC Archive
---
MOCs featured in 2004:
---
December 2004
---
Gryphon
Bruce N. H. 22 XII 04

If you press Kevin Heckel (aka seguejones), he might admit that he started off with a clone band set that was a gift from his grandmother. He soon got a real LEGO set, 6673, Solo Trainer, though, and then moved on to Space, Pirates, and Castle. Most of his building is actually between themes, as he draws inspiration from video games like Final Fantasy, anime, and Steampunk. Final Fantasy was his original inspiration for this MOC. He initially wanted to make a chocobo and built one in white. The feet and head designs led, ultimately, to his gryphon, which he has entered in the Beast category of the Colossal Castle Contest.

Kevin is a member of CoLUG, occasionally posts on Lugnet, and his MOCs can be found in his Brickshelf gallery. He has just recently joined our forums under the username Jonesy. Check out all of the great entries by Kevin and other builders in our Colossal Castle Contest.
---
Knight's Home
Bruce N. H. 14 XII 04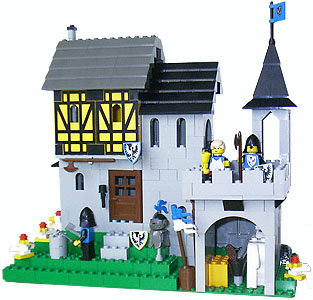 Maciej Koszyka (aka Piglet, aka Ciamek) has been building Castle LEGO since he received Twin Arm Launcher as a seven year old. Fifteen years later he builds in various themes, as you can see on his website (or, if you don't want to navigate through a Polish language site, check out his Brickshelf gallery). He's built this Knight's Home, which he's entered in the Colossal Castle Contest. He doesn't post in our forums, but does post Lugpol, a Polish AFOL site under the name Ciamek.

Check out all of the great entries by Maciej and other builders in our Colossal Castle Contest.
---
Demon Rider
Bruce N. H. 8 XII 04

Canadian AFOL Michael Munshaw has been building LEGO for years. His first set ever was the Forestman's River Fortress, and that got him hooked. For the following years he always asked for LEGO for gifts, focusing on Castle and Space, but eventually shifting completely to Castle and fantasy building. He's relatively new to the AFOL community, though, only recently setting up a Brickshelf gallery and a MOCpage. Check them out and you can see that he already has a backlog of great Castle-themed creations, including the Demon Rider shown above, a griffon, a golem, a medieval town, and several others. I'm looking forward to seeing where his MOCs go as he interacts with other castle builders and trades inspiration. He's recently joined our forums under the name KingKastle. Go on over and welcome him aboard and then discuss his recent MOCs.


---
Medieval Starbucks
Ben E. 1 XII 04

Check out the latest creation by James Stacey: a Medieval Starbucks.This timber frame building with green plaster has several very nice features including a wonderful bay window and a Starbucks flag. James will post updates including interior photographs in next few days. Questions, comments, and feedback are welcome here.


---
November 2004
---
Falcons' Impregnable Rock
Bruce N. H. 24 XI 04

Kai Gerkens didn't start out as a castle fan. This German AFOL was first attracted to LEGO when he and his college roommate built robots using Mindstorms and Technic sets in 2001. To get more, he bought some large lots of LEGO on E-bay, with the intention of keeping the Technic and selling off the system sets, until a castle set caught his eye. Instead of selling this off, he started collecting castle sets as well, and has been building castle MOCs for the past year or so. His creations can be found on his website, gerkens.org, or on his MOCpages page, including his recent Falcons' Impregnable Rock. He said he draws his inspiration from official castle sets and MOCs by such builders as Jojo, Stephen Wroble, and Dan Siskind. In addition to Classic-Castle.com, Kai is also a member of Lugnet, Bricklink, and MOCpages.


---
More Entries Arrive
Ben E. 18 XI 04

This past week has brought another good batch of contest entries in all categories.One example is this Soldier Transport built by CC member Blue and White which uses snot wall construction. Other categories, like Medieval Ships have jumped from one or two entries to having half a dozen or more!


---
Skeletal Balrog
Bruce N. H. 11 XI 04

I don't usually think of Shaun Sullivan as a castle guy. A quick perusal of his Brickshelf gallery will show that most of his past building has been in WWII military, Star Wars, and train creations. He does have some castle and landscaping creations, though, built for Brikwars games. He recently hosted a horror-themed Brikwars game, set in a large Victorian mansion (discuss that creation here). One obstacle in this game was a skeletal Balrog. He said that it is very posable and relatively sturdy. This creation really shows how all of those odd bits that we castle types sometimes ignore can play roles we hadn't considered.

Shaun is a member of Lugnet and NELUG. He announced his Brikington Manor and skeletal Balrog on Lugnet. Check out the Brikwars site to learn more about brick-based gaming.


---
Contest Entries Fly In
Ben E. 10 XI 04

The Colossal Castle Contest II entries page is up and running.Most categories already have multiple entries submitted.Go to the link above, select a category from the pull down menu, and click go!The glider pictured above will be entered by Yaron Dori into the Da Vinci category.Ask questions about submitting entries here.


---
Diet of Worms
Bruce N. H. 2 XI 04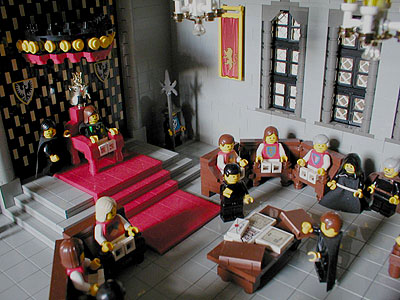 Johannes Koehler is better known as Jojo in AFOL circles. In addition to his vast knowledge of LEGO history and his love of the Black Falcons, Jojo has brought us many great castle MOCs, such as his Castle Falckenstein, his cathedral and his mill. For the past three years, he has celebrated Reformation Day by creating scenes from the life of Martin Luther. This year he illustrates the Diet of Worms, when Luther was called to defend his teachings before Emperor Charles V.

In addition to Classic-Castle, Jojo is a member of Lugnet and 1000Steine.de. Check out more of Jojo's creations on his website, his Brickshelf gallery and his 1000Steine.de "My Images" gallery. He has also created Rittersets, a German-language castle reference site.


---
October 2004
---
Auchans Castle
Bruce N. H. 27 X 04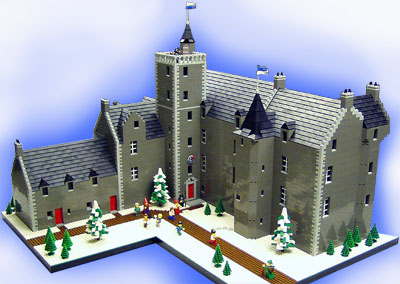 If Takeshi Itou is the wizard of fantasy castles, Bob Carney is certainly the master architect of historic castles. Dr. Carney has been an AFOL since the early 1970's, when he played LEGO with his children. In 1986 the release of the Black Falcon's Fortress brought together his love of the brick with his interest in medieval history. Since then he has built 98 castles, which can be found on his website. These creations are all based on real historical structures, which he researches extensively to plan future projects. He says that he has a couple of dozen castles planned, and is always looking for new inspiration.
Dr. Carney's most recent MOC is Auchans Castle, a 15th century structure found in Ayrshire, Scotland. This MOC has a Christmas theme, and will be displayed as part of the Millikin-Decatur Symphony Orchestra's "Symphony of Trees" along with another castle still in the works. His creations have previously been displayed in other Illinois locations, such as the Children's Museum in Dover, so if you live in Illinois, you may get a chance to see these in person. For the rest of us, though, we'll have to keep our eyes on his website for future creations.


---
Sleepy Hollow
Ben E. 22 X 04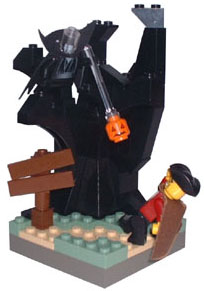 Check out the latest three vignettes by CC Admin Nathan Wells!These spooky scenes include the Legend of Sleepy Hollow, Trick or EEK!, and the Curse of the Wolf.Discuss the creations here


---
Basilica
Bruce N. H. 15 X 04

Ben Harris, known as Tycho McKorley in our forum, has built with LEGO since he was a kid. Unfortunately he used to build in Space. Then seven years ago he was given a copy of set 6090, Royal Knight's Castle, and he's been hooked on Castle ever since. This basilica was directly inspired by a recent trip to Europe. He was impressed by all of the great cathedrals there and wanted to learn more. Since there are a lot of great MOCs of gothic cathedrals already, he chose a romanesque style for this effort. It took about two weeks to build, and incorporates many great details, such as the elaborate entrance, the domed roof, and the curved wall in the back.

Check out Ben's Brickshelf gallery for more of his work, including a couple of fortresses, ships, and especially his siege machines.
---
Gnome
Bruce N. H. 13 X 04

Micah Berger is known as The Green Knight in our forums. In addition to active participation in the Classic-Castle Roleplay, he's a master at creating minifig-scale creatures out of LEGO elements. His bear, in particular, uses especially clever construction. Here he brings us a fanatasy creature, a gnome. Check out the use of minifig hands as fingers, tusks, and eyebrows. The gnome is well-proportioned to interact with minifigs (note: this is my interpretation of Micah's design and the arms and hands are a little different than his). I've also put together some instructions. Check out Micah's Brickshelf gallery for more creatures and scenes from Classic-Castle Roleplay.


---
Sea Dragon
Bruce N. H. 5 X 04

Classic Castle fans span the globe, and today's creation comes to us from Israel. Yaron Dori, forum name Webrain, has been a LEGO fan since he was ten. Here he presents the Sea Dragon. In my opinion, this creation strikes a perfect balance between recreating the classic Viking longboat and fitting the feel of the great official set designs of Castle past. Yaron says he built this in one overnight session and would love to inspire a Viking line. LEGO designers take note; if this were an official set, I'd buy a fleet.

Yaron's creations can be found at his website or his Brickshelf gallery. I'd particularly suggest checking out his chivalry tournament, his Joan of Arc scene, and his cart. Aside from Castle, he also likes to build in Mindstorms, Pirates, and Western themes. In addition to personal MOCing and participation in our forum, Yaron plays a vital role in the community as Lugnet.castle curator.


---
September 2004
---
Fantasy Castle
Bruce N. H. 29 IX 04

LEGOFREAK is one of the more active members of our community. In recent days he's brought us several great MOCs, including this Fantasy Castle. There are a lot of great details, including this drawbridge and this waterfall, and the castle opens in several places for access to the interior.

In his profiles, Freak lists his occupation as "dad", and he's certainly doing a great job. His son has a great evil Fantasy Fortress. There's a thread on this in our forums.

For more great work by Freak (and his son), check out his Brickshelf gallery. I'd stay away from that monkey, though; it looks like it might be rabid.


---
Witch House
Bruce N. H. 26 IX 04

If you don't know Takeshi Itou, you just haven't been paying attention. Takeshi is one of the true talents, with his models on display on his website, Castle Element and in his Brickshelf gallery. In his most recent creation he brings us a witch's house set on an island.

Takeshi Itou says he starts out with a drawing to plan out a MOC, but then the actual building process only takes 3-4 days. He usually does not exhibit his models, but takes them apart again after photography. He is not a member of Classic-Castle or Lugnet, but does participate in Japanese LEGO clubs.


---
Priest House
Bruce N. H. 23 IX 04

Greg Nation has been a castle LEGO fan since he was a kid, but is only recently getting back into building. He focuses on Castle and Adventurer themes, driven by his interest in history. In this creation he brings us a slice of medieval life with a priest's home. Some of the nice details include the technic pin construction that allows for access into a small interior space, and the smoke from the fire.

Greg has also built a small mill with a nice millstone design. Keep an eye on his MOCpages site and his Brickshelf gallery for future creations. He's been lurking around the Classic-Castle forums for a while, but has recently joined. Welcome aboard, Greg.


---
Micro Hogwarts
Bruce N. H. 16 IX 04

There are a lot of reasons for castle fans to know Don Bruce. In his Chateau de Hautefort and his Colditz Castle, he explores ways to create the same structures at various scales. He also has a more traditionally minifig-scaled castle layout that covers 12 baseplates and another large diorama incorporating some clone-brand elements.

Here, though, we focus on his Hogwarts creation. In a continuing work in progress, Don is recreating Hogwarts, as seen in the Harry Potter movies, at three different scales, ranging from a minifig-scaled fragment down to a tiny version of the whole complex. For the past couple of weeks this has been on display an the New Mexico State Fair in Albequerqe, NM. So if you're local, hurry on over and check it out before it goes away this weekend.

Don says he's always been a castle fan and intends to join C-C.com soon. So hopefully we'll be seeing much more from this builder in the near future.


---
August 2004
---
Viking Village
Ben E. 26 VIII 04

Classic-Castle member Teup is constructing highly detailed Viking buildings for his village.Check out the goldsmith (seen above), blacksmith, two houses, and other buildings. Look for a full article about his creations when the village is complete.Discuss the creations here.


---
Ballista and Bear
Ben E. 24 VIII 04

Two innovative new MOC's have been added to brickshelf.

First, there is another Harry Parter creationUse Aragog spider legs to make the falcon Ballista by CCÍs Nathan Wells.

The second moc takes build a bear to a new level!Micah BergerÍs brick built Bear is fully pose able.


---
July 2004
---
June 2004
---
May 2004
---
I is for...
James B. 6 V 04

Inn - Every village needs a place for its visitors, which leads to my latest creation, and largest 'shop' so far, the Inn. The Inn features an upper level with two guest rooms, and a lower level for eating and entertainment. A variety of guests stay at the Inn, including classic-castle's very own Henry.

Check out the latest addition to the Alphabet Castle Project!


---
April 2004
---
Two Great MOCs
Anthony 26 IV 04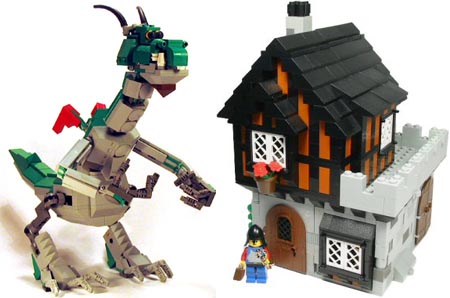 First is Lenny's brand new MOC: Horatio Spike, a well designed and very adorable Dragon.

And second, James Brink has created the next letter for his Castle Alphabet Project: Henry's House. For those of you who don't know, Henry is Classic-Castle's unofficial minifig mascot who's traversing the globe, spreading the castle love.

Go on and check em out before they go away! Well, ok, even though Henry isn't home, his house isn't going anywhere. And that Horatio, I don't know if he'll be able to go anywhere soon with those little wings. So, take your time I suppose.


---
James' New Castle
Anthony 22 IV 04

James Stacey has posted to our forum pictures of his latest MOC: a castle being built in several stages. Currently it's in its third stage, but the above picture is only from stage two, so one can only guess how much bigger it will get!

Also don't forget to check out all the great MOCs posted to our Castle MOC forum every day! Be sure to share your MOCs, too; we'd love to see them!


---
March 2004
---
'E' is for...
James Brink 16 III 04

...Executioner. Check it out on the Alphabet Project page!


---
February 2004
---
B is for Battering Ram
Anthony 27 II 04

James Brink has released his second installment of his 'Alphabet Castle Project.' This time around it's a battering ram, carried into battle by the crowd favorite, the Black Falcons. Will the Crusaders defeat the attacking Falcons? Will the Falcons break down the Cursaders' defenses? Who cares, we're just interested in the MOC!


---
January 2004
---
And the nominees are...
Anthony 21 I 04

It's official folks. All entries are present and accounted for. You've done your job, now it's our turn. Judging will begin immediately! These people submitted the last entries:

Any questions about entries or the contest itself please direct to Baron von Ellermann or Marquis d'Krakhed.

On behalf of the Classic-Castle.com staff, I'd like to thank each and every one who entered the contest. While there can only be a few prize winners, every single entry was great in its' own right. You castle heads really stood up to the challenge!

Remember the announcement of the prize winners won't be until February 7th, so keep your fingers crossed. We judges sure have our work cut out for us...

Checks can be made payable or bags of pitchforks sent to...


---
Down to the wire...
Anthony 15 I 04

It's getting down to the wire folks. Less than a week remains in our contest! And man do you people keep churning out these entries! Since there are so many, it's going to be a list again:
If for some reason you submitted an entry, your name is not on the above list or on the entries page, and you feel your entry met all the requirements, please submit it again as it may have been accidentally overlooked.

Looks like it's going to be official. The announcement date for contest winners will be pushed back, more info on that when Ben decides...

All together gang... "Hurry up, Ben!" Teehee

You guys sure did churn out the CCC Wall Buildings, didn't you. This category has jumped from three to ten! Great work on all the entries folks. I think I can speak for everyone here at C-C when I say we had no idea you castle heads would be so prolific! You've really caught us off guard.

Keep it up!


---
Whoops...
Anthony 8 I 04

Well, looks like I just entirely looked over an entry email yesterday when I was working on contest entries. So because of this, Andrzej Szlaga gets his own, personal news item on the C-C Main Page.

Andrzej, or Shaggie, submits his really awesome Guarded Water Mill. Check it out so that I won't feel so bad. You don't want me to feel bad, do you?


---
Carpal Tunnel
Anthony 7 I 04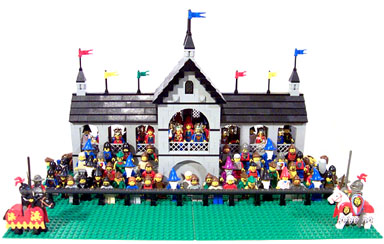 Ok. Man... I tell you what... You guys are killing me... What a fantastic array of entries this time around! Because there are so many, I'm not even going to bother with writing out actual entries. Here is just a simple list of the many many people who have entered our contest, in no particular alphabetical order:
There are so many entries, in fact, that the judges might need an extra week just to sort through them all! I count 92 entries at this point, and we still have over a week to go!

Also, there is a contest update. Starting January 10th, contest entries that do not meet the requirements of the contest rules will not be replied to for correction. So if you send in a creation with too many pictures or in some other way does not comply with contest rules, you won't hear back from me about it.

By the way... There are only three entries in the CCC Wall Buildings category. There's a Guarded Inn on the line here people, just WAITING to be stolen away from one of these three.


On another note, a new story has been added to our Story pages. Benjamin Ellermann has begun his telling of the story of King Arthur and his Knights. Check it out!

Now where is my ice pack...


---
Sometime in 2003 or 2004
Bruce 14 I 2005

These two MOCs were featured sometime in 2003 or 2004. Perhaps they were contest entries? I can't find the original articles. This cart is by Jojo:

---
&nbspHome&nbsp|&nbspArchives&nbsp|&nbspCity&nbsp|&nbspEvents&nbsp|&nbspSets&nbsp|&nbspHow-to&nbsp|&nbspCreations&nbsp|&nbspStories&nbsp|&nbspLinks&nbsp|&nbspContact&nbsp
© 2003 Classic-Castle.com. Site design © Anthony Sava and Benjamin Ellermann. All rights reserved. This is an unofficial fan created LEGO website, and is not sponsored, authorized or endorsed by The LEGO Group. Visit the official LEGO website: www.lego.com