December 2003
---
We wish you a merry contest...
Anthony 26 XII 03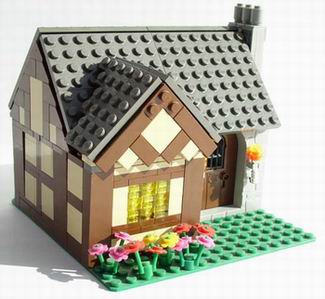 Santa has flown by the Classic Castle and has delivered a whole new batch of contest entries! There aren't any lumps of coal here, people.

Folliero Dario entered his Medieval Home. We weren't quite sure where it belonged, but we put it into the Classic Shops category. Jose Molina adds his Black Falcon's Home and Elijah C. his Tudor Inn to the CCC - Tudor Style Shops category. Reed Anderson settles down in his Small Cottage, while Patrick Morgan fights the good fight with his Heroes and Villains entry.

And I tell you what, Patrick Morgan and James Brink are determined to win something from this contest. James has submitted four new entries for a total of six, and Patrick has racked up an amazing eight entries!

This contest is going to be very tough to judge, I can tell already! And we still have several weeks left to go! Hurry up, make it harder on us! Submit your entry today!

We don't mind, honest.


---
And he did spake unto them, let there be entries!
Anthony 18 XII 03

"Sire! The peasents! They are revolting!"
"Yes, and now they're in rebellion!"

Quickly men! Gather your weapons, it's time for a siege!

It's also time for more contest entries. Fulop Gergo has submitted a siege engine: a trebuchet.

On the more tame side, Dave O'Hare adds his Cooper's Shop and Decorative gate, and Jason Spears adds a pair of carts.

We're piling on a good number of entries now, but there's still plenty of room to grow! Submit your contest entry soon so that you, too may have a chance at winning one of our fabulous prizes. Don't be a gong farmer, submit! Submit! You will submit!

All your castle are belong to us.


---
Big ol' pile o' entries
Anthony 10 XII 03

Man, these medieval villages will NEVER want for pottery...

...EVER.

The third round of contest entries are here, and boy there are a lot of 'em! So let's get right to it! James Brink enters a trebuchet, and Yaron Dori has a catapult as well as an Elves Forest entry. C.J. Sutton adds to the medieval life category with a wind mill inn, and Joel Jacobsen adds a tudor style house.

And then there are the Pottery shops. There are three of them folks. That's right. Three. Marco Merkelijn has one, as well as another entry. Joel Jacobsen has the second, and Nathan Wells has a third, as well as two other creations.

Maybe I need to invest heavily in potted plants. Or maybe some vases. Ooh, something blue with a nice glaze...


---
David O'Hare's Decorative Gate
Lenny Hoffman 7 XII 03

David O'Hare presents his Decorative Gate. And by Decorative, he really means it! Discuss Dave's gate here here!


---
More 3CS Houses Than You Can Shake a Gong Farmer At!
Lenny Hoffman 4 XII 03

Coming in today, I couldn't believe my eyes. Jason Spears is on his way to building a LEGO scale replica of Medieval Europe with five new shops, each in a different color: Medium Blue, Tan, Sand Blue, Light Yellow, and Maersk Blue. Joel Jacobson, best known for his great story Forrest of Blood, has stepped into the realm of 3CS Houses by building a wonderfully unique Pottery Shop and a Cottage.

Last, but certainly not least, the great Train guru, Larry Pieniazek has come forward with his Medieval Barber Shop. He has told me that he plans to build a few more in the coming weeks. Hence, stage one of Classic-Castle's Plan of World Domination is nearly complete. Muahahaha!


---
Colossal Contest Entries Continue
Anthony 3 XII 03

Ready for round two? Gabriel Hartmannsgruber loads both barrels, James Brink fires one direct hit, and Patrick Morgan pulls out an assault rifle worth of MOCs. Lock and load, baby!


---
Colossal Contest Entries
Anthony 1 XII 03

The first round of contest entries are here! Josh Wedin and Mike Thorn both add a Hero and Villain entry, while Chad Northrop... well... Chad just put me to work. Check em out!


---
November 2003
---
MichLUG at Festival of Trees
Lenny 25 XI03

Jason Spears is again in the news, this time in conjunction with a show at the Michigan Festival of Trees. The layout included a bustling city with cars and all that, but more importantly, it included an active little Medieval City. Check it out! It really is a great little scene.


---
Jason Spear's Medieval Houses
Lenny 20 XI 03

Jason Spears keeps them coming with two new 3CS Houses. These are remarkable for using otherwise rare colors: light yellow and teal. They are great, so I recommend you check them out!


---
The Emperor will see you now.
Anthony 20 XI 03

Nathan Wells brings us a new MOC, his Imperial gate, and has been added to the his creation's page. It's good to be the king.


---
"East Meets West" and Nathan Well's Imperial Gate
Lenny 13 XI03

Will it stop? NO! Nathan Wells brings us his very creatively designed Imperial Gate. This is the first 3CS wall to be specifically designed to sit on two baseplates - and definately deserves that distinction.

This weekend Classic-Castle's own Lenny Hoffman joined up with the great KK Quah to bring LEGO Castles to Disney's Festival of the Masters. This is the first complete 3CS Display, and people were definately impressed. But don't worry, this is far from the last 3CS Display you'll see!


---
Tons of Creations - 3CS is really taking off!!
Lenny 12 XI 03

There be MOCs here! I've got Jason Spears's Pub 'n Shop, and Herid's Rare Books Shop. Jason Spears is quickly becoming one of the 3CS greats! I've got AC Pin's Star Wars-Castle crossover Gungan Tower! I've got Jordan Bradford's White Tower - a awesome little set up of minifigs in the process of constructing a 3CS wall section. Plus, Mike Thorn keeps them coming with a Red Gate and a Black Tower. Tomorrow, I'll be making the formal announcement about the biggest 3CS Display this past weekend at the Downtown Disney Festival of the Masters!


---
One Man Show
Ben E. 5 XI 03

Details are sketchy, but Classic-Castle's very own Lenny Hoffman is putting on a CCC display this weekend in Orlando, Florida.Check out Lenny's buildings here. Discuss his event and get updates here.And no, we don't know exactly what Lenny is looking at!


---
October 2003
---
Livin' Lodge
Anthony 24 X 03

Nathan Wells adds his MOC, the Hunting Lodge, to our collection of creations. Sit a spell, put up your feet, grab some ale and enjoy! Just stay out of my way on all you can eat rib night.


---
Dude, where's my MOC?
Anthony 19 X 03

Here are some more MOCs added to our creations page, as well as a new story added to the story page! After all, it'd be just silly to add the story to the MOC page, or MOCs to the story page. And especially silly to add a set to the Contacts page. I mean, come on. Yeah... Something's wrong with me, moving on.

Dean Hennen sews a new yarn with his Tailor's Shop MOC, while Kai Gerkins shores up his defenses with the Keep of the White Lion's Castle. Nick Oranzi brings the hizzle fo shizzle with his story 'The Four.'

That is all.


---
Gate of Jahmong
Lenny 15 X 03

Although not strictly CCC, Nick Oranzi has posted his Gate of Jahmong. Inspired by the City Standard, it is an impressive creation none-the-less. Enjoy!


---
There be MOCs here!
Anthony 14 X 03

They're both MOCs that already on this website, but they're just so cool that they need to be recognized again. Ok... no... they're MOCs that now are on their owner's Creations Pages. Well, they ARE cool, but that's not why I'm posting this. Well, yeah, that is the reason, but that's not to say they're cooler than anyone elses MOC. But that's not to say they're not good in their own right. Well... umm... but... crud.

In any case, Juan Cuello has added a new MOC to his creation's page, Santiago's Gate, and Dean Hennon has updated his page with his Odd Items Shop. Check em out.


---
New Creation, History Update, and Our First City Display!
Lenny 13 X 03

Dean Hennon brings us his Odd Items Shop and I've re-vamped the history article with links to various, related issues. Manfred Moolhuysen was also kind enough to point out that I had misspelled his name. If any one notices I misspelled their name, or forgot their contribution, please don't hesitate to send an email along to me an I'll get right on it. Lastly, TexLUG put together the first CCC Display this past weekend!


---
New Creations by Juan Cuello and Dean Hennon
Lenny 7 X 03

Check out a wall piece by Juan Cuello, based off an actual castle called Santiago's Gate. He hasn't put up the rest of the pictures yet, but his creations have a history of being way above par. Dean Hennon contibutes a Glassmaker shop built in the CCC House style. This is a unique creation that moves the CCC style into a new direction. Good stuff!


---
September 2003
---
More MOCs, More Madness
Anthony 30 IX 03

Leonard Hoffman has given us and update to his creations. Check 'em out... if you dare!

Classic-Castle.com is not responsible for any damages or injuries resulting from any temporary insanity or uncontrolable mirth that may result from viewing these creations. You have been warned. Really. This is crazy stuff. Don't check it out. Stay away. Oh no! He's coming! I gotta sign off before he catches me! Send help! NOOOO!!! Oh gosh it hurts!!!


---
New Creations by James Stacey
LAH 25 IX 03

James Stacey was inspired by Jon Furman to make similiar type houses. He didn't even know he was building within the CCC style until recently. James takes the style a bit further by adding arched walkways through his houses. There are three of many.


---
New Creations by Don and Lenny
LAH 25 IX 03

Don Cox posted his CCC version of the Black Monarch's Castle, and Lenny Hoffman posted four new CCC shops. Be sure to check them out, and you can discuss them in the CCC Forums.


---
Many More Marvelous MOCs, Man!
Anthony 17 IX 03

This time Eric Brok and Juan Cuello are up! Check em out on the Creations page! And if you don't, may your armpits be infested by the fleas of a thousand camels!


---
Creations and Stories Updated
Anthony 15 IX 03

A new member has joined C-C.C to show off their creations! Check out the Creations Page to take a look at Johannes Koehler's stuff! I highly recommend it. Really. Go there. Go there now.


---