Featured MOC Archive
---
MOCs featured in 2008:
---
December 2008
---
Defenestration
Bruce N. H. 17 XII 08

As you may know, I love MOCs that teach something about history. The Hussites of Bohemia were a forerunner of the Protestant Reformation. When Jan Hus was executed as a heretic, trouble broke out in Bohemia, and people began to speak of revolution. In spite of suppression by the king, a procession of Hussites marched through the streets of Prague on July 30, 1419. When some members of the town council threw stones at them from the Town Hall, the mob grew angry, storming the building and throwing several of the town council from the windows. This First Defenestration of Prague led to the Hussite Wars, the first war in Europe where muskets and similar weapons made a decisive contribution.

Martin, aka Thire5, is a Czech student who has been building with LEGO since childhood. He's a member of Kostky.org, where he posts his MOCs. The First Defenestration of Prague is his first castle themed creation, and all of his creations can be seen in one or the other of his Brickshelf galleries.


---
Fantasy Creatures Advent Calendar
Bruce N. H. 2 XII 08

MisaQa, an AFOL from Tokyo, did not play with LEGO as a child, but instead she started building after she bought sets for her own daughter. One of the sets she enjoyed playing with alongside her daughter was 2250, the 2000 Advent Calendar. This may be the ultimate source behind what has become an annual tradition, her own advent calendars that she presents to us each year. For each of the last four years, she has chosen a theme and created 24 MOCs, revealing one each day of December leading up to Christmas. She's always liked Greek mythology, and this year her theme is fantasy creatures. She started building at the beginning of October so that she would be ready at the start of the month, opening up with her wyvern. Check back each day to see the new creature she brings us.

Even though she has only been creating MOCs for six years, MisaQa has created an incredible body of work. Her MOCs can be found in her Brickshelf gallery, on her personal site Stud-and-Tube, and even published in book form. She is a guild member of Brick Fan Town and was featured in BrickJournal (Volume 1 Issue 5 pages 77-79).


---
November 2008
---
Checkmate Chess Winners
CC team 23 XI 08

Congratulations to the winners of the Checkmate Chess Contest 2. Drauger won the single piece category with his miniland-scale pawn and Duke won the whole set category with his forestmen set. There were a number of great entries. Thanks to all who participated.


---
Mini Castle Contest IV winners
Bruce N. H. 15 XI 08

The winners are in (a while ago) for the Mini Castle Contest IV. In the "mini movement" category, the runner-up was SlyOwl's war dreagle and the winner was Luis Baixinho's Argo. In the main category, several MOCs earned honors. Third runner up was Evildead's Lonesome Valkyrie. Second runner up was Marcosbessa's Volcano Miniland. First Runner up was JackieB's Mini Castle. Third place went to Tania Baixinho's Living Tree. Second went to SlyOwl's We have no time to stand and stare. Finally, Wobnam won the top honor with Kazalaeam Castle. Be sure to check out all of the entries and congratulate the winners in the contest thread.


---
October 2008
---
Dragon's Retreat
Ben E. 18 X 08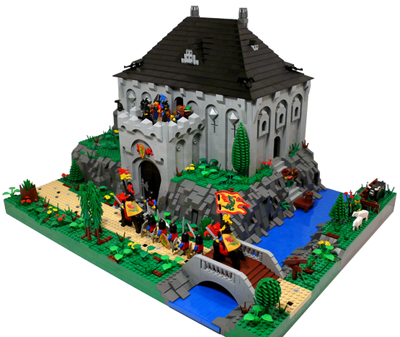 New Classic-Castle member Dragonator brings us his latest creation, Dragon's Retreat.

This fortified manor house includes many details such as a front gate, bridge, dock, buttresses, stained glass windows, and more. Leave your comments in the discussion thread.


---
September 2008
---
August 2008
---
July 2008
---
June 2008
---
May 2008
---
April 2008
---
Giant Yellow Castle
Bruce N. H. 26 IV '08

Did you ever wish you could live the life of a minifig? Well, until someone invents a shrinking ray, your next best bet is to check out Duncan Titmarsh's Giant Yellow Castle. Last year Duncan attended the Brickish Association's Annual General Meeting and was impressed by the 6-scale bricks built by others. These are six-times larger scale model sculptures of existing LEGO elements built out of normal bricks. He decided to take this concept to its ultimate conclusion and build a whole set at 6-scale -- not just recreating the final set at this size, but actually building every brick in the set at 6-scale and then assembling them into one gigantic MOC. He quickly decided on set 375, the famous Yellow Castle. It's a set he wanted as a kid and is immediately recognizable to the community. It took about a year to bring this project together, mostly acquiring the bricks but the last three months building. He said the most difficult thing to find was this Technic liftarm, as he needed 360 of those in yellow to make the six 1x1 rounds for the set. The most difficult building challenge was the hinge bricks, as he wanted to ensure that they would function. Once all of the giant bricks were assembled, he boxed them up and brought them to the Brickish Association's Annual General Meeting, held April 5 and 6 in Sheffield. There the attendees got to join in the fun as everyone helped build the castle from the original set instructions. He plans to bring his giant bricks to future events, and maybe next time they'll try to put together one of the alternate models from the back of the box. Duncan also recruited James Sutton, who built all of the minifigs and their accessories at the same scale.

As a kid Duncan was into Technic. After a four-year dark age, he found Technic again and started collecting. He lives in Aldershot, which is about 40 minutes outside of London, and is a member of the Brickish Association. His work can be found in his Brickshelf gallery.


---
St Mirton Cathedral
Bruce N. H. 12 IV '08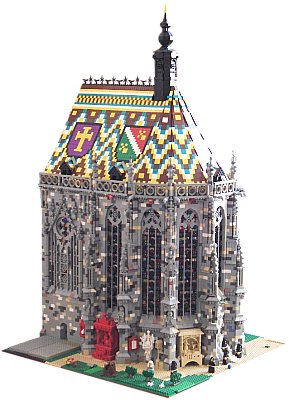 Milán Bikics has been a LEGO Castle fan literally from the cradel, as his parents bought him the Yellow Castle when he was a baby. Three years ago he came out of his Dark Age and embarked on a project that may last his lifetime. He's designed the medieval city of St Mirton, setting forth its history, legends, geography and planning out its locations. While the city is wholly fictional, the designs reflect existing architectural styles appropriate to medieval Hungary. Thus far he's built a number of structures, including the city gate, the Fountain of the Dragon Healer (which will be a centerpiece of the town square) and a portion of what will become a huge cathedral. His cathedral is inspired by the parish churches of Kassa (modern day Kosice in Slovakia), Kolozsvár, Buda, Brassó, etc. and also the cathedral of Vienna. He wrote:

"The cathedral has a remarkable history of its own. As for the tombs, they're there because cathedrals and parish churches were typically surrounded by graveyards. They're mostly richly decorated tombs of noblemen and archbishops who had the privilige to have themselves buried close to the church apse. There're some memorials too, like the Heavenly Kingdom (a smaller white one), the Temptation of Christ (tan), a Xenotaph of all Saints (large white Baroque) and the Pains of Christ (in the centre) they're outdoors altars, donations by rich families. The crests are crests of noble families and cities who donated the colourful rooftiles."

Be sure to go through all of the photos to see great architectural details, amazing windows and clever ideas like a baby made with a Scala shoe. After he's saved up the money to buy more bricks, his next plans are to build the main altar for the church interior and the northwestern spire with a pendulum clock inside.

Milán lives in Budapest, Hungary, where he is a member of MALUG. All of his LEGO creations can be found in his Brickshelf gallery.


---
March 2008
---
Sometimes the Dragon Wins
Bruce N. H. III '08

Anne Hemni is an AFOL from San Jose, Caliornia (though if you've seen her creations you know she has ties to the University of Florida). She's been into LEGO for thirty years now, with some dark ages, but she's been going strong since the year 2000. She's a member of BayLUG and Lugola, and her MOCs can be found on her site Brickbox or in her Brickshelf gallery.

This MOC was inspired by the baby dragon sculpture, set 3724, but she felt that a dragon should be more fearsome and burn up some knights. This project took over two years and went through several major rebuilds, as the work in progress pictures show. Ultimately she ended up with her final version, Sometimes the Dragon Wins.


---
February 2008
---
Tower on the Water
Bruce N. H. 28 II 08

Rocko Adams, better known in the Legoverse as RebelRock, joined our forum last August, but he's already become one of our most prolific builders. His Tower on the Water is a good indication of his style - large MOCs, often with a water element, with tons of detail and minifig life. Since then he has only gotten better, with such MOCs as his Red Samurai Outpost, Viking Hall, Chateau Satan, Round Towerz and Castle with Drawbridge, among others. All of Rocko's MOCs can be found in his Brickshelf gallery. Be sure to check both the Castle and LotR folders. He lives in Portland, and in addition to CC, he is a member of forums such as FBTB and Builders Lounge. Be sure to check out an interview with him on LAMLradio.


---
Nottingbley Castle
Bruce N. H. 19 II 08

Most readers probably recall Stoneguard Hold by John Langrish, aka J1A3L5. At NWBrickCon 2007, John once again amazed the crowds. He drew on the lessons learned in building Stoneguard Hold and built a much bigger MOC, Nottingbley Castle. In addition to showing at NWBC 07, this castle is also currently on display at the Sidney Museum and Archives, so if you're around British Columbia in the near future, be sure to drop by and check it out.

To learn more about this creation, you can also watch a video or listen to a podcast for interviews. John's creations can be found at creations can be found on Brickshelf, MOCpages, and Flickr.


---
January 2008
---
&nbspHome&nbsp|&nbspArchives&nbsp|&nbspCity&nbsp|&nbspEvents&nbsp|&nbspSets&nbsp|&nbspHow-to&nbsp|&nbspCreations&nbsp|&nbspStories&nbsp|&nbspLinks&nbsp|&nbspContact&nbsp
© 2003 Classic-Castle.com. Site design © Anthony Sava and Benjamin Ellermann. All rights reserved. This is an unofficial fan created LEGO website, and is not sponsored, authorized or endorsed by The LEGO Group. Visit the official LEGO website: www.lego.com