Featured MOC Archive
---
MOCs featured in 2006:
---
December 2006
---
More Entries and New Techniques
Ben E. 19 XII 06

With only two weeks remaining, entries are pouring into the Colossal Castle Contest IV. Check out the creativity of the Medieval Life category with entries such as the Broom Shop by Tom Snellen. Fans are developing new building techniques. Discuss the latest stained glass studs out technique by BreadMan.

Remember to submit your entries correctly. This thread lists possible reasons why an entry has not been approved. You may pm an admin or check the thread if you have any questions.


---
Entrance to the Caves
Ben E. 10 XII 06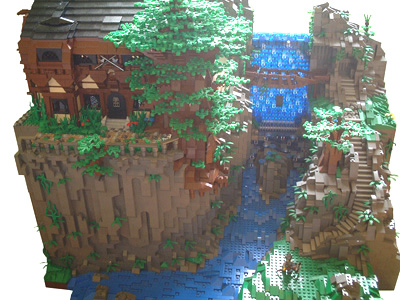 Nathan Todd's latest moc, Entrance to the Caves, is an excellent example of architecture and landscape. View the entire gallery and post your comments in the discussion thread.


---
November 2006
---
Mini Castle Contest II: Winner!
Robin Hood and The Ork 14 XI 06

The winner of the Mini Castle Contest II is: Paul Haak, Engineerio in our forums, with his Castle.

Second place went to Lonan's abbey, and third place went to Mike Viper's desert castle. Congratulations to the winner and all those who entered. Thank you for entering. We hope to see you again next year.


---
Stoneguard Hold
Bruce N. H. 7 XI 06

John Langrish, a LEGO builder from Victoria, B.C., is well known around the LEGOverse as J1A3L5. He's been building LEGO for as long as he remembers, and was inspired to move into castle building by all of the great creations he's found on CC, Brickshelf, and other sites. This past summer he was in England, and spent a lot of time checking out castles. Somehow that experience rolled around in his imagination and out popped Stoneguard Hold (Brickshelf, MOCpage, Flickr). This MOC was first revealed at NWBrickCon 2006, where its rounded walls, extensive SNOT, and essentially studless construction wowed the attendees, earning him the "NWBC06 Best Castle" award.

In addition to Classic-Castle, John also browses or posts on many of the other LEGO forums, such as Lugnet and Classic-Space. He is also a member of VicLUG. His LEGO creations can be found on Brickshelf, MOCpages, and now on Flickr.


---
October 2006
---
Leaning Tower of Pisa
Bruce N. H. 17 X 06

Arthur Gugick (Torgugick on Brickshelf) is a math teacher from Cleveland, Ohio who has been building with LEGO for almost 40 years. About a year and a half ago he found Bricklink and his building expanded exponentially. His focus has largely been on architectural landmark, and he has a list of about 50 famous buildings he's planning to build. Several of these buildings are from the castle era, including his Leaning Tower of Pisa. He says that at first he wasn't sure he could tackle this MOC, but then he sat down and spent several hours doing calculations to figure out how to build it. The main tower is made up of two concentric 13-sided polygons atop a 9-sided polygon base. Some of his other MOCs include the Tower of London, the Taj Mahal and Notre Dame. Right now he's working on the Eiffel Tower and the Empire State Building.

Arthur's work can be found in his Brickshelf gallery or his MOCpage. He also has a personal site, A Piece of the World that doesn't have many additional pictures of his work, but it does have copies of newspaper articles featuring his LEGO creations. He also builds MOCs on commission, and you can contact him through his site. Arthur is an inactive member of COLTC, but he has attended the last two Brickfests.


---
September 2006
---
Heavy Water Mill
Bruce N. H. 27 IX 06

Tânia Baixinho and her husband Luís are AFOLS from Vila Praia de Âncora, a small town in northern Portugal. Either working separately or in collaboration, they have built many castle-themed creations that can be found in either Tânia's or Luís' Brickshelf galleries. Tânia recently made her first post in our forums, presenting her Heavy Water Mill. This mill was originially inspired by a scene from a the comic book Sillage. She was originally going to make this in microscale, but Luís encouraged her to try to do it a fig scale, resulting in the MOC seen here. As with many of their creations, this was a team effort, with Luís helping out with details such as the bridge and some of the windows. She may still do a microscale version for the Mini Castle Contest 2.

In addition to their Brickshelf galleries, Tânia and Luís blog about LEGO at LegOficina dos Baixinhos, and they recently started a new Portuguese-language forum with Pedro Silva, Fórum 0937 (if you're confused, read the numbers upside down). There is an international section with English-language, so check it out. They have previously displayed their work at PLUGfest events, and are thinking of presenting a small expo in November in Âncora, and next year may attend LEGO World.


---
Frauenkirche Dresden
Bruce N. H. 13 IX 06

If you know anything about German LEGO builders, you probably know of Holger Matthes, an AFOL from Fellbach in southwest Germany. He's been a fan of the brick since he was three, but went through a dark age for most of his twenties. Six years ago he came back into the hobby, and these days he's been focusing on really elaborate architecture. A while ago he visited Dresden and was inspired by the Frauenkirche, a cathedral originally built in the 1700's. After it was destroyed during WWII, it was rebuilt with the original plans over the past 13 years. Noting that the color scheme corresponded to the LEGO tan and dark gray colors, Holger decided to give it a try. After six months of building, he presented his LEGO Frauenkirche at the recent 1000SteineLand gathering in Berlin. This MOC is 60x60 cm on a 102x102 cm base and stands 145 cm high. Dig through his site for many great SNOT techniques and all kinds of architectural details. In addition to showing it at the recent 1000SteineLand, he intends to show it at future German AFOL events, probably including Bricking Bavaria and the annual Frechen meeting. He may even ship it across the Atlantic to show at a future Brickfest.

Holger has presented many outstanding MOCs. In particular, castle fans should check out his Venice layout (gallery 1, gallery 2), including the Santa Maria della Salute. All of his creations can be found on his website, HoMa's World of Bricks, his Brickshelf gallery, or his MOCpage. He is an active member of 1000steine.de and Lugnet, and was one of the first LEGO Ambassadors.


---
August 2006
---
London Bridge
Bruce N. H. 5 VIII 25

Gaetano Notaro (aka Aetan76) is an Italian AFOL from the town of Enna in Sicily. He got his first LEGO set when he was 6, back in 1982. Three years ago the discovery of ItLUG brought him back to the hobby. He has always enjoyed things related to the middle ages, and he was inspired by a scene in the movie "A Knight's Tale." He thought the London Bridge, as seen in that movie, was beautiful, and spent the last year working on a MOC version. He's posted it in his Brickshelf gallery and it was recently publicly displayed at the ItLUG Legofest. In addition to ItLUG, Gaetano is also a member of Lugnet and often reads our forums.


---
Burg 1658
Bruce N. H. 18 VIII 4

Michiel Holthinrichs (Ristridin in our forums) is a Dutch AFOL who has played with LEGO since he was a young child. Until recently, though, he was in his dark ages. What brought him back was his love of all things medieval. Living in Europe, he has the opportunity to visit castles like Haut Koenigsbourg and Girsberg, which help inspire his building. He was Googling for castles and found a link to a LEGO castle here on Classic-Castle. This rekindled his interest in LEGO, and specifically in the castle theme. A while back he built Burg 1658. He describes this as a cross between a small castle and a manor house and was inspired by German castles that used half-timber construction. Check out all of his creations in his Brickshelf gallery.


---
Campanile della Basilica di San Nicolo
Bruce N. H. 18 VII 06

Marco Chiappa is an AFOL from the town of Lecco in northern Italy. He was the organizer of the recent Italian Legofest held in Ballabio, which involved 27 AFOLs presenting their MOCs and active participation by TLG. Over 2000 people attended the public exhibition, including a contest judging children's creations, and by all accounts it was a highly successful event. In addition to organizing, Marco presented an outstanding MOC of his own, the campanile, or bell tower, from the Basilica di San Nicolo in his home town of Lecco (here's the actual building). He's lived near this site for 28 years, and has spent the past few years dreaming of building it in LEGO. He says the project involved 6 months of study, mostly from visiting the site but also studying photographs and technical drawings, and a year to build.

Marco was introduced to LEGO by his parents when he was 5. After a 7-year dark age he came back to LEGO when he was 23, and has been building for the past ten years. He is an active member of ItLUG, the Italian LEGO Users Group, and his creations can be found in his Brickshelf gallery (though he says he's in the midst of reorganizing and updating this with his more recent MOCs).


---
July 2006
---
Eldrian Crossing
Bruce N. H. 18 VII 25

Chris Perron is a Canadian TFOL who goes by Sir Terrence in our forums. When he was three, he got his first LEGO set,[url=http://www.brickset.com/search.aspx?Set=6513-1]6531 - Glade Runner[/url], and he's been building ever since. He's been a fan of both castle and space, but has focused more on castle since joining Classic Castle. Recently he announced his [url=http://www.brickshelf.com/cgi-bin/gallery.cgi?f=189939]Eldrian Crossing[/url], a walled city on the bank of the Eldrian River. It's a tough place, where if you don't pay your taxes your furniture might get confiscated, and assassins are after the king.

In building this MOC Chris says he was inspired by the landscaping of Takeshi Itou. Chris is a member of NALUG, the Northern Alberta LEGO Users Group, and his creations can be found in his Brickshelf gallery and on his MOCpage.


---
Haidos Castle
Bruce N. H. 15 VII 06

Chris Hunter (username Wairnie) of Brisbane, Australia, is one of our newest members. He was a LEGO fan as a kid, starting at about three. His first castle set was 677, Knights Procession, and his first major castle was 6080, King's Castle. After about twelve, though, he went into a fifteen-year dark age. Eight months ago, after finishing his PhD thesis, he rewarded himself by buying 6285, Black Seas Barracuda. That rekindled his old interest in LEGO, and soon thereafter he started on a major castle project, that ultimately resulted in Haidos Castle.

Chris says that "Prince Matthias (Haidos is the family name, pronounced Hay-Dos, so Haidos Castle like Windsor Castle etc...) is technically in charge but he spends most of his time getting into mischief, getting stuck up apple trees etc... The knights conduct the real affairs of state." He drew on many influences in creating Haidos Castle. It contains elements from official sets such as the Knights Procession, King's Castle, Blac Falcons Fortress, Guarded Inn and the Black Knight's Castle. He was also inspired by the fantasy feel of Castle Drachenschlaf, the landscaping and other design elements by Takeshi Itou, particularly the roof of the Snow Field Castle, and the photography of Col du Mont. Be sure to stop by and comment on Haidos and keep an eye on Chris' Brickshelf gallery for future creations.


---
June 2006
---
Border Bridge
Bruce N. H. 23 VI 06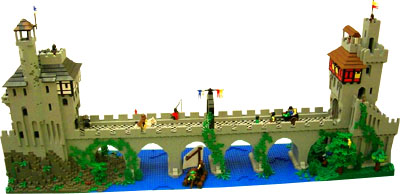 There was a time when open war raged between the Falcons and the Crusaders, but in recent years a fragile peace has been established. Seeking to encourage travel and trade they have built a Border Bridge across the river that separates them. Neither kingdom really trusts their former foes, though, so each has fortified their end of the bridge, lest it become a route for invading armies if war should erupt again.

At least that's how Jacob Cournoyer, Jacob C in our forum, sees it. Over the past year he's impressed us with several large castles, but he wanted to do something different, resulting in this MOC. All of Jacob's creations can be seen in his Brickshelf gallery or on his MOCpage.


---
Col Du Mont Tower
Bruce N. H. 14 VI 06

Brody Larson is one of the most recent Classic-Castle members (forum name brody). Back when he was 8, he received 6080, King's Castle, for Christmas - his very first LEGO set. He soon had several other great sets and built his own imaginary castle worlds. A few years later, other concerns - girls, surfing, high school - pushed the LEGO aside and he entered a dark age. Luckily he did not sell or give away his bricks, but rather hid them away and they sat there waiting patiently for his return. In the meantime he graduated and went on to a career in design, and he credits his early days with LEGO in fostering his creative skills. A few months ago he visited his parents' home and found his old bricks and figured he'd take them out and play again. The result was Col Du Mont Tower.

Brody writes: "There were many people who inspired me by creating amazing MOCs and putting them out there for the world to see. Forgive me if I don't get your name right: Takeshi Itou, Jojo, CAI, Marakoeschtra, and many others. Col du Mont was basically an experiment, to see if I could incorporate into my own work the things I learned by studying the works of these, and other, builders. ... Where did the name Col du Mont come from? I wanted a name that would indicate the tower's intended setting, which was in a high mountain pass. So, I looked at some maps of passes in the Alps, and blended one or two of the names together: Col du Mont."

Brody is currently building a companion tower and wants to continue with a series of creations for his Crusader figs. Keep an eye on his Brickshelf gallery for future developments. For more insight into how Brody builds, check out this great post on planning MOCs.


---
Forest Hunter
Bruce N. H. 14 VI 06

Chris Malloy, porschecm2 in our forums, is an AFOL from Del Rio, Texas. Even before he was born, his home was already LEGO-friendly, and as soon as he could he started playing with his older brother's bricks. He says one of his first memories is building LEGO when he was 3. He actually was not into castle at the time, as he mainly built pirates, town, and space. Until recently his only castle sets were 6008 and 6009. Then as he got online and participated in LEGO forums, he eventually found his way to Classic-Castle, and we've converted him. So everyone give yourself a pat on the back.

Chris was inspired by Takeshi Itou's recent Gorge Bridge. He writes "My MOC was originally going to have a small bridge over the creek; but a lack of certain parts made me scrap that idea. Takishi Itou is one of my favourite builders, and I love his 'clean' style: I try to imitate it --albeit imperfectly-- on a *much* smaller scale. When I build a Castle MOC, his work is always in the back of my mind." The result was Chris' Forest Hunter.

Chris is an active member of Classic-Castle and Classic Space. His creations can be seen in his Brickshelf gallery and on his MOCpage.


---
Island Tower
Bruce N. H. 14 VI 06


img src="http://www.classic-castle.com/moc/articles/images/chrisedwards01.jpg">


Chris Edwards is an AFOL from Pennsylvania who has been building with LEGO for over 20 years. He says he was immediately addicted when he first picked up bricks at age 3. He builds in a variety of themes, but recently built a great Island Tower. He was inspired by several great tower MOCs on Brickshelf and also by seeing a SNOT technique for water (perhaps by Keith Goldman). He plans to make more island creations to accompany this one. Check out all of his creations in his Brickshelf gallery or his MOCpage.


---
May 2006
---
Small Bridge and Coach
Bruce N. H. 9 V 06

Piotr Rybak, Sir Lomero in our forums, is a TFOL from Warsaw, Poland. Has been building with LEGO for as long as he can be remember, starting with his older sister's collection and moving on to his own. Even though he went through a short dark age, when he turned 12, he's back for good. He's always liked medieval history and he's created an impressive series of castle MOCs and received honorable mentions in the last two CCCs. Here we are focusing on his recent Small Bridge and Coach. He says he first built the coach and started photographing it, but it looked a little bare by itself, so he decided to build a setting for it, leading to the whole scene. The coach uses a variety of interesting SNOT techniques and the curve of the bridge uses a technique first developed by Stapelaar.

In addition to Classic-Castle, Piotr is also a member of lugpol, a Polish LEGO club. His creations can be seen in his Brickshelf gallery.


---
Jungle Surprise
Bruce N. H. 4 V 06

Robert Arnst, Stone Goblin in our forums, first built LEGO castles about 20 years ago, with his brother's collection. Soon thereafter he started getting his own sets, with the great castle lineup of the late 80's. He loves building siege weapons, but has lately gotten into landscaping. This served him well in his recent Jungle Surprise, which was the first place winner in the Battles Contest hosted in our forums by Josh Wedin.

Robert describes the scene: "This happens to be a point in my Castle world history where the Lions first meet the Ka Lu (Jar-Jar head-dresses), a dominating tribe in the southern regions. The encounter doesn't go so well for the Lions. When building the MOC, I imagined a hot sweaty jungle where the Lion faction marched through the rugged terrain, hearing a distant roaring sound. As the sound grew louder and louder, they could hear the sound of chanting, sort of like the scene showing the arrival of war elephants in the Lord of the Rings movie. You have this one tough warrior guy chanting, and the rest of the Ka Lu would have this banging noise with their weapons, kind of like the Zulu tribes of Africa. The noise just strikes fear into the Lions as the battle begins. My battle shows how even a great army can be defeated when on unfamiliar ground. Yep, that's what I was imagining when building the MOC!"

Robert has made quite a splash in recent contests, including winning the vehicles category and receiving several honorable mentions in the Classic Castle Contest III and winning the Heroes and Villains contest. All of his creations can be seen in his Brickshelf gallery or on his MOCpage.

In addition to Robert's Jungle Surprise, BreadMan's Battle of Mistguard Pass came in second in the Battles Contest and SuvieD's Shogun Showdown came in third. Congratulations to them and to all of the great entries. All of the entries can be seen on this page. A big thank you to Josh for hosting this contest and donating the prizes!


---
April 2006
---
European Fig-Masters
Bruce N. H. 13 IV 06

Minifigs are the heart and soul of many LEGO creations, but it is always a challenge to create new and unique figs. Recently, Martin Jaspers of the Netherlands (marakoeschtra in our forums) and Jens Heyer (jens in our forums) and Michael Jasper, both of Germany, have posted some really inspiring minifig creations, including Martin's hunter, Jens' Nubian and Michael's Queen Elizabeth I. I asked each of them what inspired their minifig creations and here are their responses:

Martin: "I'm inspired by other minifig builders like Dunechaser and Michael Jasper, and also by the enormous diversity of (minifig)parts, which just asks to be combined in every possible way."

Jens: "The first inspiration to create some minifigs I got while watching the gallery from Jojo. That was a few days after I discovered, that there are other people like me in the Internet (autumn 2003). Since these days I regulary buy bricks at bricklink and watches allways sales. Every few weeks I create with the new bricks some Minifigs. The shown Figs were allready created, but with the Pics from marakoeschtra I kicked myself and has uploaded the pictures. Creating Minifigs is the easiest way to build a moc, if you are short of time."

Michael: "Hard to explain; I have never reflected upon this before. But I think there are two different ways of how my minifigs come into being: 1. A specific occasion (for instance the fig of Mozart was created in honor of his 250th birthday) or 2. just an idea: "This LEGO part is useable for/looks like/could represent ..." The Queen Elizabeth fig - as well as the whole scene - is owing (the beginning of) its being just to the idea that the Helmet Visor Underwater (BL part number x41) is useable to represent such a kind of collar.

Martin and Jens are both members of our forums. Martin is also a member of Lowlug and both Jens and Michael are members of 1000steine.de. Check out Martin's creations and discuss his figs in this thread. Check out Jens' creations and discuss his figs in this thread. Check out Michael's creations and discuss his figs in this thread.


---
Tower
Bruce N. H. 13 IV 06

One of our newest members, Hippotam, joins us from Cracow, Poland. Twenty years ago, he loved to build in the space theme. After a long dark age, he bought some Duplo sets for his son, and rekindled his love for LEGO building. Finding sites like Lugnet, Brickshelf, Lugpol, and Classic-Castle fanned that spark into a full flame. Even though as a kid he thought "castles were dull", now as an adult he says "It seems some of us have to grow up to really enjoy the castle theme." Even though he's only just come out of his dark ages, he's already building great things, as seen in his Tower. As he described the process: "First was the roof, then I needen something that goes under it. The octagonal shape of the tower was inspired by marakoeschtra's windmill, the rest was just a pure try-and-see-if-it-looks-ok process. At the end, I have added a crane so my three year old son could play with the set. This was kind of mistake - he got so into it that I had to wait till he's off to granma's just to be able to take some pictures of the tower." Check it out and then discuss it in our forums.

In addition to CC, Hippotam is a member of Lugpol, a Polish language LEGO site. Check out his Brickshelf gallery for his King's Summer Residence and any future MOCs.


---
Tower of Judgement
Bruce N. H. 6 IV 06

Tower of Judgement is Chad Ivany's (CAI in our forums) biggest MOC yet, and he's only just begun. He originally started out inspired to do something Tolkien-esque, but ended up with a castle of his own design. This tower has four levels, and could eventually be joined by three similar structures to make a complete castle. Notable details include the various relief statues, the willow tree, and those great windows. I even spy some space pieces put to castle use. Check out all of Chad's creations in his Brickshelf gallery.


---
March 2006
---
February 2006
---
Colossal Castle Contest III:
Master Builder and Admin's Pick!
CC Contest Team 18 II 05

The Master Builder prize will be awarded to the builder who entered 6 or more categories and had the highest score when their top six creation scores are averaged.This year the scores were extremely close.We are proud to announce the 2006 Classic-Castle.com Master Builder: Sir Nelson!Check out his submissions here.


The admin's pick winner was selected by the admin who you decided had the best entry.This admin then selected their personal favorite entry that did not win a categoryNate won with his Catapult entry.He selected MOCkingbird's Toll Bridge in the Medieval Life category.

You may be wondering what what prizes will be awarded. Our Master Builder recieves a 6080 King's Castle.The Admin's pick will be able to pick between a MISB 8877 Vladek's Dark Fortress or 7019 Viking Fortress against the Fafnir Dragon.Thank you to LEGO for donating the Admin's Pick prizes.Discuss the Winner's here.


---
Colossal Castle Contest III - Winning Entries!
CC Contest Team 15 II 05

Congratulations to all of the winners in the Colossal Castle Contest III! Your creations show the finest that Classic Castle has to offer. Thank you to everyone who entered the contest. The huge number of talented entries is what truly made this year's contest Colossal

The scores were very close so we have provided an Honorable Mention for the top five entries in each category that did not win. Please contact Lenny Hoffman or myself if you have won a category so we can ship out the prizes!The Master Builder prize will be announced in a few days.

Discuss the Winner's here.


---
January 2006
---
&nbspHome&nbsp|&nbspArchives&nbsp|&nbspCity&nbsp|&nbspEvents&nbsp|&nbspSets&nbsp|&nbspHow-to&nbsp|&nbspCreations&nbsp|&nbspStories&nbsp|&nbspLinks&nbsp|&nbspContact&nbsp
© 2003 Classic-Castle.com. Site design © Anthony Sava and Benjamin Ellermann. All rights reserved. This is an unofficial fan created LEGO website, and is not sponsored, authorized or endorsed by The LEGO Group. Visit the official LEGO website: www.lego.com