Featured MOC Archive
---
MOCs featured in 2012:
---
December 2012
---
Between four eyes
Bruce 30 XII 12

Gearcs is an AFOL from the Czech Republic who posted this classic scene a while back: Between four eyes. Because dragons have to eat, too. Unfortunately for the princess, there is no knight in shining armor to be found. In addition to CC, Gearcs is a member of Kostky and Eurobricks. Be sure to check out his other MOCs as well on Flickr and Brickshelf.


---
Merry Christmas!
CC Admins 25 XII 2012

We at Classic-Castle like to wish you all the merriest of holidays! Here's hoping your stockings are filled with lots of LEGO. Just a gentle reminder, you've got one more week to enter the Colossal Castle Contest, so between gifts and carols, take some time to finish off your entries.

The Christmas House above is by Rod Gillies, known in our forum and elsewhere around the LEGOverse as 2 Much Caffeine. Watch the video where you can see the house spin around to reveal Santa bringing presents inside. Be sure to check out all of Rod's MOCs in his Flickr stream.


---
Fen Panther
Bruce 20 XII 12

Mark Erickson, an AFOL from Georgia, is better known as Mark of Falworth on our forum and on places like Eurobricks, BrickForge and BrickWarriors forums. He's a prolific builder and is quite active in the Lands of Classic Castle. The Like a Boss contest sponsored by the Brothers Brick challenges builders to come up with a video game boss. Mark has always loved big cats, so he built the Fen Panther. Beware the swamps! He's hoping to bring this and other builds to BrickFair Alabama next month, so if you go there you'll have a chance to meet Mark and see this MOC in person. Mark blogs at iBrick. His MOCs can be found on Flickr and MOCpages.


---
Finders keepers!
Bruce 11 XII 12

You probably know Iain Heath, aka Ochre Jelly, from his Stephen Hawking or his coordination of the Bricks of Character and Pythonscape displays at fests like BrickCon and Bricks by the Bay. Iain's LEGO passion is expressive characters, usually at Miniland scale or larger, as he documents on his blog, the Living Brick. He grew up reading Tolkien, so he wanted to build something to celebrate the new Hobbit movie. The meeting of Bilbo and Gollum and the exchange of the ring is so central to Tolkien's work, so he made that his focus in Finders keepers!. He notes that the official One Ring element is way out of scale with minifigs, but it works perfectly with a 12-inch-tall Bilbo. These sculptures will stay together for a while, so in the coming year you will have a chance to see them in person at BrickCon and the Emerald City Comic Con.

While he comes from over the pond, Iain can be found in Seattle, Washington, where he is active in SEALUG. All of his MOCs can be found in his Flickr stream, and he also moderates a number of Flickr groups: The Living Brick, Bricks of Character, Mi-Fi, Lego Ghibli and Adventure Time with Finn and Jake. Follow all of Iain's antics on his blog, the Living Brick.


---
Castelo de Guimarães
Bruce 4 XII 12

A couple of months ago we featured the Chapterhouse Window from the Convent of Christ built by Projecto Construir, a Portuguese group run by Romão Santos and a lot of volunteers who involve disadvantaged schoolkids in large LEGO projects. Their newest project is the Castelo de Guimarães, built by over 120 children and now on display as part of the European Capital of Culture events in Guimarães, Portugal. You really have to go through the photos in their Flickr gallery in order to appreciate the attention to detail, the massive scale and the fact that in places it is has a furnished interior.


---
November 2012
---
Kingdom of Halthas
Bruce 28 XI 12

David Frank, who goes by the name Fraslund in our forum and on Flickr, started planning for BrickCon back in March. He wanted to create a thriving village with an imposing castle in the background. He drew some of his inspiration from old D&D miniature models and also the Sleeping Beauty castle. He treated each building as a separate project, spending 8 or 9 months building. The ultimate result is the Kingdom of Halthas. This was a collaborative effort, where David built the main castle and the area in front of it, while Jordan (AK_Brickster in our forum) built a city wall, gatehouse, and the country outside the wall, as seen here. This work won 'Best Castle' at BrickCon. David has begun to take down the village area to recyle bricks for future projects, but the main castle is still together and he may bring it to future events, so you may still have another chance to see this in the brick.

David is from Puyallup, Washington, where he is a member of SEALUG. He posts his MOCs on Flickr, though some of his older work is on Brickshelf.


---
History of Britain
Bruce 14 XI 12

James Pegrum, who goes by peggyjdb in our forum, has a fascinating ongoing project, the History of Britain, highlighting important events from British history, such as the creation of Stonehenge, the plays of Shakespeare, and the Royal Air Force in the Second World War. Here we see his depiction of the signing of the Magna Carta on 15 June, 1215, in Runnymead.

James is from London, where his involved in the Brickish Association. He also occasionally posts in our forum and on Eurobricks. His MOCs can be seen on Flickr and MOCpages. Our English readers should stop by the Stratford LEGO store to see his most recent work, the Gunpowder Plot of Guy Fawkes.


---
Knight Statuette
Bruce 7 XI 12

Luke Johannesen is a TFOL from Los Angeles. His creations can be found on MOCpages and he has some involvement with LUGOLA. In the second round of the 2012 MOC Invitational Tournament he was challeged to recreate an object and recreate it at 1:1 scale. He was inspired by an 8-inch tall knight statuette, and came up with this great LEGO version. So far Luke has only a handful of MOCs posted publicly, but based on this one alone he is a builder to keep watch on for his future work.


---
October 2012
---
LEGO Adventure Book, Volume 1
Bruce 26 X 12

The LEGO Adventure Book, Volume 1 is a new book coming out next week from No Starch Press. It's edited by Megan Rothrock and includes models by a number of great AFOLs, including several CC members in a variety of themes, such as this tribute to the original Yellow Castle by CC member DARKspawn.


---
Creekwood Keep
Bruce 12 X 12

LegoLord, aka Robert Murphy, is originally from Tennessee but is now in college in Arkansas. His MOCs can be found on Flickr, MOCpages and Brickshelf. Regular forum readers know him for his long series of related castles set in the realm of the Dawn Crown. Recently, though, the last king of Dawn Crown traveled to Roawia, as LegoLord is an active participant in the LCC project. His most recent MOC, the Creekwood Keep is set in Lenfald. The build itself draws on the style he has developed in his ongoing series, but he was inspired to work on more curved shapes by the Helm's Deep set and this castle WIP by AceBricks.


---
Hylian Shield
Bruce 5 X 12

Remi Gagne is half of the husband and wife team who go by Bolt of Blue on Flickr. He and Alyse are both huge fans of the Legend of Zelda series of games, and he was inspired to build a life-size version of Link's Hylian Shield. Unfortunately it's a little too fragile to wield, but you can see it in person if you're attending BrickCon this weekend, or also at the upcoming DesignerCon in Pasadena.


---
Chapterhouse Window
Bruce 2 X 12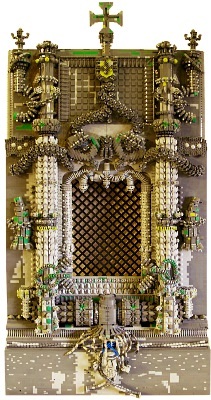 Projecto Construir is a Portuguese social welfare association that was founded with the support of the University of Oporto. President Romão Santos and an army of volunteers, including local LUG members, set up events at schools, hospitals and other settings where disadvantaged kids take part in large construction projects. One of their recent projects was designed in cooperation with a sponsor, Tomar City Hall. They designed a full scale LEGO replica of the famous intricate Chapterhouse Window from the Convent of Christ, a UNESCO World Heritage site. The original window was designed by Diogo de Arruda and built between 1510 and 1513. This LEGO version was designed by Romão, but built by thirty 10 to 13-year-old students at Santa Iria School, in Tomar, over a three week span earlier this year. CC members would also be interested in their Castle of Guimarães, built by over 120 children of the Casa do Povo de Fermentões, a social welfare institution in Guimarães. This is just about complete, and will eventually find a permanent display location in Guimarães. Romão also hopes to bring it to an AFOL event some time in the next year.

More information about Projecto Construir can be found on their home page. They also post images on Flickr, Brickshelf and MOCpages. Be sure to Like them on Facebook to help spread the word outside the AFOL community as well.


---
September 2012
---
Bricks of the Realm
Bruce 26 IX 12

Sam Z., who goes by the nickname /TheBricks\, is a TFOL from Michigan. Recently he was playing the PC role playing game Fate and he was inspired to make a series of vignettes, including Bonecrusher the troll, above. The creatures and settings are from his imagination, but the resulting Bricks of the Realm certainly evokes memories of those hours spent playing D&D and other similar games. All of Sam's MOCs can be found on Flickr and MOCpages.


---
Vikings and Dragons
Bruce 6 IX 12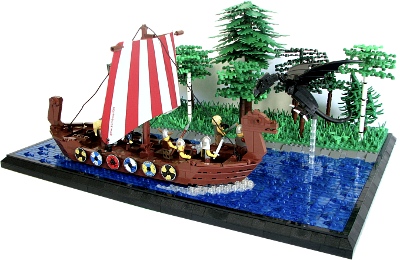 Austrian builder Stefan Käsmayer, known as - 2x4 -, built this Viking scene that drew inspiration from the game the Elder Scrolls and the movies The 13th Warrior and How to Train Your Dragon. Stefan lives in Vienna where he is a member of LGOe - LEGO® Gemeinschaft Österreich. All of his MOCs can be found in his Flickr stream, though his older work can also be found on Brickshelf and MOCpages.


---
August 2012
---
Chinese Dragon
Bruce 31 VIII 12

Delving into a backlog of MOCs that didn't get featured earlier in the year, back in January, Schneider Cheung built this amazing Chinese dragon in celebration of, appropriately, the Chinese Year of the Dragon. Interestingly, he says he took the general color scheme of several dragons found in the Legoland parks, but he changed it from a western-style dragon to an eastern one. He might be displaying this at the Hong Kong Bricks Adventure exhibition in about a month.

Schneider, also known online as Schfio or Schfio_factory lives in Hong Kong, where he is a member of HKLUG, Legend Bricks and Minifigs.net. All of his MOCs can be found on Flickr, MOCpages and Brickshelf.


---
July 2012
---
June 2012
---
May 2012
---
Sungnyemun Gate
Bruce 14 V 12

During the medieval era, Seoul South Korea was a walled city. The Sungnyemun (Gate of Exalted Ceremonies), built in the fourteenth century, was one of the three major gateways into the city. Until the pagoda roof section atop the gate was destroyed by fire four years ago, it was the oldest wooden structure in Seoul. It is currently under reconstruction and set to reopen at the end of this year. The Sungnyemun holds pride of place as the first official National Treasure of South Korea. It is sometimes called the Namdaemun (Great Southern Gate), though some dislike the use of that name since it was associated with the Japanese occupation.

Amida is a Korean AFOL whose work can be found on his own site, as well as on Flickr and two different Brickshelf galleries. He built this Sungnyemun Gate as part of a display at the recent LEGO World Tower event, that set a record for the world's tallest LEGO structure.

Edit - In a nice coincidence of timing, just after posting this to the front page I saw the announcement that LEGO will be releasing a microscale version of Sungnyemun as the next structure in the LEGO Architecture line.
---
April 2012
---
March 2012
---
LEGO Dragons winners
Bruce 9 III 12

The LEGO Dragons Contest over on Flickr has come to a close and the winners have been announced. Stormbringer brought in first prize with the Order of Palladio. Check the winners announcement to see all of the runners up and special category winners, and indeed check out all of the entries, as this contest inspired a lot of great building. Congratulations to the winners and all of the participants, and thank you to Siercon and Coral for starting this great contest. I hope it becomes a yearly tradition.


---
February 2012
---
Misty shrine - Nocturnus embassy
Bruce 3 II 12

Our fellow AFOLs over on Eurobricks have a very interesting collaborative project, the Guilds of Historica. In brief, they have a mythical world divided into four regions, each of which has different inhabitants, geography and character. Forum members are associated with each land, and they are building MOCs to fill in the spaces of their world. The most recent building challenge is to make an embassy from your land to one of the other three lands. The Mystic Isles are a sacred region in the middle of the kingdom of Avalonia, and this is where Lisqr has decided to place an embassy from the Nocturnus, a decidedly darker people. In addition to simply being part of the Historica project, Lisqr said his MOC was inspired by some concept art that accompanied the description of the Mystic Isles. Lisqr's MOCs can be found on Brickshelf, Flickr and MOCpages.


---
January 2012
---
Trojan Rabbit
Bruce 19 I 12

Dave and Johnny Xandegar are a father and son team of builders known collectively as briXwerX. This past fall, they were inspired by the Pythonscape display at BrickCon, and they wanted to build something of their own. The result was the famous Trojan Rabbit.

Dave and Johnny are in northern Illinois, where they are members of KLUG. They're extremely active both within the LEGO community and in the broader public eye, with ongoing exhibits at libraries and other locations, and also hosting Creativity Labs to inspire young builders. You can follow up on all of their news and learn more about them at the briXwerX Studio. Or just see photos of their prolific creations on Flickr and Brickshelf.


---
&nbspHome&nbsp|&nbspArchives&nbsp|&nbspCity&nbsp|&nbspEvents&nbsp|&nbspSets&nbsp|&nbspHow-to&nbsp|&nbspCreations&nbsp|&nbspStories&nbsp|&nbspLinks&nbsp|&nbspContact&nbsp
© 2003 Classic-Castle.com. Site design © Anthony Sava and Benjamin Ellermann. All rights reserved. This is an unofficial fan created LEGO website, and is not sponsored, authorized or endorsed by The LEGO Group. Visit the official LEGO website: www.lego.com