December 2014
---
November 2014
---
October 2014
---
September 2014
---
August 2014
---
July 2014
---
June 2014
---
May 2014
---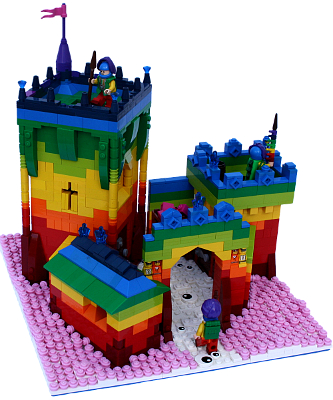 Taste the Rainbow contest winner
Bruce 5 V 14

Congratulations to Buurli for winning the Taste the Rainblow contest with his Rainbow Castle! See the announcement, including runners up and special prize, and congratulate the contestents in our forum.


---
Game of Homes
Bruce 3 V 14

Just in time for the big Simpsons LEGO episode, Legoagogo built A Game of Homes. Discuss this, another Simpsons parody by Vanjey_Lego, or share your own parody in our forum.


---
Cupola
Bruce 1 V 14

Lord Tarris has been working for a long time on an amazing Cathedral. It's taking so long because, in addition to being a huge project, he's adding all kinds of careful details. He's recently made this cupola that goes on top of his Baptiserium. You can see the construction technique via WIP and alternate views, and discuss the MOC in our forum. All of Lord_Tarris' work can be seen in his Flickr stream.


---
April 2014
---
The Wind
Bruce 28 IV 14

Global Challenge VII is on in the Lands of Rowia, and MasterMinifig built The Wind, where his character battles a wizard who controls the winds. Please check out all of his MOCs on Flickr and discuss this one in our forum.


---
Zelda's loftwing
Bruce 14 IV 14

Iron Builder is a head-to-head match that pits two individuals, or in this case two pairs, against eachother to come up with MOCs based on a specific piece. This month Siercon and Coral are facing off against Legohaulic and Littlehaulic, with the 2x1 curved slope in yellow as the seed part. Siercon and Coral came up with Zelda's loftwing and a companion steed for Link. Check out these and all of the great creations in this competition, and be sure to discuss in our forum.


---
Motorback in Time
Bruce 14 IV 14

On the French forum BrickPirate there is a current Motorback in Time contest, challenging builders to come up with a castle-ized version of the Super Cycle from the LEGO Movie. Sweetsha came up with this entry, the Castle Escape Bike. Check out this and Sweetsha's other MOCs on Flickr.


---
Ballista Siege
Bruce 9 IV 14

Isaac, who goes by soccerkid6 in our forum and as soccersnyderi on Flickr, is in the middle of a modular castle project. He is building different walls, towers, and other pieces that will fit together to make a larger castle. His second piece is this Ballista Siege that includes a defender on a wall and an attacker with a working ballista. Check it out and discuss it in our forum. You can find all of Isaac's MOCs at his personal LEGO site, Brickbuilt, his Flickr, and his YouTube.

LEGO take note - you should be designing sets like this.


---
Dragon Mosaic
Bruce 6 IV 14

Joel Baker, a model designer at Legoland California, made this dragon shield, which is in the lobby of the Legoland Malaysia Hotel.


---
Midnight Training
Bruce 3 IV 14

Polish TFOL and CC member Lukasz aka LL aka Lolino recently posted this Japanese castle MOC, Midnight Training. This was a submission for Mike Doyle's Beautiful LEGO II: Dark contest, for possible inclusion in the second volume of Mike's book series, which will focus on 'dark' creations. You can see all of Lukasz' MOCs on his Flickr, Brickshelf, and MOCpage sites. Discuss this MOC in our forum.


---
March 2014
---
Leprechaun
Bruce 17 III 14

Happy St. Patrick's Day! ToroLUG member Steadibrick made this great 19 inch tall rendition of the CMF Leprechaun, currently on display at the Fairview LEGO Store in Toronto.


---
LCC Global Challenge winners
Bruce 11 III 14

Congratulations to the winners of the LCC Global Challenge VI, A Glimmer of Hope: Sergeant Chipmunk's Undercover Surveillance, Sir Caelin's Vipers in the Garden, and the brother team of General JJ's GCVI Part 3. Congratulations to each of these builders, all of the participants and finalists, and the Garheim faction for the overall Global Challenge victory.


---
February 2014
---
CCC XI Master Builder
CC Admins 2 III 14

We are extremely pleased to announce that the Master Builder for Colossal Castle Contest XI is Disco86. Disco will receive the honorary title of Master Builder and a misb 10193 Medieval Market Village!

This year's contest had a wonderful amount of high quality castle builds from around the world. Three builders in particular stood out with amazing builds across multiple categories: Brother Steven, cmaddison and Disco86 We would like to congratulate these top builders and all entrants who participated in the Colossal Castle Contest!

Thank you to everyone who made this year's contest possible including the admins, moderators, prize donors, and castle fans!


---
January 2014
---
Mini Castle Contest results
Bruce 2 I 14

The Colossal Castle Contest is now closed, and judging is about to begin. Please be patient with us as there are over 300 entries to consider. In the meantime, though, we have a bit of other contest news. Mini Castle Contest VIII inspired a bunch of great creations, and it was difficult to judge them. In the end, though, one builder must come out on top. This year the honor goes to a veteran builder and past Master Builder, Legofreak, with his Orc Castle. Please check out all of the great entries and congratulate Freak in the MCC thread.


---