Featured MOC Archive
---
MOCs featured in 2011:
---
December 2011
---
November 2011
---
October 2011
---
Experiment 521KD
Bruce 11 X 11

A group of necromancers gathered to raise up an unstoppable army of the undead. But something went horribly wrong. The undead rose up against their masters and slaughtered them, and then went forth to conquer any who would oppose them. That's the story behind Areetsa's Experiment 521KD. The warrior himself is based on Areetsa's previous Kleinpanzer hardsuit, but here reworked into a fantasy castle setting.

Areetsa hails from New Zealand, where he is active in the TFOL Private Club Official Forums and his creations can be found on his MOCpage.


---
September 2011
---
Last March of the Ents
Bruce 30 IX 11

There stood a tower of marvellous shape. It was fashioned by the builders of OneLug, who smoothed the Ring of ABS, and yet it seemed a thing not made by the craft of Men, but riven from the bones of the earth in the ancient torment of the hills. A peak and isle of LEGO it was, black and gleaming hard: four mighty piers of many-sided SNOT were wwelded into one, but near the summit they opened into gaping horns. This was Orthanc, the citadel of Saruman.

This massive work was the brainchild of Remi Gagne and Brandon Griffith, and they quickly enlisted the help of Alyse Gagne and Bruce Lowell. Designing and building the attack of the Ents on Orthanc was in the works for the past eight months, and finally came together for photography last week. The OneLug team promptly tore their creation down and headed north to Seattle, where it is on display this weekend at BrickCon.


---
Red Beech
Bruce 20 IX 11

Our Dutch forum members may remember the medieval theme park Het Land van Ooit. The park shut down due to financial difficulties a few years ago, but the memory lives on with Paul Toxopeus. He's built LEGO renditions of many of the park's offerings, including this sign, some giants, the Manege Theater, and the iconic Pink Castle. All of these creations can be found on Flickr and on Paul's blog (currently offline) Het Land van Ooit van LEGO. The area around the park is also known for beautiful red beech trees. By the way, this is just one of Paul's great realistic trees, and in looking at his work I happened upon the Flickr group LEGO Arboretum, which is full of trees, plants and other MOCs that would spruce up any castle landscape.

To make the red beech, Paul had to paint the leaf elements with an aerosol spray paint. He washed the leaves, then added a layer of primer spray, then added two layers of dark red to each side. Since the leaves are flexible, the paint tends to crack if handled too much. So this is a perfect time to renew the call for LEGO to make leafe elements in a variety of colors. C'mon, LEGO, is that asking too much? Maybe a variety pack with dark red, orange, and yellow.

Paul lives in Wageningen, the Netherlands, and is a member of the Dutch groups Lowlug and De Bouwsteen. His MOCs can be found in his Flickr stream.


---
Castel Del Monte
Bruce 13 IX 11

Belfast (Diabel on Brickshelf) is an AFOL in Warsaw, Poland. He wanted to build a nice-looking castle, but didn't want a gray square. He likes architecture from the Mediterranean and so, looking around, he found Castel Del Monte. This striking castle was built by Holy Roman Emperor Frederick II in Apulia (southern Italy) during the thirteenth century. I think we can agree that not only is the original castle beautiful, but so is Belfast's microscale LEGO rendition.

Belfast is a member of LUGPol and his MOCs can be found in his Brickshelf gallery.


---
Caesarea
Ben E 5 IX 11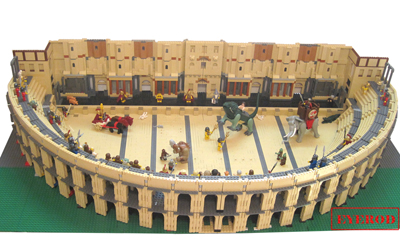 Yaron Dori is an AFOL from Holon, Israel. He has been a fan of LEGO bricks since receiving his first set, 105, as a five year old. Yaron loves history and travels ancient and medieval sites in Israel and Europe. His favorite themes are LEGO Castle, Pirates, and Western. Yaron's mocs can be found on brickshelf and mocpages.

CC: Please give us information regarding the historic Caesarea site:

YD: Caesarea was a city and harbor built by Herod the Great about 25-13 BC during the Roman Empire. Today, its ruins lie on the Mediterranean coast of Israel about halfway between the cities of Tel Aviv and Haifa. It is one of the most impressive old cities in Israel, which I like to visit. One of the great parts of Caesarea is the great stadium that is a bit different today. The old stage is ruined and instead there is a new modern one. Five thousand people can watch each performance given by great singers of Israel every summer.

CC: How did you replicate this historic structure?

YD: I tried to make it as accurate as it can be according to the old diagrams of the place. My model is contains approximately 15,000-20,000 bricks. It took a few months to finish it. Most of the problem was the delay for bricks. The size of the model is 1.5 m x 1 m x 0.4 m (high) (or 5 ft x 3.3 ft x 1.3 ft).

CC: Tell us about future projects you are working on:

YD: I made a few creations in the same manner in the past like old churches in Jerusalem and Antwerp but this is the biggest creation yet. I hope to make more old architecture models in the future but I'm not certain which will be the next one. On the coming event of LEGO WORLD 2011 in the Netherlands I hope I'll be able to display it live if I can find how to bring in on an airplane :-)


---
August 2011
---
Beautiful curves
Bruce 25 VIII 11

You hopefully remember jediknight219's Wizard's Tower entry to our last CCC, and we've also recently feasted our eyes on K3G's Nikaia Antipolis. In addition to both being beautiful MOCs, they also share in common the incorporation of those sweeping curves. Each of these builders has also written up how they achieved these curves, and those articles are linked on our how-to page. Jediknight219's articles is On Round Tower Techniques and K3G's is Amphitheater's Curved Walls. BTW, our how-to page is a great source to help you improve your building. We'd also love to have you write up an article yourself! Just contact any admin.


---
World Heritage Sites
Bruce 15 VIII 11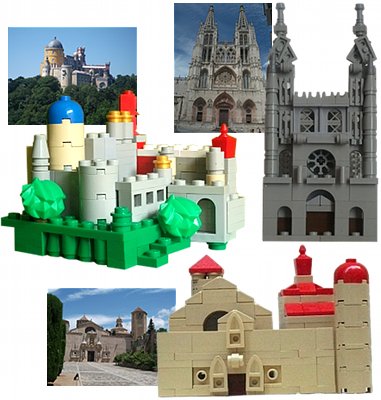 Most of us would see the loss of a job as a crisis, but Jackie Britton saw it as an opportunity. A while ago when she saw that there would be cutbacks in her department, she decided to cut herself and spend some time living a life's dream. As her blog Jackie's mid life crisis gap year puts it, she's taking "a jaunt around world heritage sites, with some LEGO". Her plan is to spend a year or so (or until funds dry up and she needs another job) traveling to UNESCO World Heritage Sites. That's cool enough, but what brings her to our front page is her plan to build micro MOCs of each site she visits, such as Pena Palace, the Burgos Cathedral, and the Poblet Monastery, seen above.

Right now she's back at home in Britain regrouping, but the first three months of her travels brought her to sites around Morocco, Spain and Portugal. From her home she's going to visit some locations around the British Isles, then next year she's headed to Asia and the Mid East. You can follow her travels at her blog, or just see the raw pictures in her Flickr stream. She's also got a site, Architoys.net all about architectural construction toys.


---
Firestorm
Bruce 9 VIII 11

Aaron Amatnieks, aka akama1_lego, is an AFOL from Albert Park, Australia. He'd previously experimented with making active MOCs, incorporating lighting, and even water, so he decided to give himself a further challenge - fire! Of course, this suggested a fire-breathing dragon. He started with a one of those lighters you use for an outdoor grill, and built a technic frame around it. This dictated the scale of the beast, and he constructed his dragon around it, so Firestorm was born.

Aaron is a member of MUGS, the Melbourne LEGO Users Group, and regularly attends Brickvention. His newer MOCs can be found in his Flickr stream and older work is in his Brickshelf gallery.


---
Trees
Bruce 3 VIII 11

Michael Hecker, aka Monteur, is an AFOL from Krefeld, Germany. He came out of his dark ages when he was building LEGO with his daughter. He's mainly a train builder, and in the pursuit of building train layouts has come up with number of great tree designs. He's posted instructions to a couple of these, and they are also now linked from our how-to page.

Michael is a member of MBFR and 1000Steine. All of his MOCs can be found on Brickshelf. By the way, his Brickshelf name 'Monteur' translates as 'fitter', referring to his profession is as a machine fitter and control technician.


---
July 2011
---
Compound bow
Bruce 18 VII 11

Husband and wife team Sean and Steph Mayo are better known as Siercon and Coral in our forum, on Eurobricks, Forbidden Cove, Brickwars and elsewhere. A while ago Sean was doing some archery and wondered why LEGO never came up with a compound bow. So they started fiddling around with small elements, and hit upon the zip line handle. With a lot of tinkering and trial and error, they came up with a great design that can even fire! The flexibility and poseability are outstanding. Siercon and Coral have created a great number of MOCs since they joined our forum this year, all of which can be found in their Flickr stream.


---
Temple of the Tan Tiger
Bruce 2 VII 1

My childhood was filled with fear. My parent's death confused me. As I grew older, I began to yearn for the answers to my many questions. The road offered me a path to discover these truths. I started by the sea. Yet I did not discover what I sought. I wandered for many weeks until I finally reached the forest. Yet my questions still could not be answered. I continued on until I happened upon an old man, deep in meditation. He seemed to know who I was. The old man told me of the great war, and of my father's conscription. He said that my father's skill with the sword was legendary. The old man also told me about how my father had once saved the life of the Daimyo's son. The Daimyo was so thankful that he granted my father a fief up in the mountains. When I turned to thank the old man for clearing some of the clouds covering my mind, he had vanished without a trace. I decided that my father's fief was a good place to look for guidance and I found myself, again, on the road. The mountain tested me, yet I did not give in to exhaustion. The image of my father gave me strength I didn't know I possessed. Fate saw me safely to the top of the summit, where I discovered an ancient abandoned temple. Upon entering the temple I had a vision of myself, decades older, surrounded by disciples and students of the old ways. When I awoke I smiled. Although it will take many years of work to fulfill my vision, I now know. I have become all that my father wanted me to be. I have become a man. Such is the journey to the Temple of the Tan Tiger.

Sam W, aka Infomaniac, is an AFOL from upstate New York and a member of forums including Eurobricks, Builders Lounge, and, of course, Classic-Castle. He was originally working on the landscaping, and when watching the movie The Last Samurai, he was inspired to try his hand at Japanese architecture. After building the Temple, he wrote the backstory in vig form to introduce his creation. All of Sam's MOCs can be found on Flickr, Brickshelf and MOCpages.


---
June 2011
---
Non-Castle MOC: Battle of San Juan Hill
Bruce 22 VI 11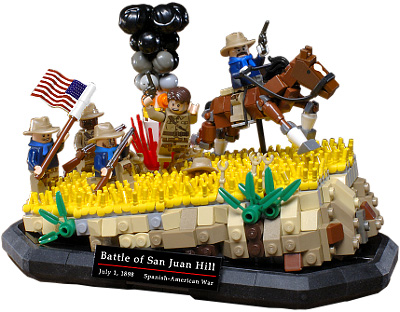 Every so often I want to feature a non-castle MOC that has great building techniqes that castle builders can use. One example of this is Brian Williams' (BMW_Indy's) Battle of San Juan Hill. In addition to things like great fig posing, that billowing smoke, and the use of minifig hands as grass, I especially wanted to call attention to his amazing brick-built horse.

Brian is an AFOL from suburban Chicago, where he is a founding member of NILTC. He was a train coordinator at Brickworld this past weekend, where this MOC was also on display. The Battle of San Juan Hill was entered in the LEGO Military Annual Build Competition, where it won the vignette category. All of Brian's MOCs can be found on Flickr.


---
Doors of Durin
Bruce 12 VI 11

Ennyn Durin aran Moria. Pedo mellon a minno - so reads the inscription on the West Gate of Moria, here reproduced in Modulex by Karyn, aka ktraphagen on most forums. She is a fan of Modulex and created MiniBricks Madness to help educate AFOLs about these bricks. Like, for instance, there are both matte and glossy tiles, which helps give the variation in texture seen in her mosaic.

Karyn hails from Durham, NC, where she is a member of NCLUG. All of her MOCs, both Modulex and otherwise can be found on Flickr and MOCpages.


---
Village Houses
Bruce 7 VI 11

ZCerberus, an AFOL from St. Paul, Minnesota, is building Fort Brighton, a European port city. It's set in the 17th to 18th century, but his Village Houses would fit very nicely in a medieval layout. He actually found inspiration on his morning jog, as the neighborhood he runs through has many Victorian and half-timbered houses. He also runs past St. Paul's Cathedral, which is part of th inspiration for his WIP Cathedral.

ZCerberus is a member of Classic-Pirates and lurks a bit on the TwinLUG forums. His MOCs can be found on Brickshelf and MOCpages.


---
Binky
Bruce 2 VI 11

Pawel Ostromecki, aka Zgrredek, is an AFOL from Poland and a member of LUGPol. He's also a fan of the work of Terry Pratchett, which led to Binky and his Master. All of Pawel's MOCs can be found on his Flickr and Brickshelf.


---
May 2011
---
Westminster Abbey
Bruce 26 V 11

In February, British AFOL Warren Elsmore considered the upcoming royal wedding and had an idea. The ceremony was set to take place in Westminster Abbey, the massive gothic church begun by Henry III in 1245, and the traditional site for British coronations, weddings, and other historic events, and also the perfect subject for a large scale MOC. The job was too big for one builder, though, so he enlisted the aid of Ed and Annie Diment, Stuart Crawshaw, and Naomi Farr. They also contacted LEGO, who provided the bricks and help publicize the project, and this also led the the involvement of Mark Stafford and Megan Rothrock. Even with this impressive collection of builders, they had to work like mad to complete their project in time for the wedding on April 29, which was also the weekend of the AFOLcon gathering and exhibition at the Museum of Science and Industry in Manchester. It will be on display at other upcoming LEGO exhibitions and fan events around Europe.

The finished model is over 2.5 meters long, weighs over 60 kg, and contains over 180,000 bricks. 400 minifigs sit in the pews for the blessed event (one side is cut away so you can see the interior), and a separate pull-out section features the happy couple at the altar. This MOC has gotten a considerable amount of press, and photos can be found all over. This video shows a lot of detail. Here's a gallery from AFOLcon with some good pics. Ed has some WIP photos in his gallery.


---
Medieval Roving Theater
Bruce 21 V 11

When NaNeto, one of our Portuguese forum members, saw Rosencrantz & Guildenstern Are Dead, he was taken with the idea of the traveling band of actors hired by Hamlet to expose his mother and uncle. So he created their Roving Theater. In addition to CC, NaNeto is active in Comunidade 0937. His newer MOCs can all be found in his Flickr stream and his older creations are on Brickshelf and MOCpages.


---
April 2011
---
Charles Bridge and Saint Basil's Cathedral
Bruce 20 IV 11

Built in the late 14th century, the Charles Bridge sits at the heart of Prague, linking the old city on one bank to Prague Castle overlooking the other. As it was the only crossing of the Vltava river for long distances in either direction, it was a vital connection for trade, travel and even the site of a battle during the Thirty Years War. Today it is reserved for foot traffic only, and is a popular destination for tourists and residents alike to walk along, looking at the river, the castle, and the thirty statues lining the walkway. Saint Basil's Cathedral is another instantly recognizable national landmark, this one sitting in the heart of Moscow, built in the mid 16th century. The completely unique design features a central sanctuary surrounded by eight smaller chapels, each topped by a colorful onion-shaped dome. After the Russian Revolution the state took over this, as with many other religious institutions, and still today Saint Basil's serves as a museum rather than an active church.

These two amazing MOCs were built by Schneider Cheung, whom most AFOLs would recognize as Schfio or Schfio_factory, the nicknames he uses online. Schfio lives in Hong Kong, where he is a member of HKLUG, Legend Bricks and Minifigs.net. He recently gathered with other AFOLs to create an amazingly cool public LEGO Exhibition in Taikoo City Plaza, Hong Kong. It will be up for another week, so, if you're anywhere nearby, be sure to check this out. For those who can't visit in person, these and all of Schfio's other MOCs can be found on Flickr, MOCpages and Brickshelf.


---
March 2011
---
Belfry
Bruce 27 III 11

In the market-place of Bruges stands the belfry old and brown;
Thrice consumed and thrice rebuilded, still it watches o'er the town.
So wrote Longfellow in 1845 about the Belgium landmark built and rebuilt from 1240 to 1822. If he were writing today, he'd have to note that it has been built again, but this time in LEGO form by British AFOL Reejoc (Edward Conquest). Be sure to see all of Reejoc's MOCs on Flickr and Brickshelf.


---
Ocean Outpost
Bruce 22 III 11

Castlebuilder100 is a member of our forum hailing from Knoxville, Tennessee. For his most recent MOC, he saw the Black Falcons establishing an Ocean Outpost. He says that Rocko's Leian Tower was part of his inspiration. For all of Castlebuilder100's MOCs, see his galleries on Brickshelf and Flickr.


---
Saint Patrick's
Bruce 17 III 11

Last year Tobias Reichling and Bruno Kurth spearheaded the Euromap Project. Five builders made a huge map of Europe to bring to AFOL events, and then attendees could cover the map with microscale versions of European landmakrs. Forum member Jojo made a tiny Saint Patrick's Cathedral from Dublin.


---
Outpost
Bruce 11 III 11

Brickdoctor is mostly a Star Wars builder, but when he turns his hand to castle builders, we should certainly take note. Take for instance, his outpost. He was initially inspired by the textures that Dan Church achieved in his outer wall (another wonderful MOC), and wanted to try something similar. This little vig, though, is packed with details, such as a bird and realistic posing. This last was achieved with pneumatic tubing for arms, a trick he's used before. Be sure to check out all of his castle creations (and, indeed, his other MOCs) for other great build ideas.

Brickdoctor is very active on Eurobricks. His MOCs can be found on Flickr, MOCpages and Brickshelf. He's part of the blog team at Classic Star Wars and has just started a personal blog at Legoarts.


---
Trebuchet
Bruce 3 III 11

Rhox has been recently turned his hand to seige weapons, and he's produced a very authentic trebuchet and a springald. I hope he continues with these, because they are a true education in medieval warfare. Rhox is a member of CC and of the Czech forum Kostky.org. All of his MOCs can be found on Brickshelf.


---
February 2011
---
Prhean
Bruce 25 II 11

A few months ago we took note of the collaborative Lowlug layout on display at Fanwelt 2010, featuring several CC members. That tall structure in the middle is by DNL. Since that time he's modified it and uploaded many photos of the medieval city Prhean. All of DNL's impressive MOCs can be found on Flickr and Brickshelf.


---
Medieval Castle Today
Bruce 19 II 11

Matija Grguric is an architecture student from Zagreb, Croatia. He's created a number of impressive castle MOCs, including former CCC entries, and his most recent MOC was originally going to be along these lines. He changed his mind, though, and brought it forward several centuries to become a modern day tourist destination as a Medieval Castle Today. Visitors to LEGO World this weekend will be able to see Matija's creation as part of the Croatian contingent's city layout.

Matija is one of the founders and the current president of the Croatian LUG Kockice and is a former LEGO Ambassador. His MOCs can be found on Flickr and MOCpages.


---
Colossal Castle Contest VIII:
Master Builder
CC Contest Team 15 II 11

The Master Builder prize will be awarded to the builder who entered 6 or more categories and had the highest score when their top six creation scores are averaged.

We are proud to announce the 2011 Classic-Castle.com Master Builder: Luke Hutchinson (Derfel Cadarn). Check out his submissions here.

Please also congratulate the runner up: Peter de Yeule.

You may be wondering what prize will be awarded. Our Master Builder receives a used copy of the famed 1592 Town Square donated by The Brothers Brick!

Luke is also granted the title of Classic-Castle Master Builder until the conclusion of CCC IX. Discuss the Winner's here.


---
January 2011
---
Hogwarts
Bruce 30 I 11

Hogwarts School of Witchcraft and Wizardry has been the inspiration for many MOCs, but Aussie AFOL David Scalone, aka Mr Offset, has outdone them all with his recent masterpiece. He actually built this in three stages, debuting the first at Brickexpo in Canberra, adding a second stage for AMRA in Sydney, and finally unveiling the third stage at the recent Brickvention Melbourne. He says there's more to come, so it will be exciting to see this grow even more. This has taken over 300 hours of build time so far, with the biggest challenge of making it modular, so this 25 baseplate behemoth could be transported to shows. He was proud to take second place at Brickvention (only following our previous featured MOC), but was also really pleased by the smiling faces and comments from kids and adults attending the public exhibition.


---
Andrastavia
Bruce 17 I 11

Kevin Hall's Kingdom of Andrastavia has been offline for several years, but now it is back. What's more, Kevin has promised new creations and new chapters. For a hint of what he's been doing recently, check out Drachenberg Castle, which recently won best in show at Brickvention, an Aussie AFOL convention. Welcome back, Kevin!


---
&nbspHome&nbsp|&nbspArchives&nbsp|&nbspCity&nbsp|&nbspEvents&nbsp|&nbspSets&nbsp|&nbspHow-to&nbsp|&nbspCreations&nbsp|&nbspStories&nbsp|&nbspLinks&nbsp|&nbspContact&nbsp
© 2003 Classic-Castle.com. Site design © Anthony Sava and Benjamin Ellermann. All rights reserved. This is an unofficial fan created LEGO website, and is not sponsored, authorized or endorsed by The LEGO Group. Visit the official LEGO website: www.lego.com