Featured MOC Archive
---
MOCs featured in 2005:
---
December 2005
---
November 2005
---
Mini Castle Contest results
Bruce N. H. 7 XI 05

Nelson Yrizarry, Sir Nelson in our forums, continues to impress. Following up his strong showing in last year's CCCII, winning one category and placing in several others, and his win in the MOC the Admins contest, now he is the winner in the Mini Castle Contest hosted by forum member Robin Hood. Nelson's Drachenburg Castle starts with a great castle, but places it in a larger setting with amazing landscaping, a detailed town, and several impressive individual micro creations like his castle and his mill.

In addition to Nelson's entry, second place was earned by Jim's MiniCastle and Alkoholix's Micro Castle came in third. Honorable mentions went to Bruce N. H., Graynar and Jon_P. Check out all the entries here. Thank you to Robin Hood for hosting this contest and to all who participated.


---
October 2005
---
Chateau Saint Bernard
Bruce N. H. 18 X 05

Emmanuel Bernard is an AFOL from Lyon, France, who has been building with LEGO for the past 28 years or so. In the past few years, though, he's become much more active. His LEGO tastes run across a range of themes, from boats to trains to castles. When he was a kid he had set 6080, King's Castle, and he always wanted to improve on it. Well, now as an adult he has, and the result is Chateau Saint Bernard. Check out all of Emmanuel's creations at his website or his Brickshelf gallery.


---
Asgard and Viking life
Bruce N. H. 3 X 05

Lino Martins has been a LEGO builder since he was a kid, but around the age of 12 or so he largely entered his Dark Age, in which he didn't build much and kept his LEGO interests to himself. About 18 years later, though, he learned about the larger AFOL community. In particular, he teamed up with a group called Brick World, who create LEGO exhibits for museums and other public display. In that capacity he created these displays of Asgard and Viking life, that are currently on display at the Nordic Heritage Museum in the Seattle, Washington, area. If you are in the Pacific Northwest, or if you plan on attending NWBrickCon, you should plan a side trip to check it out. More details about Lino's creation can be found on the Brick World site.

In addition to being a member of Brick World, Lino displays his creations in his Brickshelf gallery. He hasn't been a big castle builder in the past, but he said he had so much fun with this display that he may do some more.


---
September 2005
---
Mini Castle Contest
Ben E. 28 IX 05

CC Member Robin Hood is hosting a Mini Castle Contest. The winner will recieve a Dragon X-Pod.His deadline for entries is Midnight, October 31st so submit your castle today!Check out the thread for further details and contest rules.


---
MOC the Admins Winner
Bruce N. H. 14 IX 05

Nelson Yrizarry has really taken the vignette world by storm--acting as co-curator of the Lugnet.build.vignette forum, along with Lord_of_the_LEGO Nathan Wells; developing the Joe Vig subtheme, again with Nathan; and creating a whole host of memorable vignettes. So it's no surprise that he similarly took our MOC the Admins contest by storm, winning with his Holy Grail and earning an honorable mention for his Ultimate Wisdom.

Other honorable mentions go to Nathan Cunningham (eNiGMa) for Nathan Wells Locking a Post -- an Outpost and Sir Dillon for Nate's Barbarians Turn on Him. Congratulations to all of the entrants and thank you for a fun contest. Hmm, maybe next time we'll do our take on you . . .


---
Medieval Cart
Ben E. 6 IX 05

Check out the latest castle moc made by Lenny Hoffman.Lenny was inspired to make this medieval cart by playing Dungeons and Dragons with his friends.A variety of characters, including a very unique brick built halfling, were created to travel in the cart.Discuss this moc in our forums.


---
August 2005
---
Autumn Scene
Ben E. 31 VIII 05

It is not Autumn yet but we have fallen in love with the latest vignette by Nelson Yrizarry, Sir Nelson in the forums.Check out the scarecrow in a pumpkin patch with a new type of hay bale construction made of brooms.His other vignettes can be seen here.Discuss this vig in our forums.


---
Inn at the Olde Road
Bruce N. H. 22 VIII 05

Christian Treczoks (new user "treczoks" in our forum) has spent the last three years building and expanding this creation, adding new building and expanding the grounds. At this ultimate stage it's reached up to 60,000 bricks and 50 kilograms, covering an area of 144x192 studs. Various stages have been displayed at such German AFOL gatherings as 1000SteineLand and Frechen. Now it has come time to say good-bye to this layout, as Christian has exciting plans for a future project. Be sure to check out all the pictures and read more about it while there's still time.

Christian's creations can all be found in his MyImages gallery or his Brickshelf gallery. In addition to recently joining our forum, he is also a member of 1000Steine.de and Lugnet.


---
Ulmaris
Bruce N. H. 8 VIII 05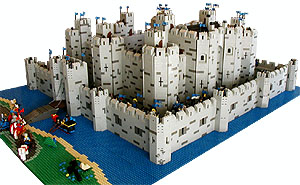 He's teased us and poked us and prodded us, but Anthony has finally revealed his Ulmaris Castle, built with the help of his wife, Christina. This MOC is based on Beaumaris in northern Wales. Check it out and discuss it in our forums.

In addition to being an admin here at C-C, Anthony is a member of other LEGO forums such as Lugnet. Off-line he's a member of TexLUG. Anthony's creations can be found on his website, The Kingdom of Ikros, or in his Brickshelf gallery.


---
July 2005
---
Hogwarts
Bruce N. H. 25 VII 05

Let's celebrate the release of the sixth Harry Potter book with a look at Chris Schneider's rendition of Hogwarts. He recently displayed this creation at 1000SteineLand, an annual gathering of German AFOLs. He says he's put about 250 hours of work into this so far, but still has details to fill in. This creation is based most closely on Hogwarts as seen in the movie, Harry Potter and the Prisoner of Azkaban, along with descriptions found in the books. This is not Chris' first trip into Harry's world; a couple of years ago he presented another version of Hogwarts.

Chris has been building with LEGO since he was five. His creations can be seen at his 1000Steine My-Images gallery or his Brickshelf gallery.


---
Grange
Ben E. 21 VII 05

Check out Jojo's latest creation, the grange. This small farm includes several rural buildings, fields, scarecrow, and numerous intricate details.Discuss here.


---
Alaric's Keep
Bruce N. H. 20 VII 05

There are some builders who have an immediately recognizable style. Denis Pouchain, Denix in our forums, is one of these. He has a number of stately keeps rising from island strongholds, and his recent Alaric's Keep is an outstanding example of this. Named for his newborn son, this keep has a perfect balance between landscaping and castle. It splits down the middle to reveal interior details, including a rat's burrow underneath the keep. Denis says he finds inspiration in real castles such as Monts\'8egur, Puylaurens, Peyrepertuse, Qu\'8eribus, etc., but his actual MOCs are his own design.

Denis has been previously noted for his Avalonnia and Bricklords gaming sites, but today all of his creations can be found in his Brickshelf gallery. In addition to Classic-Castle, Denis is also an active member of FreeLUG and Lugnet.


---
Chess Contest Winners!
Anthony 17 VII 05

The votes have been collected and the points have been tallied. We have our winners for the C-C.Com Checkmate Chest Contest!

For the Single Chess Piece category, we have SirDrake and his White Knight (above, right).

For the Chess Set category, Jim brings home the gold with his siege army entry (rook pictured above, left).

Congratulations to the winners! Click on the link to discuss and to see the runners up!


---
June 2005
---
Steinford Burg
Bruce N. H. 29 VI 05

Andreas Boeker considers himself a town builder, but the modern German landscape is still dotted with castles or other centuries-old buildings, so he finds himself building a lot of castle-themed creations. Such is the case with Steinford Burg which sits above the town of Steinford. Andreas draws his inspiration from real building, and in this case Steinford Burg is based upon the Castle of Beihingen. Other notable castle-themed creations include his Rathaus and his harbor crane. All of these were featured in his Steinford layout at the recent 1000SteineLand event held in Berlin.

Andreas lives in the town of Herford in Germany. Believe it or not, he has only been building with LEGO for 2.5 years! He is a member of 1000Steine.de and Lugnet. All of his MOCs can be seen in his 1000Steine.de MyImages gallery.


---
Cliffton Castle
Bruce N. H. 22 VI 05

Nathan Todd, Norro in our forums, has always enjoyed building castle LEGO, but his interest was really sparked when he lived in Britain and he became acquainted with real castles such as Bodiam. He has created a great array of castle-themed MOCs and was a strong player in our Colossal Castle Contest II, winning the classic shops category with his Tournament Supply Co. and receiving two other honorable mentions. His first full castle is Cliffton Castle. This creation drew inspiration from Dunluce Castle in Ireland, though he changed the design around as he was building it.

In addition to our forums, Nathan is also a member of Lugnet and Eurobricks (where he also goes by the username Norro). All of his MOCs can be seen in his Brickshelf gallery.


---
Greensbury Castle
Bruce N. H. 16 VI 05

Jacob Cournoyer, Jacob C. in our forums, built with LEGO from when he was three years old until he fell into a dark age in high school. Last year, though, a combination of Dr. Carney's website and the movie "Master and Commander" inspired him to get back into building. His first MOC as an AFOL was a Dutch frigate. Since then, he's started building more in the castle theme, turning out great castles like Fryingham Castle and Elkshire and smaller town creations like Samuel's Steed Surplus. In this creation, the initial circular keep was inspired by the Joan of Arc Tower in Rouen. Subsequent expansion led to Greensbury Castle.


---
Tannery
Ben E. 13 VI 05

Take a look at James Stacey's latest historic castle creation!The tannery was used to turn animal hides into leather for a variety of items used in medieval life, such as armor.His tannery is based off of several real tanneries.Leave your comments about this great building here.


---
May 2005
---
April 2005
---
City Docks
Bruce N. H. 25 IV 05

Chad Ivany, known in our forums as CAI, has been building with LEGO for about 20 years. His first castle set was 6080, King's Castle, and he's built castles ever since. A few years ago he found Brickshelf, and was inspired to build more elaborate creations, including his most recent MOC, City Docks. All of Chad's creations can be found in his Brickshelf gallery.


---
Rivendell in Vignettes
Bruce N. H. 14 IV 05

Forum member Snap Dracone (Brickshelf ID MuffinToa) has been building with LEGO most of his life, but only started building MOCs in the past couple of years. Other builders on Brickshelf inspired him to build in the castle theme. In particular, Nelson Yrizarry's Chateau de Vignette and Jon Furman's Lord of the Rings minifigs directly inspired this creation: Rivendell in Vignettes. Four separate scenes depict different aspects of Rivendell, and they fit together to show us the Last Homely House. He tried to show the intertwining of construction and nature, and the combination really succeeds in conveying the peace and tranquility of this refuge from the world.

All of Snap Dracone's creations can be found in his Brickshelf gallery; be sure to check out his spiral staircase. In addition to his participation in our forums, he is also a regular at BZPower.


---
Purple Hills
Bruce N. H. 7 IV 05

Jens Heyer is a German AFOL who started out with DUPLO 28 years ago. Then when he was 8, his aunt gave him a copy of 6022, Horse Cart, for his birthday, and he has been a castle fan ever since. He went through a ten year period in which he collected, rather than MOC'ed, but great creations seen on Brickshelf, as well as influences from movies and books like The Lord of the Rings, inspired him to build large castle MOCs. The ability to buy purple tiles in bulk at Legoland Gunzburg, as well as a Bricklinked army of Dumbledores, led to this MOC, Purple Hills.

All of Jens' creations can be found in his Brickshelf gallery. In addition to recently joining our forums, he is also a member of 1000steine.de.


---
March 2005
---
Walled City
Bruce N. H. 31 III 05

Martin Jaspers, aka "Marakoeschtra", is a Dutch AFOL who has been building LEGO since he was six.He only became interested in castle-themed LEGO a short time ago, inspired by the creations he saw on Brickshelf. He said he just tries to "build things that are interesting and have an authentic look", but that's quite an understatement; since the end of last year, he has turned out amazing castle creations at a very fast rate. Martin started with some medieval houses, then went to a village. In fairly short succession he presented a foresthouse, a windmill, a sled, and a harbour. With each creation his building style has improved and the techniques have grown more complex. He has also slowly injected "life" into his creations--from the earliest unpopulated creations, introducing figs, and now culminating in storytelling with his most recent creation: Walled City. His MOCs have all attracted attention in our forums, and can be discussed in these threads: houses, village, foresthouse, windmill, sled, harbour, walled city.

Martin's creations can all be found in his Brickshelf gallery.At this point he has no other website or public display of his work. He is also a member of Lowlug, a Dutch AFOL forum.


---
Bigger Yellow Castle
Bruce N. H. 22 III 05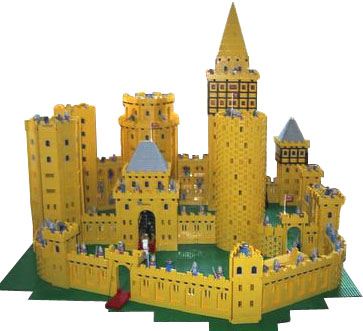 Henning Friis Andersen was inspired by the Yellow Castle category in our Colossal Castle Contest, and he came up with his Bigger Yellow Castle. Due to space considerations in his home, he built this with a modular design so it could be easily taken down and stored. One advantage of this is that it can be put together in various different configurations. The most striking thing about this MOC, though, is the variety of different design ideas he has used for his towers, achieving square, circular, ovoid, triangular, and octagonal shapes.

Henning has previously posted a giant Red Castle. He says that he likes building in the classic colors, so keep a lookout for blue, black, and white castles. Plus he is also considering building a new red castle. Henning visits Classic-Castle, but has not yet posted in our forums. He has recently joined Lugnet, so hopefully we'll be hearing more from this builder.


---
Hall of Albirona
Bruce N. H. 13 III 05

Johannes Koehler, Jojo in our forums, presents his Hall of Albirona. This creation, based on Santa Maria Naranco near Oviedo, Spainis the basis for Jojo's entry to the International System Creativity Contest, sponsored each year by 1000steine.de. Read the whole story or just check out the pictures, and then discuss it in our forum.

In addition to Classic-Castle, Jojo is a member of Lugnet and 1000Steine.de. Check out more of Jojo's creations on his website, his Brickshelf gallery, his MOCpages site and his 1000Steine.de "My Images" gallery. He has also created Rittersets, a German-language castle reference site.


---
Chateau de Vignette
Bruce N. H. 1 III 05

Nelson Yrizarry, known as Sir Nelson in our forums, was one of the dominant builders in the Colossal Castle Contest.In addition to winning the siege weapons category with his Warwulf, he also received honorable mentions in seven other categories. His creativity did not stop there, though. He just posted his Chateau de Vignette, a combination of nine different vignettes. Each individual unit would be notable by itself, but they come together to make a small castle. Check out all of Nelson's creations in his Brickshelf gallery.


---
February 2005
---
Cervena Lhota Castle
Bruce N. H. 22 II 05

Cervena Lhota Castle has a long history. A fortress occupied this locations from the 12th or 13th century, but in the 1500's it was rebuilt into a more stately chateau. Over the next four centuries this castle changed hands with the rising and falling fortunes of various Czech and Austrian noble families, and underwent several rebuilding projects. Today, Cervena Lhota is a national monument of the Czech Republic.

Peter Kucera's LEGO rendition of Cervena Lhota uses a variety of techniques, such as a curved wall, a wall set at an odd angle, and a SNOT window design.

Peter is a Czech LEGO fan who has been building since 1987. He builds in a variety of themes and his MOCs can be found on his website, ARTpeter.net, or in his Brickshelf gallery. In addition to his MOCs, his website has some great LEGO reference material, including a fairly complete set of Czech-language catalogs since the mid-80's. He is also a member of Kotsky.org, a Czech LEGO forum.


---
January 2005
---
James Stacey's Castle
Ben E. 26 I 05

Check out James Stacy's latest Castle!It has many nice features including a surrounding tudor village, docks, storage buildings, and a unique wooden palisade.Discuss the castle here.


---
Blue Glass Castle
Bruce N. H. 19 I 05

Cyndi Bradham has collected LEGO sets for almost 30 years, but she didn't build MOCs until she attended Brickfest 2003. She sure started with a bang, though. After an initial foray into Town, she turned her attention to Castle, resulting in Blue Glass Castle.

Cyndi was originally inspired by the stained glass windows in Chateau de Chenonceau. She also found inspiration in Jojo's tower, Brendan Powell Smith's furnishings and the SNOT-work in Eric Harshberger's Mad Hatter. She also combed through many builders' galleries to pick up building tricks and spent months designing the castle, so that even though this is only her second MOC, it has details that rival creations of the most experienced builders. The most outstanding feature, IMO, is the work she did on the mosaics and stained glass windows, which earned this MOC the Castle room prize for best small detail at Brickfest 2004. Also be sure to check out the fully furnished interior including this chess set.

In addition to attending the last two Brickfests, Cyndi is a member of NCLUG, NCLTC and ILTCO and posts on Lugnet. She has recently joined CC.com under the username cabrad.Keep an eye on her Brickshelf gallery for future creations. She says she might build a couple of companion structures for Blue Glass Castle, and would some day like to build Chenonceau, perhaps in microscale.


---
Brickmoor Castle
Bruce N. H. 12 I 05

Joel Midgely, known as Blueandwhite on our forums, has been a LEGO fan since his first Duplo set at two years old. Then set 6075, Yellow Castle stared him down the Castle road. He was drawn back to Castle a few years ago after finding Bob Carney's website.

Brickmoor Castle began as a sketch during a law school lecture. It was originally meant to be an oversized version of the Black Falcons' Fortress, but grew in the building to the full castle seen today. Check out all of the great details like the secret passage, the haunted hall, the trolls under the bridge and the great hall. The whole thing opens up for interior play.

Joel's Brickmoor is one of the entries in our Colossal Castle Contest. Check out all of the great entries by Joel and other builders.
---
&nbspHome&nbsp|&nbspArchives&nbsp|&nbspCity&nbsp|&nbspEvents&nbsp|&nbspSets&nbsp|&nbspHow-to&nbsp|&nbspCreations&nbsp|&nbspStories&nbsp|&nbspLinks&nbsp|&nbspContact&nbsp
© 2003 Classic-Castle.com. Site design © Anthony Sava and Benjamin Ellermann. All rights reserved. This is an unofficial fan created LEGO website, and is not sponsored, authorized or endorsed by The LEGO Group. Visit the official LEGO website: www.lego.com