Featured MOC Archive
---
MOCs featured in 2010:
---
December 2010
---
Colossal Castle Contest VIII
CC Admins 29 XII 10

There are only a couple of days left to enter the Colossal Castle Contest VIII. We've already got over 160+ entries, and, if previous years are any guide, a large number of MOCs will be submitted between now and 11:59 PM (US Eastern time zone) December 31. If you've submitted a MOC that hasn't yet appeared, check the naughty list to make sure that there are no problems with your entry. Have fun with the last couple days of building, and good luck to all of the participants.


---
Castle Advent Calendar
Bruce 18 XII 10

As nice as set 7952 is, Maydayartist's Castle Advent Calendar is far cooler. He wanted to come up with a unique Christmas present for his girlfriend, and built this MOC. Twenty-four hidden doors pop open to reveal daily gifts leading up to Christmas day. Maydayartist is a member of Eurobricks, and all of his MOCs can be found in his Brickshelf gallery.


---
World of Caldera
Bruce 9 XII 10

Wochenender describes himself as a "german chemistry student, drummer, swimmer and AFOL in one person." For the past year he's been creating a fictional world, Caldera, featuring the walled city of Gramfeste. One recent addition is the Mages' Guild Academy. Young wizards come from all around to be trained at this school on wall of Gramfeste. Features include the country's largest library and a rotating observatory tower. Be sure to look around Gramfeste, to find other great settings like the guarded manor and the marketplace. Wochenender's creations can be found on his blog, the World of Caldera, and also on Flickr and Brickshelf.


---
Predjamski Grad
Bruce 3 XII 10

Subix recently announced in our forum the completion of a major project, his Predjama Castle. He lives in Ljubljana, Slovenia, where he is involved with Kocke Klub, the premiere Slovenian LEGO forum. This LUG decided to build local landmarks for their public shows, and Subix decided that Predjama was perfect for him. He first visited this castle when he was in gradeschool, and was so taken by it that he visited many times (he lives only 50 km away), including an annual knights' tournament held on the grounds. After deciding to build this in LEGO two years ago, he visited many times, taking pictures, studying the blueprints, and reading books about its history. It took him a month to draw up plans and decide what bricks to order, and then another seven months for the construction. The completed castle was recently displayed at KockeFest, where over 3000 visitors were able to see it during the public exhibition. Plans are now underway with his fellow LUG members to add a nearby village and a battlefield.

The most striking feature of Predjama is its amazing natural defenses. It's built into the mouth of a huge cave and surrounded by overhanging cliffs, with a very limited approach. There are even caves extending behind it that have been expanded to allow inhabitants to escape or to accept supplies in the case of a siege. Essentially this is a real life Helm's Deep. The first castle was built in the 13th century and has since undergone two major reconstructions, one after wartime destruction and again after a major earthquake. Today this national treasure is maintained as a museum.


---
November 2010
---
Great Hall
Bruce 23 XI 10

Larsvader is an AFOL from Berlin. His Great Hall is the centerpiece of a new castle he's building. The custom banner was made by scanning in a shield design and simply printing it out at a larger scale. The same design was incorporated into the mosaic floor. If the rest of the castle reflects the care that went into this single room, the finished MOC will be a work of beauty indeed. Larsvader is a member of 1000steine, and his MOCs can be found on MOCpages and Flickr.


---
Lowlug at Fanwelt
Bruce 19 XI 10

LEGO Fanwelt 2010 opens today in Cologne, Germany. If you're able to attend, one of the great MOCs you'll see will be this collaborative castle display by Lowlug members Jalkow, DNL, MOCkingbird, Aliencat and Stuifzand. All of these, of course, are also members of our forum, so hopefully after the event is over they'll be able to tell us all about it and share additional photos.


---
Mini Castle Contest VI results
Bruce 9 XI 10

Results are in for the Mini Castle Contest VI, and TooMuchCaffeine dominated, rising to the top of both categories with his Atlantis Before the Fall winning the ancient category and his Sandchapel Village winning the general category. In addition to his work, there were many great entries, so be sure to see them all. Congratulations to TMC and all of the participants, and thank you to Robin Hood for once again running this annual tradition.


---
October 2010
---
Halloween Pumpkin Cottage
Bruce 28 X 10

Boo! Okay, don't be too scared, it's just a seasonal MOC from Stephen Apple of Corpus Christi, Texas, known as Frank Lloyd Knight in our forum. Stephen was inspired by fairy tale characters living in gingerbread cottages, shoes and the like, and also by a witch from Terry Pratchett's Witches Abroad who tended to turn things into pumpkins. So when he sat down to design a more standard half-timbered cottage, out popped this pumpkin cottage. The virtual version of this MOC was recently chosen as a finalist in LEGO's LDD Halloween Contest, so you can follow that link to support one of our own. You can see others of his virtual creations in the LEGO Universe Creation Lab, or check out all of his MOCs on Brickshelf.


---
There are no worthless sets!
Bruce 23 X 10

When walking down the LEGO aisle at your local toy store, we often quickly write off sets that seem to fall way outside of our favorite theme. Take, for instance, Swampfire. It's tempting to shout: "Into the rubbish bin with Jack Stone and Galidor!" Recently, though, Porschecm2 showed that those decorative spines make great microscale trees, and now Nolnet brings us his Ben 10 Dragon. His girlfriend found some Ben 10 sets on deep discount and picked up one for him. As he was looking at the pieces, it struck him that the torso looked like part of an alligator's jaw. He played around with ways to attach a lower jaw, and then threw in a Fabuland umbrella (another "worthless" piece) as a stomach, and the rest fell into place.

Nolnet hails from Hamburg, Germany. Some of his older MOCs can be found on Brickshelf, but anything recent shows up in his Flickr stream. His building interests span many themes, though he says he probably won't be doing any more Ben 10 MOCs. He does, however, have a couple more Castle MOCs in the works, so look forward to those.


---
Silver Lake Fortress
Bruce 18 X 10

Brian Corredor is an AFOL from Colorado who is currently in Utah. He likes to draw inspiration from others' creations that he finds on-line, and wanted to try his hand at a number of techniques he'd never used before, like curved walls and building at an irregular angle. The result was the Silver Lake Fortress. This stronghold of the Black Knights sits along the border of their realm. At the present time they have good relations with their neighbors, so the castle is a center of travel and commerce. Brian is a member of CC and all of his MOCs can be found on MOCpages.


---
Troubled times in the forest
Bruce 14 X 10

It's a dark time for the Forestmen. For many years they have held sway in the wild forestlands, but recently there have been encroachments. They have always held the high ground, able to rain down arrows upon their enemies from their tree-top perches, but in the east, the Black Knights have fought back with a new airship. The kingdom to the west is seeking to expand its territory as well, building a series of forest outposts from which they can send forth their forces. How will the Forestmen respond to these new threats?

T.Gregory, aka Azaghal in our forum, built the airship for his battle in the treetops as an entry in the medieval category of the Ages of Steam contest in the LEGO Steampunk Flickr group. T.Gregory's MOCs can be found in his Flickr stream. Busboy489 built his forest outpost as part of the 2010 32x32 Challenge. His MOCs can also be found on Flickr.


---
Krak des Chevaliers
Ben E. 9 X 10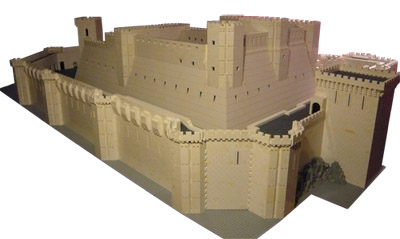 A new builder is joining the elite ranks of giant castle creators. Take a look at Krak des Chevaliers by Krazy Kastle Krak Guy.

Additional information regarding this important crusader castle and the Knights Hospitalers can be found on his mocpage. Please leave your comments regarding this imposing fortress in our forum.


---
Vampire Castle
Bruce 8 X 10

Nathan Proudlove (proudlove in our forum) builds in many themes. If you peruse his Flickr, Brickshelf and MOCpages, you'll see spaceships, mecha, trains, etc. He also helps run the LUGnuts Flickr group, devoted to automobiles. He was recently inspired by an episode of the Backyardigans to build a castle, and the result is quite impressive. His Vampire Castle was on display this past weekend at BrickCon, and deservedly won 'Best in Castle'. Congratulations, Nathan. More photos should be forthcoming soon, but in the meantime, you can see many pictures of this in various peoples' photos from BrickCon.


---
Saint Basil's Cathedral
Bruce 2 X 10

Built by Ivan IV of Russia in the 1500's, Saint Basil's Cathedral stands 266 feet above Red Square in Moscow. Built by Arthur Gugick of Cleveland this year, this microscale version stands 2 feet above a 64x64 footprint in his house. Arthur has been building notable architectural landmarks for the past five years, and he's always wanted to tackle Saint Basil's. The sticking point was getting the shape of those famous onion domes. To solve this problem he wrote a computer program he dubbed DomeCreator, recently covered in Hispabrick issue 8, and another program to help model the spiraling color patterns. He brought the initial work-in-progress to BrickWorld earlier this year, and with helpful feedback from other AFOLs, recently brought this project to completion. Arthur's MOCs can be found on Flickr, Brickshelf and MOCpages. He also has a personal site, Gugick.com, which is up for an overhaul soon. If you're interested in taking a stab at building your own Russian Orthodox structure, Arthur has said he'll be happy to share his DomeCreator program - just drop him an e-mail.


---
September 2010
---
Unseen University
Bruce 23 IX 10

If you're a fan of Terry Pratchett's Discworld books, you are probably already aware of one of our newest forum members, L_space. He has been putting together the buildings from the Unseen University, a school of wizardy, based on designs found in the Unseen University Cut Out Book. The Observatory is pictured above. He is currently building the Great Hall, and after that has plans for the central Tower of Arts. He hopes to have the whole university campus completed and ready for display by the end of next year.

L_space lives in a village near Hertogenbosch in the Netherlands, where he is a member of Lowlug, in addition to Eurobricks. All of his MOCs can be found on Flickr, Brickshelf and MOCpages. In addition to his LEGO work, he also has a site devoted to all things Pratchett and Discworld at L-space.


---
Dawn Feather Keep
Bruce 8 IX 10

Robert Murphy, known as LegoLord in our forum, is a TFOL from Columbia, Tennessee. In his LEGO world, the Dawn Crown is an offshoot of the Crown Knights who are loyal to one royal family. King Cormac the First and General GoldenHammer have conquered the lands around them and rule the civilized world. Along the borderlands they are defending their kingdom from orc invaders, and have build a number of fortresses, including the Dawn Feather Keep.

In addition to CC, Robert is a member of FBTB and Classic-Space. All of his MOCs can be found on Flickr, MOCpages and Brickshelf.


---
August 2010
---
Vayland Dragon redux
Bruce 31 VIII 10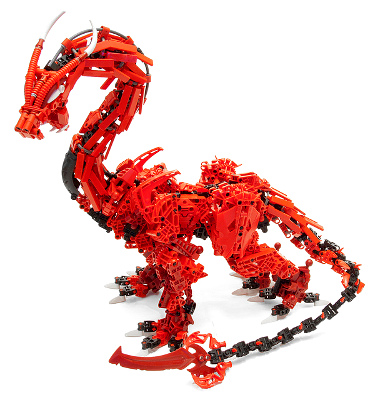 In 2008, Patrick Biggs was invited to enter the BBC Contest 50: The Big Show, an invitational showdown of the best Bionicle builders on BZPower. Entrants were voted on by BrickFair attendees, and Patrick's Vayland Dragon came out on top. He still wasn't quite satisfied with it, so this year he tore it down and rebuilt it, largely from scratch. The resulting Vayland Dragon 2.0 is even better, and once again he's taking home prizes, winning "Best Bionicle" at this year's BrickFair. As you may have guessed, the title is a tribute to Bryce McGlone, who Patrick credits with helping him out and inspiring his building. Patrick is an active member of BZPower. His MOCs can be found in his Flickr stream and his Brickshelf gallery.


---
A use for the semi-circles...
Trevor 26 VIII 10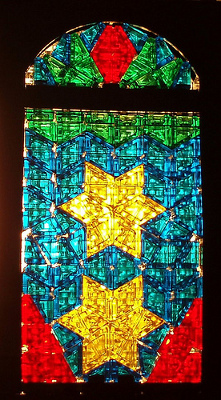 We have become quite familiar with Katie Walker's (eilonwy77) elaborate patterns but castle builders really need to stand up and take notice this time. Stained glass windows have long been a large part of many castle MOC's but in the past we have had to use transparent colour brick and plate; the more ingenius builders have done some wonderful S.N.O.T.work but Katie's cheeseslope stained glass window is one of those developments that only come around once in a while.


---
Japanese Tea House
Bruce 11 VIII 10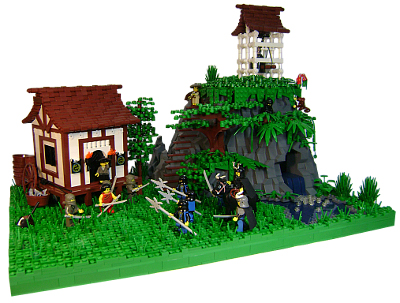 A couple of months ago, Aaron Andrews, AKA DARKspawn, posted his Ninja Showdown at the Japanese Tea House. If you didn't see it at the time, be sure to go back and check out all of the details. Aaron hails from the land down under, Brisbane, Australia. All of his creations can be found on Brickshelf and Flickr.

While distance prevents Aaron from attending BrickCon 2010, this is a great opportunity to remind those of you who will be attending of the collaborative Big in Japan display hosted by the Brothers Brick. C'mon, castle fans - our ninja fortresses should be way cooler than those other guys' mecha and anime MOCs! You've got just about two months to build.


---
Ajax the Great
Bruce 4 VIII 10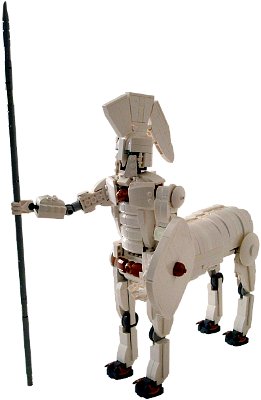 Lino Martins is an AFOL from Seattle, where he is a member of SEALUG. He's also one of the founders of LUGNuts, the automative building group, so you may find it surprising to see him featured here, as his regular genre of building is models of cars. Recently he entered an Iron Builder competition hosted on Builders' Lounge. He and his opponent, V&A Steamworks, were each provided with 24 white 1 x 6 x 3 1/3 curved arches to use as the basis for their creations. Lino's most recent is Ajax the Great. Lino writes:

"For Ajax, I wanted to build a centaur for a long while now but wasn't quite sure how to execute it. When the white curved arches arrived I could see that they might be able to be shaped into a horse-like body. I definitely wanted a strong warrior and wanted him to stick close to his Greek mythological roots so I began to research Hoplite armor and helmets. I started with the head and while there was a lot of trial and error involved, I liked how it was shaping up. I was most pleased with the plates that protected the face and the large crest of bristles along the top. Once the head was finished, I knew I was off in the right direction. I wanted him mostly monochromatic but I used a few coppery elements as a salute to Guy's steampunk leanings."

All of Lino's MOCs can be found on Flickr, and his older work is also on Brickshelf.


---
July 2010
---
Peligrad Castle
Bruce 29 VII 10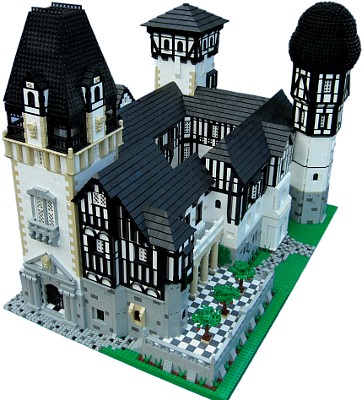 Edward Conquest, better known as Reejoc, is an AFOL from Birmingham, England. He recently went on a trip through Eastern Europe, and visited a number of castles. He was particularly struck by the Neo-Renaissance Peleş Castle in Romania. He'd never seen anything like it in LEGO form, so he this became the inspiration for his latest MOC, Peligrad Castle. He wanted to get away from all gray castles and include a lot of detail, without obscuring the overall form. I think we can all agree he was quite successful.


---
Village
Bruce 22 VII 10

Hardegon is an AFOL from Pilsen in the Czech Republic. One of his favorite themes is Vikings, and he draws on their history and architecture to build a number of related MOCs, such as his recent Village. Hardegon is a member of Kostky.org and all of his MOCs can be found in his Brickshelf gallery.


---
Schloß Neuschwanstein
Bruce 14 VII 10

If you attended BrickWorld 2010, or if you've looked at photos, you've surely been amazed by Bob Carney's most recent castle, Schloß Neuschwanstein. This project started in January of this year, and was completed just in time to show to other AFOLs in Chicago. Neuschwanstein is not truly from the Castle era, since this was a palace built by King Ludwig II of Bavaria in the nineteenth century, but it is amazingly beautiful, nestled up against the north face of the Alps in southern Germany.

Dr. Carney is a long-time AFOL, starting when he built LEGO with his kids in the 70's, and also has a great interest in the medieval era and castle construction. Over the course of four weeks in two trips in 2000 and 2003, he and his wife visited about a hundred castles in Scotland and Ireland. He extensively researches each of his LEGO projects, and has now recreated 128 historic castles in LEGO form. These can all be found on his site, LEGO Castles. Every fan of the LEGO Castle theme should spend time on his site to see his MOCs, learn about the history behind these castles, and even get plans to build your own.


---
Micro Modules
Bruce 8 VII 10

Kecia Christine Hansen is an AFOL from the land of LEGO, Copenhagen, Denmark. Over the past couple of years she has come up with a modular system to build microscale castles. She felt these modules were a perfect fit for the concept of LEGO Design by Me, so with a slight redesign, she has used LEGO Digital Designer to come up with over fifty different units based on 16x16 bases. Defined connection points and the placement of roads and city walls allow these to be brought together in endless configurations to make huge, er, tiny walled cities. You can get the files for twenty-five of her modules by going to the Design by Me gallery and searching on the usename lara34 (I found that you have to actually click the green triangle rather than simply hitting the return key, or else LEGO's search engine comes up with no matches). You can even then order these modules from LEGO. She's already bought several and plans to buy more, so she can turn her virtual designs into ABS reality.

In addition to displaying her MOCs in her Brickshelf gallery, Kecia runs Adventurers.dk, a site and forum devoted to the LEGO Adventurers and Indiana Jones themes. She also has a personal site, BrickPortal, which she says is out of date and due for a site redesign, and is a member of Lugnet.


---
Arte em Peças
Bruce 2 VII 10

From June 7 to 13, members of the Portuguese group Comunidade 0937 presented their work at the Cultural Center in Paredes de Coura. This Arte em Peças (or Art Pieces) event was dominated by large group displays from each LEGO theme. The Castle layout was organized by NaNeto and contained MOCs by Tânia Baixinho, Luis Baixinho, ZTP, Francisco & António Martins, Lumiosa, Eínon, M. Guerreiro, Marcos Bessa, Rupi, Noro, and Romão. Their work covers a hundred 48x48 baseplates in an L-shaped layout four meters in one direction and six meters in the other. Along the south arm (assuming a traditional east-west orientation for the cathedral), figs live peacefully in a beautiful wooded countryside, while to the east an epic battle rages. In the center sits a walled city, dominated by the Cathedral of St Macário. This display was a year in the planning, and they've already started laying the groundwork for next year's event. I can't wait to see how this grows from year to year.


---
June 2010
---
Wash colors separately in cold water
Ben E. 22 VI 10

CC member nanuck95 built a humorous moc featuring the latest castle part variation.

Check out the discussion topic here.


---
Anglo-Saxon Pit House
Bruce 8 VI 10

Harry Russel, known as Karrde in our forums, is an AFOL from Exeter in the United Kingdom. He's got an interest in the Anglo Saxon era of his homeland, and wanted to build a civilian MOC representing peasant life. The result was a pit house, a type of dugout structure built partly into the ground. He was inspired by historical reconstructions, such as the Anglo-Saxon Village in West Stow Country Park.

In addition to CC, Harry is a member of the Brickish Association. His MOCs can be found on Flickr and he blogs at My Tiny Meandering Mind.


---
Courtyard
Bruce 1 VI 10

Katie Walker, aka Eilonwy77, is a relatively new AFOL from southeast Washington. She played with Castle and Pirate LEGO as a child, and now as an adult has built up an extensive Duplo collection for her children. It's only within the last year, though, that she discovered the on-line LEGO community. She writes: "I never really knew much about what it was possible to create ... it's been quite the revelation. I had no clue how fantastic a LEGO creation could be." Since she is three hours from her closest LUG, her interaction has all been online, mostly via her Flickr stream.

Katie has always enjoyed playing with patterns, such as these geometric drawings. Just this past Mothers' Day she received a couple of PoP sets, and realized that she could make some interesting designs with the new elements. She was encouraged by positive feedback on Flickr and explored more. It occurred to her that these resembled a tiled floor. Playing around with ideas like trees and fountains to add some three-dimensionality ultimately led to this courtyard. She'd ultimately like to add a white palace inspired by some of the PoP designs, but says she needs to build up her collection first. She'd also like to find ways to break away from the inherently square LEGO shape to come up with hexagonal patterns.

As long as we're focused on patterns, I'd also like to point out that Brendan Powell Smith recently posted his headlight patterns to Flickr. Here's a brief tutorial on making these. He's used these extensively to make tiled floors in his Brick Testament stories.


---
May 2010
---
Brick-Built figs
Bruce 14 V 10

What would life be like if LEGO had never come up with the minifig? Would we be stuck with lifeless, unpopulated structures? Not if these three builders had anything to say about it. Starting in the upper left of the picture above, Monsterbrick was inspired by the new Minotaurs game. He came up with a troop (herd?) of minotaurs for an expanded game, but then continued on to make other monsters and characters, digging into old D&D material for inspiration. He came up with a number of micro, or perhaps minimal scale creations, trying to create recognizable creatures and characters using the smallest possible number of bricks. These all populate his Micro Mythico Micropolis that he recently unveiled at a renaissance faire. Discuss these figs in this thread. In response to Monsterbrick's creations, MooseBot came up with a figure he calls the midifig. He's set himself a challenge to create one a day, and has declared May: MooseBot's Month of Midifigs. His figs have already spanned a number of genres, from pirates to Star Wars, but the bulk of them so far have been in a Castle theme. Discuss these in this thread. Going even smaller, Tanotrooper has created tinyfigs - recognizable characters based around stacks of 1x1 plates. He was originally inspired by the official Star Wars MINI sets. He decided they needed to be accompanied by figs, and came up with stormtroopers made from simple white and black 1x1 round plates. More recently, when making some planes at this scale for a Brickfilm, he decided he needed pilots, and this led to the develop a series of tinyfigs from across history. He plans to use these along with his TTfigs to create the illusion of large armies in the distance beyond figs in the front of the photo. He presents these in this thread.

Monsterbrick is active in Sandlug, as well as various online forums, and his MOCs can be found on Flickr. MooseBot is a founding member of NORDLUG and his MOCs can be found on Flickr and Brickshelf. Tanotrooper is active in BeLUG, Eurobricks and CC and his MOCs can be found on Flickr and Brickshelf.


---
Cathedral of Saint Francis of Assisi
Bruce 9 V 10

Every few years, Tony Sava comes up with a new MOC that defines the genre. The first things I remember from him were his dragons, led by Formethean, that really set the bar for large articulated brick-built creatures. These beasts were used in Ikros, that really helped found the area of brick-illustrated stories. Then, several years later Ulmaris showed us the definitive castle. Of course along the way he's created a lot of other great castle MOCs, not to mention his work in trains and other genres. Oh, and he did a little thing like help found this forum. Now he brings us the Cathedral of Saint Francis of Assisi. I know Tony would be the first to point out that he learned from the great cathedrals of other AFOLs, many of which have been featured here, but the execution here is breathtaking. It's been fun to follow this in progress and now to see the completion.

Tony is a member of most of the major AFOL forums and also an active participant in TexLUG. Of course, he's also one of our admins. Follow his Flickr for all of his new stuff, and you can also check out his stories at Ikros and his older MOCs on Brickshelf.


---
All Along the Clocktower
Bruce 5 V 10

Hippotam is a polish AFOL and member of CC. He planned out a MOC for the last CCC, but it wasn't ready in time and needed more work. It was worth the wait, though, to see his Clocktower. Be sure to follow the link to see all the detailed action going on. This structure was based loosely on the Cardiff Castle Clocktower, with some aspects inspired by the Town Hall Tower in his home town of Krakow.

Hippotam is the founder of the blog Klocki, and while he is a member of many of the major forums, he is most active on LUGPol. His current creations can be found in his Flickr stream, and while he no longer updates his Brickshelf gallery, you can go there to see his older MOCs.


---
April 2010
---
Rapunzel's Tower
Bruce 30 IV 10

If you're on Flickr at all you can hardly avoid the work of Jordan "SirNadroj" Schwartz. His incredibly prolific output touches on about every theme except maybe NXT. One of his most recent offerings is his Rapunzel's Tower. The round tower is based on a design by Deborah Higdon and the top level is modeled after Peles Castle in Romania.

Jordan is an admin over at the Builders Lounge and, since he lives in Rhode Island, plans to join NELUG when he turns 18 later this year (yes, for all his output and building experience, Jordan is a TFOL). His work can be found on Flickr, Brickshelf, MOCpages and on his personal site Brickstud.


---
Predjama Castle
Bruce 22 IV 10

Predjama Castle, near Postojna in southwestern Slovenia, is set in one of the most unique locations I've seen for a castle. Built into and under a recess in a looming cliff wall, this castle is protected on two sides and above from attack. There's even a natural cave, since enlarged, leading away from the castle to a series of caves, which allowed for resupply in the case of a siege. Since Neven Cintauer comes from Slovenia, this was a natural subject for him to render in LEGO form. He writes that it is one of the most renowned castles in Slovenia, and looking at the pictures it is obvious why this is so.

Neven is an AFOL from Slovenia who has been building with LEGO since he was four. He's always loved the Castle theme, and is now studying history at the Faculty of Arts at the University of Maribor, so his hobby and his studies come together. His next plans are to build another Slovenian castle in mini scale. Neven is a member of Kocke Klub (Brick Club), a Slovenian LEGO group, where he is known as 'Legolas'. All of his MOCs can be found in his Brickshelf gallery.


---
Nate Nielsen: nnenn
Bruce 14 IV 10

As you may have read, Nate Nielsen, known generally as nnenn recently passed away. While he is primarily known for his innovative space MOCs, he did build in other themes, including some castle. All of his creations can be found on Flickr and Brickshelf.


---
Alamut Gate
Bruce 7 IV 05

Dita Svelte is an AFOL from Sydney, Australia. He lives in a two-room flat, and one room is completely overrun with LEGO. Over an extended weekend for the Easter holiday, he was inspired by the new Persia sets and the Grand Emporium. He originally considered doing a Persian version of the Grand Emporium, but was inspired by a visit three years ago to Jaipur, India:

"I remembered an incredible experience in India walking through one of these giant fort arches, looking up at the receding curve of the stonework, and watching the colour of light on stone change as I walked from one end to another. It was magical. I still get goosebumps from that memory, so the idea was to recreate that feeling with the central arch which seems to visually recede as you approach."

Add to that some additional touches inspired by the Taj Mahal and other Islamic architecture, and he came up with the Alamut Gate. He plans on doing more in this theme, as soon as he can stock up on more tan and dark tan elements. He's really excited about how several new offerings from LEGO will affect Castle builders - Kingdoms, Harry Potter, and most particularly Prince of Persia and the new curved arch element. As he put it, "Let the Crusades begin!"

Dita is a member of Eurobricks and all of his MOCs can be found in his Flickr stream.


---
Castle Brloh
Bruce 2 IV 10

Members of Kostky.org, a Czech LEGO group, are currently displaying their work at Roztoky Manor, near Prague. Their work will be there through June, so if you're anywhere in the area this would be good to check out. One of the excellent MOCs you will see is Linhi's Castle Brloh. This translates to "Castle Burrow" or "Castle Den." This MOC is not based on one specific castle, but is inspired by features of a variety of Czech and Moravian castles, and is set in the 15th or 16th century. For the display, fellow AFOL Aki brought in a besieging army to bring the scene alive.

Ondřej Linhart, or Linhi, is an AFOL from the Czech Republic and a member of Kostky. His work is found in his Brickshelf gallery. Aki is another member of Kostky, but you may know him by the name Bohuslav III, his username here at CC. His work can be found in his Brickshelf gallery.


---
Classic-Cattle
Bruce 1 IV 10

On April 1, Classic-Castle was renamed Classic-Cattle for the day. A number of cow-themed MOCs were featured on the front page. Some, but not all, of these were also castle-themed: Onishi Shinji's cow, SlyOwl's Cheesemaphone, Life_Unscripted's Livestock Juggle and Micah Berger's Minotaur. For the full cow-themed front page, see Classic-Cattle.


---
March 2010
---
Hogwarts
Bruce 16 III 10

Allen, aka Tohst, thinks of himself as a space-head. He appreciated others' castle MOCs in the past, but he always focused on the space theme. Then he got into the Harry Potter books, and they really sparked his imagination. He thought the official HP sets were fun, but he "looked at them as a backdrop and realized [he] had the money and the existing Lego collection to (hopefully) capture Hogwarts as the character it was in the stories and not just a place to put your minifigs." Thus began an ongoing project, that has been one of his most enjoyable LEGO experiences to date. He's got big plans for the future. As he wrote: "I want it to be bigger. Hogwarts needs more towers and a sense of scale. I don't think I'll ever be done with it. In the near term if I ever have time I want to add the entrance with the huge clock seen in some of the films and a tower that utilizes the new arches from the PoP sets. And a lake with a lake monster. And...and... well, you start to see the problem."

Allen is a member of the Northern Illinois LEGO Train Club and From Bricks to Bothans. His Hogwarts was on display in a Window Into the Community earlier this year, and all of his MOCs can be found on Flickr.


---
How-to article: Custom Centaurs
Bruce 11 III 10

Back for the CCC, Jim Darlack made a great custom centaur, Abusson. He's written up a article on this and other centaur building techniques. Check out other innovative techniques in our How-To section.


---
February 2010
---
Katsumoto
Bruce 28 II 10

One of our newest forum members is Primus - aka Cameron from Fenton, Michigan. One of his favorite types of building is using Technic, Bionicle, and other non-standard pieces in odd ways for the construction of mecha and related MOCs, such as his recent Wyvern. About a year ago, another member of the forum In the Bricks was working on a MOC with segmented armor. Cameron put the idea in the back of his head, and when he recently got several tank tread pieces he realized they'd be perfect for this role. That was the start of his construction of Katsumoto, with traditonal samurai armor and wielding a kanabo and a naginata.

In addition to recently joining CC, Cameron is a member of BZPower, Builders' Lounge, Stajinaria, In the Bricks, and a number of different Flickr groups. His MOCs can be found on his Flickr, MOCpage and Brickshelf pages. He plans on attending BrickFair this year, so you can meet him and his MOCs in person.

While Cameron won't be attending BrickCon, this is the perfect MOC to highlight the Big in Japan collaborative display expected in Seattle. Coordinated by the Brothers-Brick, this will focus on Japanese culture. It's time to start planning. C'mon, castle-heads, don't let this be dominated by a bunch of mecha and anime MOCs. I'm expecting our members to put together a huge ninja castle layout. Don't let me down, or I'll have Cameron send his samurai after you. ;)


---
Forestmen Floating Island
Bruce 17 II 10

Aaron D is a Canadian AFOL from the Victoria area. At a recent gathering, his LUG - VicLUG - planned on a collaborative floating rock display. Aaron has been a fan of the Forestmen ever since receiving set 6071, Forestmen's Crossing, so he decided to use this theme for his floating island. That striking bridge is built using BrickArms u-clips. He says he's wary of claiming complete originality for any building technique, but believes he was the first to use the u-clips in this way in this vig.

In addition to VicLUG, Aaron is also a member of Classic Space, the Builders Lounge and any number of Flickr groups, most notably LUGNuts. His MOCs can be found in his Flickr stream.


---
Pop-Up Book
Bruce 10 II 10

Most people here already know of Nathan Sawaya, aka the Brick Artist. Nathan is one of those rare AFOLs who has been able to turn his love of building into a full-time profession. As I recall, Nathan first made a splash in the AFOL community with a life-size reproduction of Han Solo frozen in carbonite. He continued on making large scale sculptures, and now has a travelling exhibition of his work, in addition to making pieces to order for clients. Castle is one genre of building that he's never tried his hand at before now, even though he's been impressed by the work he's seen by other AFOLs on-line and at fan events. Before he could even start this project he had to buy a lot of castle elements like arches. A few months ago, Waldo Hunt passed away. Waldo is credited with reviving the pop-up book as an art form, and Nathan wanted to make something in his honor. So he took a poem he wrote a while back and put it on the pages of a giant book, illustrated with a castle surrounded by a moat in his Pop-Up Book.

All of Nathan's work can be found on his site, Art of the Brick. To see some of his pieces up close, check the museum schedule to find when it will be near you. He's currently showing in Rochester, NY, along side the LEGO Castle Adventure traveling exhibition. So people in the area should be sure to check it out and get twice the LEGO fun out of their visit.


---
Colossal Castle Contest VII:
Master Builder
CC Contest Team 03 II 10

The Master Builder prize will be awarded to the builder who entered 6 or more categories and had the highest score when their top six creation scores are averaged. This year the scores were extremely close!

We are proud to announce the 2010 Classic-Castle.com Master Builder: Daniel Zonneveldt (DNL). Check out his submissions here.

Please also congratulate the runners up: TooMuchCaffeine, SlyOwl, Piglet, and Shmails.

You may be wondering what what prizes will be awarded. Our Master Builder receives a misb 3739 Blacksmith Shop donated by Bluesecrets! Daniel is also granted the title of Classic-Castle Master Builder until the conclusion of CCC VIII. Discuss the Winner's here.


---
City of Annin
Bruce 2 II 10

Michal Herbolt, also known as gearcs, is an AFOL from Stary Plzenec in the Czech republic. His first castle set was 6086, so the Black Knights have always been one of his favorite Castle factions, along with the Forestmen. Even though he's been a LEGO fan since he was six, it is really in the last three years that he's been creating MOCs in earnest. His most recent, and perhaps his most ambitious, is the City of Annin. In his backstory, this city was a center of trade that sits on the border between three different empires. Mercenaries have been hired to kidnap one of the leading citizens, in a scheme to sow discord between the three empires. Only one brave guard can thwart the plot. While the city is fictional, the style is based on the gothic architecture of central Europe, and the main gate is inspired by the gate on the Charles Bridge in Prague. On a more personal note, the city is named after Michal's grandmother Anna, who recently passed away. This April Michal will be bringing this MOC to the Roztoky 2010 display in Prague.

In addition to Classic-Castle, Michal is a member of the Czech LEGO groups Kostky and Brickdome. All of his MOCs can be found in his Brickshelf gallery.


---
January 2010
---
Orc Chariot
Bruce 27 I 10

Most Classic-Castle members will probably recognize Qworg for his Pegasus' Fortress entry for CCCVII. The man behind the MOC is Michał Świetlik, an AFOL from Bydgoszcz, Poland. His next project is a hippodrome, where various factions will race. He's already posted chariots for human and orc groups, including a great brick-built horse design for the humans and some sort of monster for the orcs. Keep an eye out for his future factions and the completion of this project on Flickr, MOCpages or one of his two Brickshelf accounts.


---
Tiger's Tales
Bruce 15 I 10

Tiger0207, aka Tigerggyy, is known for his dynamic posing, beautiful photography and striking presentation. He's been a LEGO fan for well over 20 years, but in 2004 he started making LEGO illustrated comics to tell stories. Since he comes from Taiwan, his tales are strongly influenced by Chinese themes. Journey to the West is a classic Chinese novel from the 16th century, based on the legend of a monk's journey to India. Spirit War finds inspiration in the Buddhist cosmology. He's recently gotten help from BrickTW in translating part of his Last War into English. This looks into the history of the Manchu dynasty, but he's also bringing in more Western elements as well. He hopes to continue on and tralnslate more of his stories.

Tiger0207 has three different LEGO blogs. LEGO Martial Arts Heroes focuses on his LEGO storytelling. Tiger's Style is about building and customizing. LEGO in Tiger's Mind at Night brings in more modern subjects and cultural references. He is a member of the Taiwan LEGO Users Group and Minifigs.net. All of Tiger's creations are posted to his Brickshelf gallery.


---
&nbspHome&nbsp|&nbspArchives&nbsp|&nbspCity&nbsp|&nbspEvents&nbsp|&nbspSets&nbsp|&nbspHow-to&nbsp|&nbspCreations&nbsp|&nbspStories&nbsp|&nbspLinks&nbsp|&nbspContact&nbsp
© 2003 Classic-Castle.com. Site design © Anthony Sava and Benjamin Ellermann. All rights reserved. This is an unofficial fan created LEGO website, and is not sponsored, authorized or endorsed by The LEGO Group. Visit the official LEGO website: www.lego.com