Featured MOC Archive
---
MOCs featured in 2013:
---
December 2013
---
Ornament
Bruce 25 XII 13

I hope everyone is having a wonderful Christmas. Here's a seasonal offering by Alysa Kirkpatrick. This season she's been revealing a new tree ornament MOC each day as a kind of an Advent calendar. Quite a few of them have been castle-themed, including a couple of micro castles and a series of cute dragons, such as the fellow pictured above. She said she wanted to do a daily MOC as a challenge to herself, and the need to make them small and light (so they could hang on her tree) added an extra challenge. She hopes to display them at an upcoming ChiLUG event at Batavia Public Library, and may bring them to next year's BrickWorld as well. You can see all of Alysa's work on her Flickr stream, her MOCpage, her Facebook page and her personal commision site, Create Fabricate.


---
Rivendell
Bruce 11 XII 13

Earlier this year, Dave Frank (Fraslund) and Alice Finch wowed everyone at BrickCon with their massive rendition of Rivendell. Now they've finally put it online. You simply must go through the photoset to see it in all of it's glory. I chose a detail shot above, because the whole layout is so large that when I tried to compress it down to 400 pixels it was impossible to see. After you look at all of the pictures, be sure to discuss this masterpiece in our forum.


---
November 2013
---
Tigelfáh display
Bruce 6 XI 13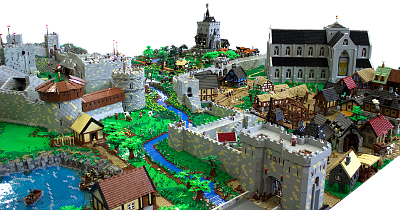 And now for a little inspiration as you begin building for the Colossal Castle Contest. The Great Western LEGO Show is one of the premiere AFOL events in Britain, occuring each fall at STEAM - the Museum of the Great Western Railway in Swindon, England. This year, a number of builders (mostly CC members) collaborated on an amazing castle layout showing Tigelfáh castle, town, and surrounding lands. Peggyjdb built the main castle on the left. Derfel Cadarn built the large keep seen in the background at the center of this photo. Cuahchic built the Abbey that dominates the town. Workshysteve built a portion of the town, including a windmill and buildings under construction. K?rrde also built a number of the town buildings. Invicta Bricks built the market square and a number of the town buildings. SlyOwl built much of the wall. (Perhaps also the main gate house? Sorry, Barney, I don't see any WIP photos in your Flickr stream so I can't nail down what exactly you built.) Malravion also contributed, but I can't find what exactly he built. Also, at some point during the public show, Rogue Bantha's great dragon invaded. I think that's all of the builders, but if I missed anyone please let me know. I'm not 100% sure who built what (for instance, who did all of the landscaping? I suspect Derfel Cadarn played a big role here), so I apologize if anything major is mis-attributed. There are a ton of great details, so be sure you look at the individual builders' photostreams for pictures of their contributions and also additional photos of the whole display.


---
October 2013
---
Sarlina's Cottage
CC 29 X 13

Sarlina's cottage is a dilapidated, half-abandoned home in the village of Grim Hollow on the Dark Isle of Avalonia. Sarlina has had enough of this life, and it looks like she's off on adventures to find fame and fortune. You can find this and other work by Legonardo Davidy (Legonardo in our forum) in his Flickr stream.


---
September 2013
---
Torre de Belém
Bruce 8 IX 13

This past June the Portuguese LUG Comunidade 0937 held their annual Arte em Peças exhibition. Since the show ended on Portugual Day, they thought a group participation mosaic of a national monument seemed like a perfect idea. Members of the LUG designed the mosaic, and over ten days members of the public assembled 192 separate 32x32 baseplate mosaics. They didn't keep a count of builders, but since many people worked in groups of two or three to assemble the baseplates, probably 300-400 people or more were involved. over the ten day event, these baseplates were assembled into a massive mosaic 16 baseplates wide by 12 high, and a picture of the Torre de Belém, a fortress defending Lisbon that dates back to 1513, slowly emerged. To get a true appreciation of the scale of this mosaic, check out this gallery, with WIP shots of people working on this, and the final result.


---
August 2013
---
Repairing the Walls of Petraea
Bruce 20 VIII 13

Swedish FOL Gideon is involved in the Guilds of Historica on Eurobricks, where a recent Master Architect Challenge asked builders to show the construction of a landmark or the repair of war damage. He came up with Repairing the Walls of Petraea. In his scene his sig fig is hiring mercenaries to perform repairs on the walls of the capital city (they use orc slave labor for the heavy lifting). Details in the walls and the towers were inspired in part by the actual walls of Constantinople. Gideon is active in the Swedish LUG Swebrick, and may be bringing this to their exhibition on October 12-13 in Norrköping, Sweden. So you can check this out there, or see this and all of his other MOCs in his Flickr stream.


---
Becoming a Warrior
Bruce 10 VIII 13

Justin and Jordan Wolfman are twin brother TFOLs. They were looking for an idea for the Art of War contest, and found some inspiration in Bruce Lowell's Sunset. The result was Becoming a Warrior: A lone man trains every day high atop the mountains to hone his skills in preparation for the coming war. He is rewarded with the beautiful sunset as he finishes each day, but how much longer will he be able to enjoy this simple pleasure?

Justin and Jordan share a Flickr stream under the nickname General JJ. This is the best place to find their MOCs, though they also have a MOCpage.


---
Ninjago Dragon Arena
Bruce 6 VIII 13

Imagine Rigney (and yes, that is his name and not a nickname) is a TFOL who has done a few Ninjago battle arenas before. Recently, he was contacted by Max of ArtiFex Creation to make one on commission. The result was this Dragon Arena. Imagine was able to incorporate several of Max's requests, like a dragon emblem mosaic and corner stations for Ninja Dojo, Underworld, Snake Temple, and Stone Warrior factions. For the Stone Warrior, Imagine drew inspiration from the Ninjago cartoon, in an episode where the main characters were in a museum and accidently awaken a giant stone statue of a warrior.

Imagine lives in Colorado, where he is active in CoWlug. When he previously lived in Hawaii he was involved in LEAHI. His creations can be found on Flickr, MOCpages and ReBrick.


---
Manaor Castle
Bruce 1 VIII 13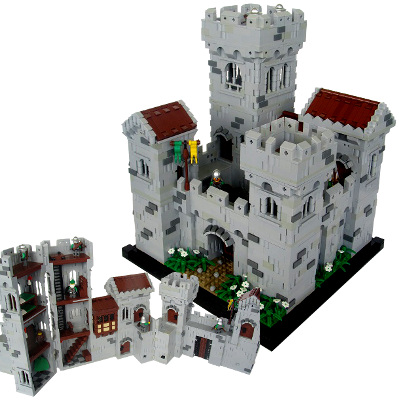 Isaac (Soccerkid6 in our forum) is involved in the Guilds of Historica on Eurobricks, and they are holding a Mitgardian Prime Minister Election. In his campaign for this position, he wanted a home for his candidate, Drottin Manaor. He was inspired by the 32x32 castle challenges we've held here before, and in particular builds by people including Karrde, 2 Much Caffeine, de Gothia, LL, and vdubguy67. The result was Manaor Castle. As cool as it looks at first, it gets even better when you see that it opens up for ready access to the interior.

Isaac lives in upstate New York. In addition to Classic-Castle, Isaac is active on Toys N Bricks and Eurobricks. His MOCs can be found on his personal site BrickBuilt and on Flickr.


---
July 2013
---
Fana'briques mosaic
Bruce 23 VII 13

Visitors to the Fana'briques exhibition in Rosheim, France last month helped build this great mosaic. Between 300 and 350 kids put together sections using bricks on 16x16 baseplates which had magnets fixed to them so they could then be mounted on the metal frame. Daniel Stoeffler came up with the design, using a mix of 1x1 bricks and 2x2 bricks to give different resolutions for different parts of the mosaic. The result was approximately 4 meters wide by 2 meters tall, showing the Château d'Andlau and the Château de Spesbourg, which are located about a half hour away from Rosheim.


---
Unexplored Ruins
Bruce 17 VII 13

Kyle, aka Lazer Blade, wanted to bring something cool to Brick Fiesta. He was inspired by the painting Winter Landscape with Skaters on a Frozen River beside Castle Ruins by Frederik Marianus Kruseman, specifically by the arches on the castle ruin. An intense building period followed, with 168 hours of work over four weeks, including all night builds, help from friends, and 12 hours of rebuilding at Brick Fiesta due to damage en route. The result was his Unexplored Ruins. Unfortunately the MOC was destroyed on the return trip, so it won't make it to future AFOL events, but you can enjoy this and Kyle's other MOCs in his Flickr stream.


---
Attack of Wakz, The Wolf King
Bruce 12 VII 13

Vincent V is a FOL from Tyler, Texas. He recently attended Brick Fiesta, and he brought along this MOC, Attack of Wakz, The Wolf King. He really wanted to do some castle building, inspired in part by Tek F's paving stones and also by an illustration of Gavony Township in the game Magic: the Gathering. Plus he wanted to incorporate Wakz, the Wolf King that he describes as "Chima on steroids". In this scene the Wolf King is attacking the town, and the captain and his men are rallying to the defense of the princess. Vincent may be bringing this to BrickFair Virginia or Alabama, but in the meantime the best place to see his MOCs is in his Flickr stream.


---
Twin Towers
Bruce 7 VII 13

Polish TFOL Lukasz Wiktorowicz goes by the nickname LL, though you may also know him by his previous nickname Lolino. His most recent MOC is this fantasy castle, the Twin Towers. In addition to CC, LL is a member of Eurobricks and the Polish young builders' forum Klub Mlodych Fanow Lego. His MOCs can be found on Flickr and Brickshelf, and his older work is also on MOCpages.


---
Arenam
Bruce 1 VII 13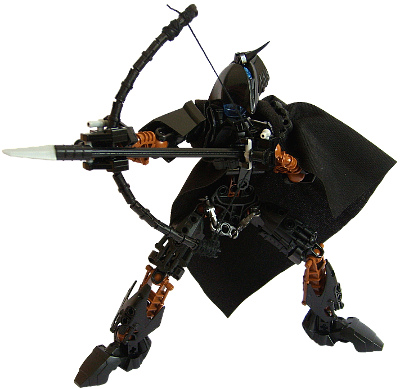 The 2013 Bio Cup is a tournament-style contest for Technic/Bionicle/Hero Factory builders. Round 1 challenges participants to create an original character, and Dylan Mievis was inspired to come up with the nomadic warior Arenam. I have to admit that I don't know anything about the Bionicle universe (you can read Dylan's description to see where this character fits), but I really liked the dynamic and lifelike posing here. Dylan, who also uses the nickname 'Sparkytron', largely builds in Bionicle/Hero Factory styles, and he is active on BZPower. His work can be found on Flickr, Brickshelf, MOCpages, and DeviantArt.


---
June 2013
---
Huge Keep
Bruce 6 VI 13

To simply call this creation a huge keep is perhaps the understatement of the year. In ages past, artists would often have a noble patron, so they could essentially create what they want without worrying about resources. That's the situation that Clarkryang is lucky enough to have. A wealthy castle fan has commissioned him to build a massive castle in a multi-year project. Clarkryang posted the Gatehouse three years ago, and now has posted the keep. He estimates that when this is all finished, the castle will cover a footprint of 5 feet by 7 feet. It's being built in modular sections, and he is now working on the curtain walls. Eventually we'll see the whole thing put together, and Clarkryang anticipates that it will be brought to AFOL conventions. Be sure to check out all of the details - did I forget to mention that it has a fully detailed interior? All of Clarkryang's MOCs can be found on Flickr and Brickshelf.


---
May 2013
---
Wrath of the Titans contest results
Bruce 16 V 13

Any Castlers also interested in ancient building should check the Greco-Roman LEGO group on Flickr. They've recently announced the winners of the Wrath of the Titans contest.


---
Samostrel Castle
Bruce 8 V 13

Tommy Matheson is a TFOL from Minnesota, in the US, who you probably know by his forum handle Eklund. His most recent build is Samostrel Castle, which reinforces the Garheim border in the LCC. His inspiration drew in part on DNL's Foyk Castle, as he felt he could build something of a similar scale. He also wanted to experiment with some techniques that were new for him, including the arrow slits and the rockwork, and include his ballista. All of Tommy's MOCs can be found in his Flickr stream.


---
Helm's Deep story tower
Bruce 3 V 13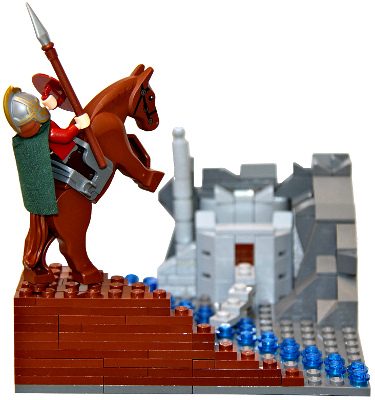 Matthew Oh is a TFOL who goes by mpoh98 in our forum. When the Post-MOCathalon contest came up on MOCpages, he wanted to enter the 'illustrate your favorite book' category, and the Lord of the Rings was an obvious choice to him. He wrote, "The whole concept of a story tower was fascinating to me, with how you have to make each level support the one on top. The top level was one of the hardest, but most fun one to build, since I did a forced perspective on a 16x16 plate." The ultimate result was his Helm's Deep tower (top level shown above). All of Matthew's MOCs can be found on Flickr, Brickshelf, and MOCpages.


---
April 2013
---
House Lannister
Bruce 30 IV 13

Dave Ware, who you may know by his handle BrickWares, is an AFOL from Calgary, Alberta. For several years he's been building mosaics, and he's built up a reputation, winning back to back 'Best Mosaic' awards at BrickCon. As his work became known, he started getting commissions to build custom mosaics - last year he built a dozen commissioned pieces, and he's expecting to do about the same this year. This past weekend, he was asked to create something for an event at the Calgary Comic & Entertainment Expo. "An Evening With the Lannisters" brought together a couple hundred Game of Thrones fans for a chance to meet Peter Dinklage and Lena Headey from the HBO adaptation. Dave was inspired by the crest of House Lannister, and he even got it autographed by Peter Dinklage. He said he may be bringing this to BrickCon this year if he's able to go, so some of you may get a chance to see this piece in person.

Dave is a member of SALUG, and he is also a contributor to MosaicBricks. He regularly visits the main AFOL sites, but isn't active in any particular forum. In addition to mosaics, he also loves building modular buildings and rustic landscapes. All of his MOCs can be found on Flickr. If you're interested in seeing more about his mosaics, or if you are interested in commissioning a mosaic, please visit his BrickWares Custom Mosaics site.


---
Assassination Of Henri IV
Bruce 25 IV 13

In the 2013 MOCathalon, one of the categories was "The Ides of March. Great men, falls by treason and conspiracy! Tell us a story of assassination, treason and crime..." TheBrickAvenger (Cyrille) is a history buff, and he was inspired to reach back into French history for the Assassination Of Henri IV. Henri was an important figure in the French Wars of Religion, which he helped bring to a close. On May 14, 1610, his carriage was delayed by congestion in the streets of Paris, and a fanatical assassin took advantage of the chance to leap in and stab him, as shown in this MOC. Cyrille drew on the design of the Carnavalet museum for the backdrop of this scene.

TheBrickAvenger is a French AFOL, where he is a member of BrickPirate. He also is a member of Classic-Castle and EuroBricks. His MOCs can be found on Flickr, Brickshelf and MOCpages. By the way, his team did quite well in the MOCathalon, coming in fourth overall.


---
New admins - Blue and Dave
CC Admins 17 IV 13

Please join us in welcoming the two newest members of the Classic-Castle admin team, Blue and Dave. They will join with the other admins in creating content for the site, helping guide site policy, and conducting official CC events such as our annual contest.


---
Narnia bookends
Bruce 9 IV 13

Annie is a TFOL from North Carolina in the US. In last month's MOCathalon, one of the categories challenged builders to come up with a pair of bookends. Annie loves the Narnia series by C.S. Lewis, so she wanted to come up with an iconic scene based on the Pauline Baynes illustrations in the books. What's more natural than a wardrobe, leading into a wintery magic world, and so she came up with these. All of Annie's work can be found on MOCpages and Flickr.


---
Castle Grayskull
Bruce 4 IV 13

By the power of Grayskull! Forum members in their 30's or so probably fondly remember the original He-Man cartoon and toys, and may even have played with the Mattel Castle Grayskull playset. Forum member Fraslund (David Frank) has done even better, creating a fully realized LEGO version, complete with interior. Now all he needs is Skeletor.

Dave is active in SEALUG and his MOCs can be found on Flickr. Some of his older work is on Brickshelf.


---
March 2013
---
Gold Samurai
Bruce 15 III 13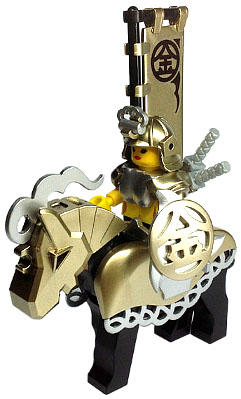 NickGreat is an AFOL from Singapore who has a particular love for minifigs. He's made a great series of custom samurai, going all the way back to CCC II. In recent years he's been in a bit of a dark age, but was inspired when recently rewatching Gladiator. The women archers in gold platemail sent him back to customizing, and he came up with this Gold Samurai. in putting her together, he wanted her to remain playable and use elements that LEGO might produce, like the flag based on clips and the working double katana sheath. By the way, the character on the shield and flag translates as 'gold'. All of NickGreat's customs and other MOCs can be found on Brickshelf and MOCpages.


---
big>León Cathedral
Bruce 11 III 13


Aitoruco is an AFOL from Spain who is active in the Asociación cultural de aficionados a construcciones LEGO de España, aka ALE! and HispaLUG. A while ago he helped design a poster for a LEGO gathering in León, Spain, and he used LDD to recreate the facade of the local cathedral. A friend suggested he should do the whole cathedral, and he decided to take up the challenge. It took two months of planning, including visiting the real thing several times, and three months of building and rendering to come up with the completed design. Unfortunately, the 38,000 piece count prevents Aitoruco from building it himself, but he said that ALE! is planning on constructing this as a collaborative project, probably next year. You can find all of Aitoruco's work in his Flickr stream and his MOCpage.


---
CCC X Master Builder
CC Admins 7 III 13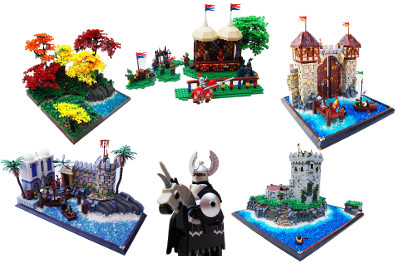 We are extremely pleased to announce that the Master Builder for Colossal Castle Contest X is Mark of Falworth. This year's contest was very exciting, with the largest number of entries yet, and the quality of those entries was also outstanding. Three builders in particular stood out with amazing builds across multiple categories: Fraslund, Lolino and Mark of Falworth, and of these, Mark just edged out the other two. We would like to congratulate all of these, and also thank everyone who participated in the longest running castle building contest in the world-wide LEGO community.


---
Hogwarts School of Witchcraft and Wizardry
Bruce 4 III 13

Alice Finch is an AFOL from Seattle, where she is active in SeaLUG. She only returned from her dark age a few years ago when building with her sons. She was unhappy with the official Hogwarts sets, and wanted to build her own. Alice is no stranger to construction, since when she was a child her father was a general contracter and she grew up around architectural drawings. Once she decided to start Hogwarts, she really dug into this project, spending about 12 months on it over the course of a year and a half. Countless orders of tan and sand green bricks probably come to over 400,000 parts. Her family got involved, with her sons adding in their own touches and her husband adding his support. She even had the opporutnity to visit the Harry Potter movie sets in London to get better insight into her source material. The result is breathtaking. She brought an earlier stage of this project to BrickCon 2011 and won the People's Choice award. A year of further building, and at BrickCon 2012 she brought the finished* version and won both People's Choice and Best in Show. The end result is L-shaped, with each leg about 4 meters long. If you look through her Flickr stream you'll see that thoughout the massive layout are little scenes and interior details taken from the books and movies. She brought it out again to the Emerald City Comic Con this past weekend, and next week it will be at Bricks Cascade. She doesn't intend on taking it down any time soon, so there will surely be additional chances to see all or part of this MOC.
*BTW, I note that it is finished - at least for now. She said that there were some scenes she wanted to build but didn't get around to yet. Her younger son has not yet read the books, and she says that when he does they'll probably end up setting the castle up again and playing through the stories again. So maybe in the future she and her younger son will build even more to go along with this masterpiece.


---
February 2013
---
Middle Earth mosaics
Bruce 25 II 13

OneLug is a group of builders comprised of Remi and Alyse Gagne, Brandon Griffith, and Bruce Lowell. As I'm sure all but the newest forum members remember, a year and a half ago they amazed us all with their Last March of the Ents. This weekend, TheOneRing.net and Premiere Events put on the Unexpected Art Show in Los Angeles as part of events surrounding the Oscars, highlighting Tolkien-themed art. Alyse was one of the organizers, and of course OneLug brought along their amazing Orthanc scene. Brandon, Remi, and Bruce also debuted new works, mosaics of the emlems of Gondor, Rohan, and Saruman, respectively. Bruce said they'll definitely be bringing these to BrickCon, and probably also Bricks by the Bay, so members of the community will certainly have additional chances to see these in person.


---
Balin's Tomb
Bruce 11 II 13 br>

The Middle Earth LEGO Olympics has inspired a large collection of builders to create MOCs based on the Hobbit and the Lord of the Rings. There are many great creations, including Gimli kneeling before Balin's Tomb by Finn Tegotash. Be sure to check out Finn's other MOCs on MOCpages.


---
January 2013
---
Mike Crowley, Count Blockula
Bruce 10 I 13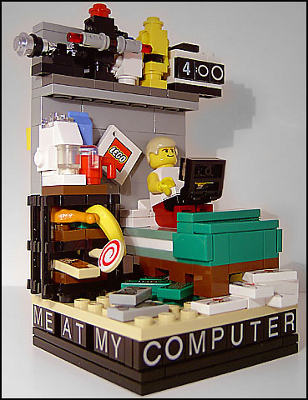 Thirty-six is too young. I'm not an old man, but I'm old enough that I've lost several friends, including in our LEGO community. Some of these are just people I admired from afar, like Eric Brok, others I've exchanged the occasional comment with in a forum or a Flickr stream, like Nnenn or HeatherLEGOGirl, but others are those I feel I've gotten to know well as friends. Mike Crowley, aka Count Blockula, was one of these. I never had the opportunity to meet Mike in the flesh, but back in the day he was a regular feature of our CC chat. As he commemorated in the vig above, he was on pretty much every night for a year or so there. He was on the East Coast, and I was on the West, and he was still going until it was late for me, and so it was the middle of the night for him. He was a fun guy and a great part of the larger community. As I gather from notes by Caylin and Ace, and also his obituary, mike's long battle with illness, that has made him less active in the last couple of years, came to an end a couple of days ago. Be sure to check out his Flickr stream and personal site to see what a creative builder he was. I've featured his BrickFA samurai on this front page before, and he was also an early vignette builder. A couple of my favorite of his MOCs are probably his Sesame Street and his Bowser. His creative building will be missed, but his sense of humor and good-hearted nature will be missed even more. Thirty-six is too young.


---
&nbspHome&nbsp|&nbspArchives&nbsp|&nbspCity&nbsp|&nbspEvents&nbsp|&nbspSets&nbsp|&nbspHow-to&nbsp|&nbspCreations&nbsp|&nbspStories&nbsp|&nbspLinks&nbsp|&nbspContact&nbsp
© 2003 Classic-Castle.com. Site design © Anthony Sava and Benjamin Ellermann. All rights reserved. This is an unofficial fan created LEGO website, and is not sponsored, authorized or endorsed by The LEGO Group. Visit the official LEGO website: www.lego.com